In a highly competitive business world, originality and uniqueness have become critical factors for successful business development. That's why modern companies are increasingly using only software solutions that fully consider all the individual features of their projects.
When it comes to Fintech software development, custom solutions can be more cost-effective as Fintech is highly technological. That's why it can be the best option for you. Moreover, financial custom software development can boost Fintech's digital acceleration. Find out the significant benefits of custom software development in our article.
1. Top Benefits of Custom Software Development for FinTech Companies
1. What is a custom software solution?
In contrast to the template, builders, and publicly available solutions, the custom software is initially designed and developed exclusively for each customer's tasks and requests. In most cases, the custom software development starts from scratch and is carried out in direct contact with the customers and end-users at all stages of work.
1.1 What is the purpose of custom software?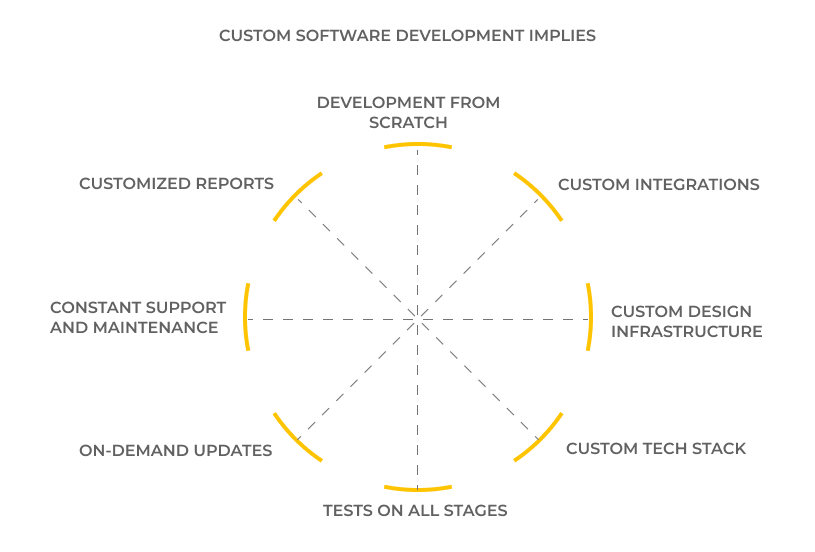 The investment in such custom software is considered one of the most promising management solutions since such software tools help to more effectively solve current company problems, reduce costs, increase the productivity of personnel and equipment, and also contribute to the growth of business profitability and strengthen its competitiveness in the short term.
Generally, custom software development implies:
The development of the software from scratch;
Multiple integrations made in a custom way;
Custom design infrastructure;
Custom tech stack;
Tests of the product on all stages;
On-demand updates of the product;
Constant support and maintenance of the product;
Customized reports.
1.2 What are Fintech solutions
Fintech often refers to the combination of finance and technologies used to process the business operations and financial services, whether it is software, a service, or a business that implements technologically progressive ways to make financial processes more efficient by introducing traditional methods.
Among the best and most popular Fintech solutions are:
Digital Banking
P2P lending
Money transfers
Investment platforms or Wealthtech
B2B Fintech
Big Data Analysis
InsureTech
PerTech
The API-based bank-as-a-service platforms
2. What are the advantages of using custom-built software for Fintech?
Despite the type of software you are looking for, it would be helpful to consider the direction of your business, scalability, long-term and short-term goals before making the right choice for your software business needs.
When choosing software for your Fintech project, you must evaluate the partner in terms of the most critical parameters, like functionality, flexibility, security, a software provider's reputation for the Fintech projects, support, and maintenance.
In general, experts highlight the following benefits of custom software development: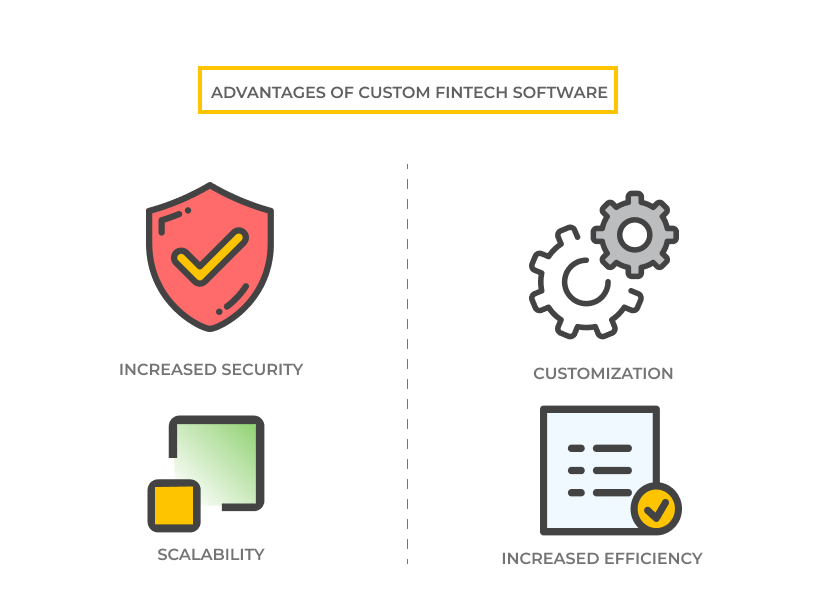 2.1 Customization
Custom software allows you to use the most innovative and modern IT development solutions to solve specific tasks and problems of the company. A qualified development team can quickly adapt to all the requirements of their customer. This style of cooperation aims to achieve maximum performance of the future software product and its full compatibility with its business model. In addition, the customer can be sure that after the end of the work, they will remain the sole owner of the product, with a 100% guarantee that nobody has the same solution.
2.2 Increased security
Template software solutions, due to their too broad universal nature, are more vulnerable to adverse effects. It happens because they are usually publicly available. On the other hand, custom software is initially focused on the requirements of a specific customer. It means it will work in a particular company and can provide a higher level of protection from outside factors by default.
2.3 Increased Efficiency
The custom software offers reliable technical and overall support from the team that has been involved in the development of the Fintech solution from the very beginning. The Fintech experts and developers can always help cope with any problems during its development and further operation.
2.4 Scalability
Modern companies develop fast and often change directions of activity, quickly adapting to the dynamic market trends. Off-the-shelf software is usually not scalable and, therefore, is ineffective. Custom software development considers predictive changes and tasks that the business will have to solve in the future.
Check the case where UppLabs increased the product's scalability by moving it from monolith to microservices!
In fact, a customized software solution can evolve with the business. When investing in templated software, a company is more dependent on its developers. By purchasing custom software, the company becomes its full-fledged owner. It can cooperate with a team of developers who support the solution, expand or optimize its functionality as needed, and adapt it to changing business realities.
3. What are some examples of custom-written software of UppLabs?
UppLabs portfolio has several successful custom-written software Fintech solutions. Here we can describe some of the recent and most exciting examples of our projects.
1. Recap Investing is an investing platform that offers stock trading solutions. The client can put his money into different activities that can contribute to the life of the people. The platform experts help to share the investments between companies and clients.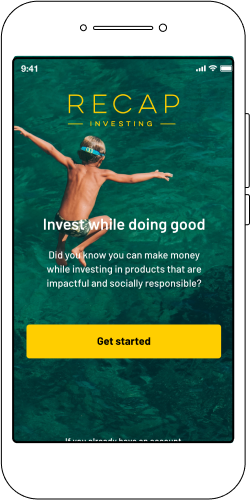 Our company provided the client with idea validation and the development of the necessary solutions, as well as MVP and Fintech expertise. UppLabs specialists helped to create a new interface, and provided the solutions for allocating clients' investments.
2. Tax 1099 is an IRS-approved eFile provider for informational returns. It is a blend of tax knowledge and technology to provide superior compliance tools. Tax1099 presents the ideal solution for small businesses, independent accountants, bookkeepers, CPA firms, and corporations of all sizes.

By partnering with UppLabs, the client received the update for the legacy solution, which included the ability to scale the number of servers to handle any amount of real-time users. In two months' time, our team managed to increase the solution's performance three times.
Additionally, UppLabs added value to the client's business by developing an API (Application Programming Interface) that enabled product integrations and increased the app's reusability, significantly reducing operational overhead.
4. Things to Consider: Disadvantages of Custom Software Development
4.1 Time to Deliver
Custom software takes time and effort. First, you need to develop a project, indicate the desired functions, budget, and deadlines. The planning phase usually takes a whole week. The subsequent steps are the development and implementation, and the terms may be different here, starting from 3 months. To make a more accurate assessment, you need to consider all the features and objectives of the project.
4.2 Technical Proficiency
Before you start developing software for your company, make sure that the development team clearly understands the features of the project and your needs and budget. If something is missed, it can affect the effectiveness of the software. It will be challenging to get the necessary high technical proficiency that will meet your requirements at once.
4.3 Initial Costs
You will need to pay the total cost of a software development process. Depending on your needs, the price can vary from medium to very high. Custom software development is a complex and time-consuming process. It means that companies will need to allocate much more budget than while buying ready-made software. Savings, in this case, will only negatively affect the quality and efficiency of the software.
5. How to Hire the Right FinTech Development Company?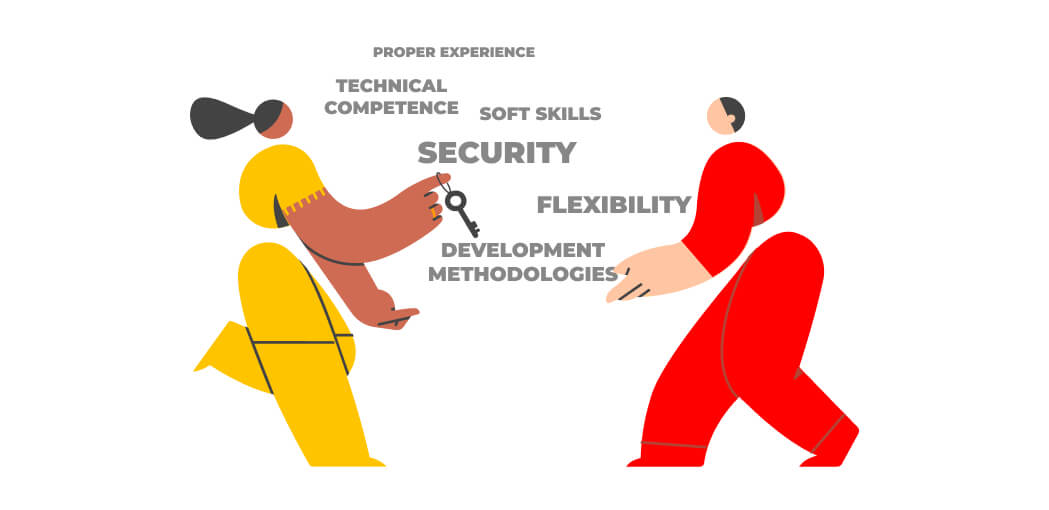 To keep up with the Fintech industry, you will have to constantly change your platform, add services, make them more accessible, flexible, and technologically advanced. Choosing the wrong software for a Fintech project can cost you money at some point. But how is to make the right choice? Evaluate the software for your Fintech startup in terms of the four most important parameters that can help to define your final choice.
5.1 Technical Competence and Functionality
The software's modular architecture means that the software supports not only a few essential functions but your Fintech business in general. The registration and onboarding process, AML/KYC procedures, money transfers, online processing, mobile banking – you may need all this in the process of developing your Fintech project. You will have to connect to the different partners: banks, acquirers, card providers, SWIFT and SEPA systems, etc. You also need to comply with PSD2 and Open Banking. Therefore, the software vendor must offer you a flexible architecture, skilled and experienced developers, and an open API to connect quickly to any services and partners quickly and easily.
5.2 Development Methodologies and Flexibility
​​Not only the technologies are changing, but also the legislation and the economic environment. You should know that your software will be relevant tomorrow. Therefore, Fintech business models and development methodologies are essential to be easily changed and scaled without global investment. The perfect Fintech platform is like a Lego constructor, allowing you to combine existing blocks in different ways, add the new pieces and modify old ones. You should be prepared that you will have to rewrite your business model, and the software for your Fintech project should fit these changes.
5.3. Security
IT security is one of the main factors in Fintech. Since 2019, the PSD2 directive has been in effect in the EU. According to it, all Fintech projects must have an additional level of security for client authentication. Your solution must comply with the PSD2 directive and with the principles of personal processing data of the GDPR. The data should be protected as much as possible. Make sure the Fintech software vendor is using the correct customer authentication solution.
5.4. Soft skills
Correctly selected Fintech solutions will make life easier for all interaction parties and make most of the processes automatic.
Regardless of the Fintech business model your business follows, UppLabs is ready to help, as we mastered the latest Financial technologies and gained experience in creating reliable, secure, and sophisticated Fintech solutions and products. We have strong knowledge of trends, innovations, and new business models. We constantly learn, visit the best Fintech conferences, and have the best professional web and mobile developers.
If you're looking for a Fintech development partner – there is no point in further search!
UppLabs is a perfect companion to lift you Upp!