Or how to choose the best devs for your project
For many years, UppLabs specialists have been bringing large-scale projects to life. Today, we decided to share our main tips on choosing the right professional development team for your project and creating a checklist you can download and follow.
The search for a development team is one of such important and fundamental issues, which you must approach with the utmost seriousness and knowledge. These are the specialists who will implement your ideas, so the future of your project depends on their skills and abilities.
1. Trustworthy
Among software companies, you want to find professionals who have many years of development experience, a large stack of technologies used, as well as examples of projects similar to yours. It means you need to start your search by visiting the websites of computer companies, looking for qualified IT specialists and their services, checking their portfolios and reviews.
The website with described services, industries, and technologies
Take a closer look at potential vendors' sites because it's the face of their company. If you don't like the corporate website of the selected team, and it seems confusing and complicated, then it will undoubtedly be difficult for you to cooperate with them. It may lead to a waste of time, resources, and, most likely, a result that does not satisfy you.
The vendor must be on the same page with you, understand all your ideas and have a clear vision on how to bring them to life.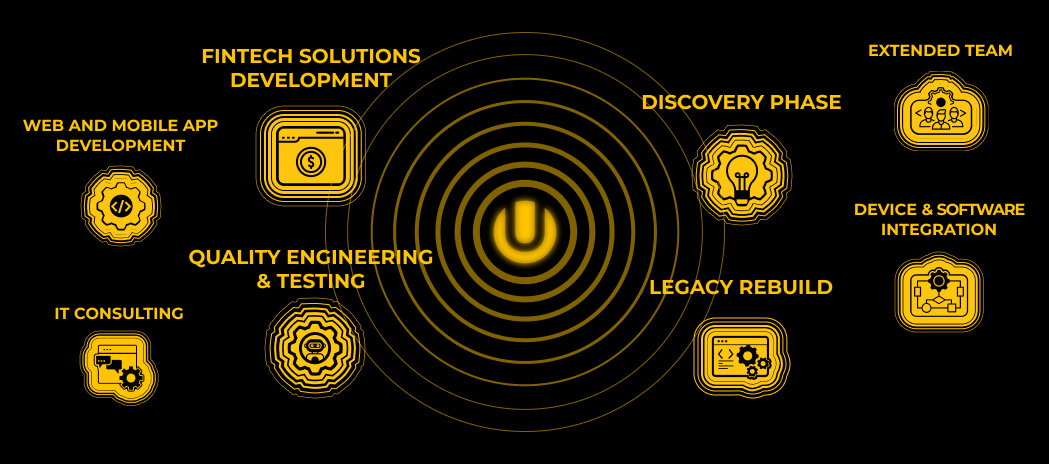 Business models
More companies and startups resort to the services of third-party specialists who provide a choice of one of the business models – outsourcing, outstaffing, or SaaS. This solution makes it possible to develop a business in an unstable market without the risk of expanding the staff. It remains only to understand which of the models suits your business project.
1. The concept of outsourcing implies the transfer of a particular part of the duties and tasks to third-party contractors. Thus, the customer company gets services that can't perform independently. In turn, the contracting company ensures the high-quality performance of the tasks assigned to it by a team of its specialists.
IT outsourcing services provide many advantages that include:
quick start,
opportunity to attract more highly qualified specialists anywhere in the world,
reducing the burden of managing employees and in-house teams,
cost reduction.
2. Outstaffing involves another model of remote employment. In this case, the customer company hires an extended team of specialists from a third-party organization to carry out a project or specific services and tasks. Still, it takes over the distribution of functions and controls the work.
At the same time, the company which provides outstaff, is responsible for paying wages, providing necessary equipment, and a place of work. In some cases, the customer can place a hired IT team on its territory for a particular time. It improves communication and works efficiency.
Positive aspects of the outstaffing model include:
transparency in the selection of the right specialists with a guarantee of their competence and professionalism,
absence of any agreements directly with IT specialists,
outstaffing of IT personnel costs less than a full-time customer team.
UppLabs provides quality outstaffing services since 2014. We know how to fill the skill gaps for any technology demands.
3. SaaS (Software as a service) is a business model that provides a software product (computer programming product) as a web service on a subscription basis. Customers get the opportunity to immediately use the product without wasting time on software installation and training.
Reviews
When choosing a software development vendor, visit its site, and pay special attention to the real customer reviews of various vendors. The reviews from real, previous clients can give you a true insight into the company's processes and service quality. If a company is looking for professional growth, you can easily find it in the lists of the most in-demand software development firms.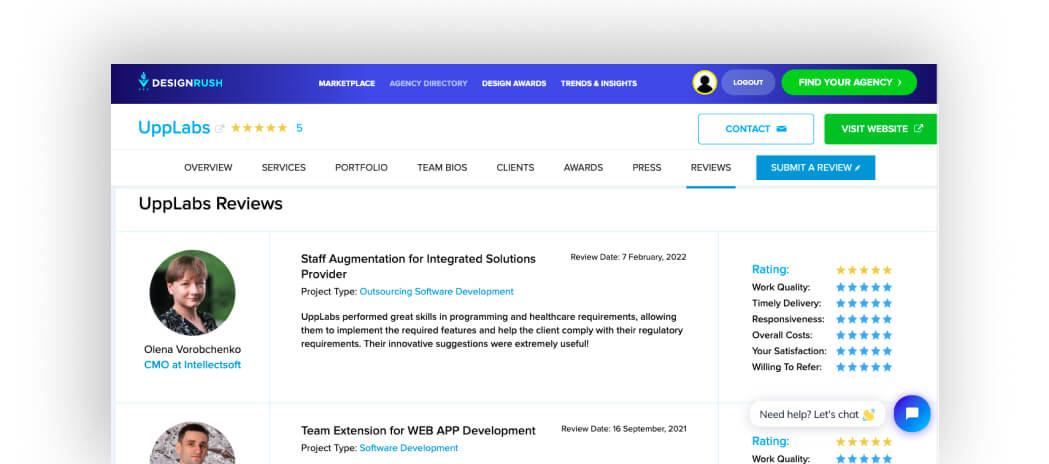 Portfolio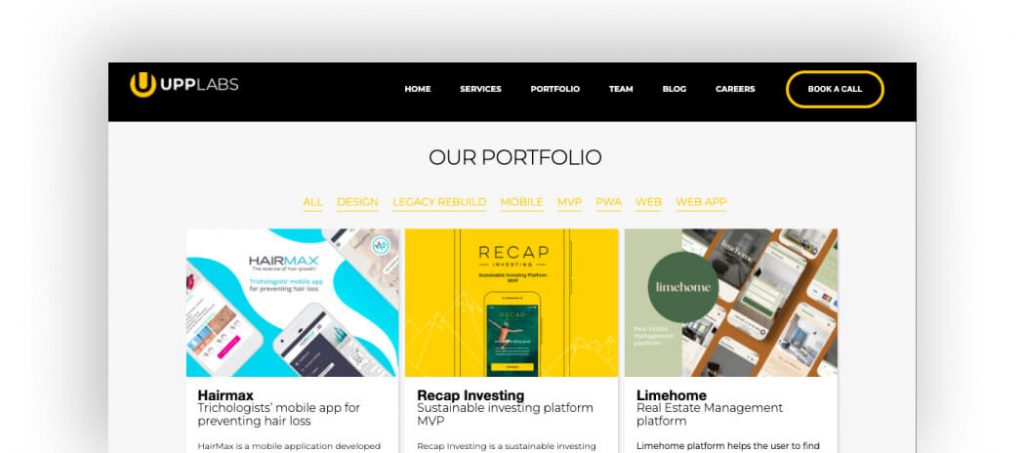 Always carefully study the portfolio of potential vendors to ensure that you will receive your project exactly as you intended it at the end of the work. Creating a project for the next client, or providing an extended development team in a frame of team augmentation, this vendor will definitely want to describe the challenges and gains.
If IT specialists have already had experience developing such startups, they know the possible challenges and how to avoid them. If not, the probability of errors and unstable operation of your project increases many times.
Other channels and Social Networks
In search of suitable candidates, you should check the following most popular and in-demand websites: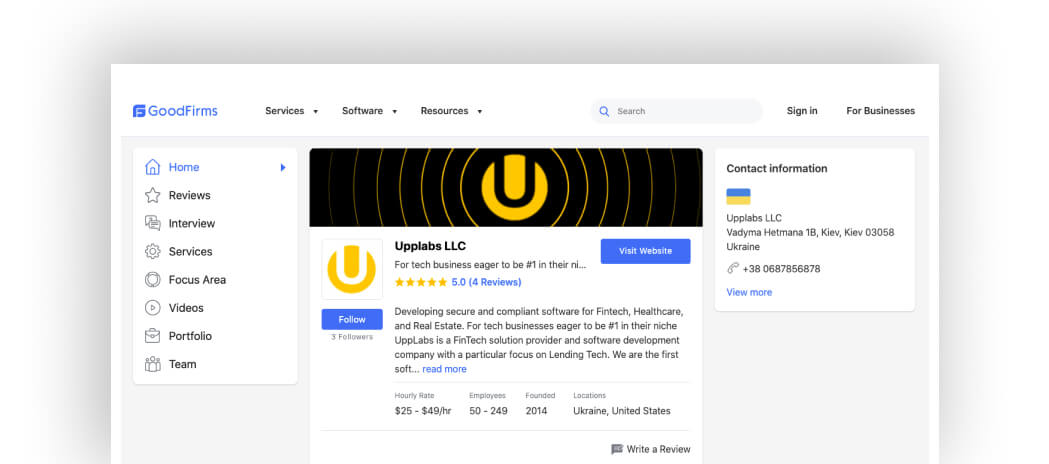 Here you can not only study the portfolio of potential candidates but also review their previous clients, test their skills and discuss the details of the work. As a result of the search, you can find personal websites of specific companies, various forums, and advertisements with contact details of IT teams.
When you open a company profile or a specific candidate on some of the platforms, the search engine can offer you to contact other similar professionals, which can also save you time and increase your chances of finding a suitable team or specialist.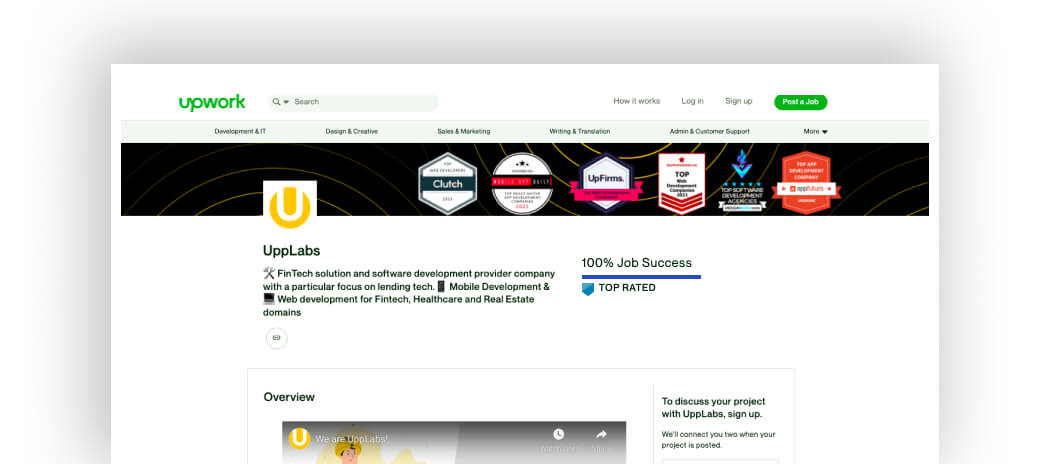 If you find a potential development team, you can also use the social networks to check its activity. Having constantly active and developing accounts on social networks is a commercial ranking factor and an increase in potential points of contact with customers.
2. Proposal
A request for proposal (RFP) is a document you need to prepare when looking for a contractor. Here, you can formulate information about the project and send it to potential vendors. They, in turn, based on the request, will provide feedback on the cost, timing, work scheme, and other key issues.
Therefore, the RFP is the starting point for developing your solution. It includes many aspects you need to consider.
Product Requirements
What will be the function of your product? Try to describe what you plan to create and its benefits.
Try to research this question from different perspectives:
User experience. Write down what the user will see and be able to do. For example, "The user should be able to like and comment on other users to express their opinion about the post."
Product features. Write about the functions associated with the system. For example, "The system should notify a company employee if there are less than 100 units left in the warehouse".
Optimization. Describe in detail what needs to be automated so that users do not have to take specific actions. For example, "The system should automatically notify about a new order so that the employee can start processing it immediately."
Entity details. These are the characteristics of each object that is part of the new development. For example, "an object should have the following attributes: user ID, email, subscription, billing information."
Roadmap and Timeline
You may not know how long it will take to do specific processes, but you probably have an estimated roadmap and timeline of your project. Do you have any tight deadlines, such as a new product launch or an advertising campaign?
Communicate your project management timeline at once, and your vendors can tell its likelihood. In addition, responsible vendors also usually help you understand whether you have set realistic deadlines or not.
The main elements of the detailed roadmap include:
features
timeframes
highest priorities
roles
status markers and metrics
It might be presented in a form of a Gantt chart or any other representative visualization.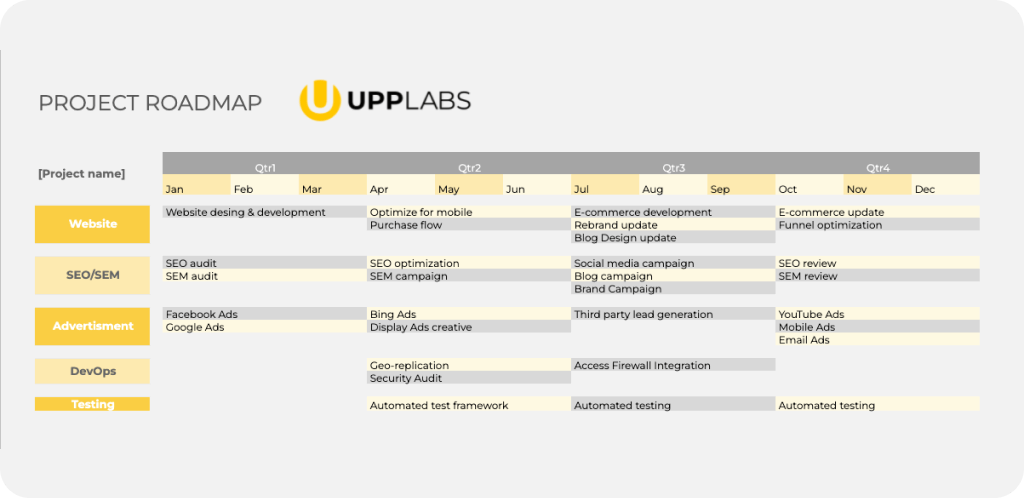 Pricing
Whether you have a fixed or flexible budget, feel free to list in your RFP the order of budget priorities. Serious companies are not interested in making rough estimates because they value their reputation. This way, it will be easier for them to understand what to offer. Vendors will include in the estimate only those features that correspond to the estimated cost and will provide technical solutions that can solve your problem within the specified budget.
Technologies & integrations
Describe the existing technology infrastructure and platforms you want to integrate into your software. Think about the devices the program should run on. Will it be a website or a mobile app? Only iOS or iOS and Android? Do you have any parts of the project ready?
The answers to these questions significantly affect the cost and timing.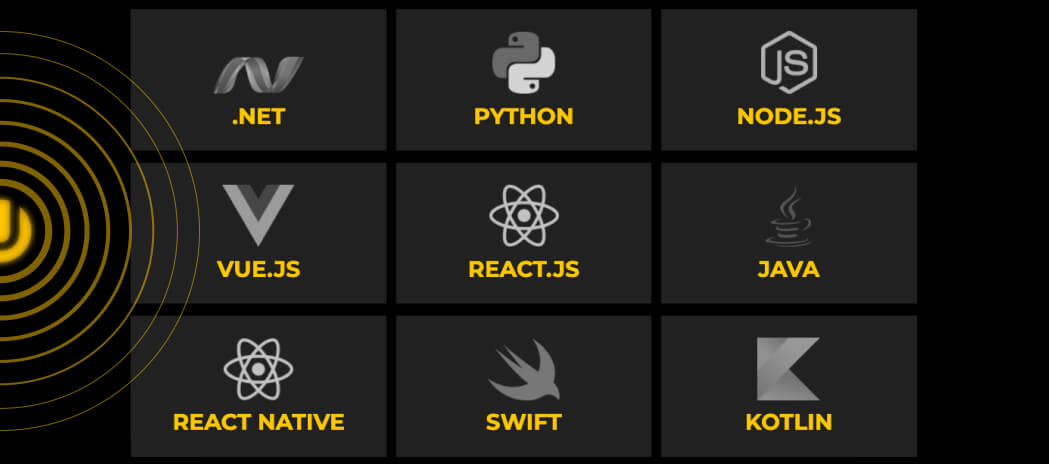 SWOT analysis and prognosis
The SWOT analysis aims to define the services of your business. It points out the strong and weak sides of the company. After this stage, it is clear what improvements need to be done to get more customers. The result of the SWOT analysis will serve as the basis for a digital strategy.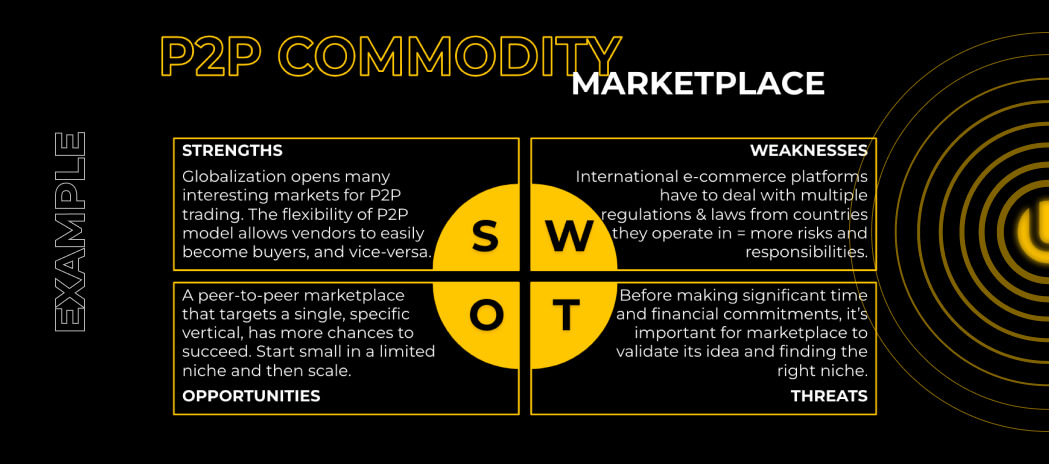 These components are divided into factors of the external and internal environment. In the first case, it is usually about the characteristics of the business that it can affect. In the second case, these are factors that you can only try to affect or neutralize.
Check what values UppLabs brought to our clients
Discovery phase
The discovery phase is a process of deep research and planning before development begins. At this stage, you and the vendor define the project's main objectives, the scope of work, timelines and user expectations, roadmap, a step-by-step development plan, and the technologies you will use.
Clear project goals and requirements help accurately estimate development time and budget. The discovery phase allows you to identify all potential risks from the start, so you don't have to redo the project after its initial development completely.
3. Agreement
In order to maintain a competitive advantage, companies must keep their confidential and commercial information confidential. Otherwise, if the company does not preserve its information, all attempts to conduct its business efficiently and on competitive terms will be negated. The best tool for ensuring the confidentiality of information is conducting the NDA, Intellectual property, and cancellation cause.
Download software development cheat sheet
NDA
NDA (Non-disclosure agreement) or non-disclosure agreement is a legal document that aims to define the rights and obligations of the parties concerning information that can be transferred from one party to another. It can relate to the information that parties mutually exchange in business implementation.
Each company has specific information that it didn't want to make public. Such information usually relates to ongoing business projects that the company is undertaking, as well as new projects that it plans to develop in the future, technologies and innovations that the company has grown, customer information and business communications, or other information that may be vital – important for doing business.
Legal environment
Every IT company wants to fill its portfolio with new, exciting cases. Identifying yourself as the author of a product makes it easier to attract new customers. Therefore, write in the contract that you can make statements about cooperation with the client, place press releases, add a case to the portfolio. If the vendor is against it, propose to add to the contract the client's permission for a public statement of cooperation.
Intellectual property
In a software development agreement of Intellectual property, it is crucial to describe the scope of rights that you transfer to the vendors.
We propose to fix the following list of rights in the contract:
the right to use the software product: publish, monetize and sell;
the right to authorize the use and license the product;
the right to prevent improper use of the object: to communicate in court in case of plagiarism, theft of program code, and other violations;
other intellectual property rights that exist today or can appear in the future.
Processing of personal data
An IT company gets access to information about the customer, employees, and end customers. For example, in Fintech product development, employees of an IT company get access to client's personal data from banks, investment companies, and other representatives of the financial services market.
Personal data includes name, surname, citizenship, individual tax number, bank details, marital status, telephone numbers, e-mail addresses, place of registration and address of actual residence, access, and authorization data. The customer guarantees the security of such information to their customers, which means that it is essential to include a section on the processing of personal data in the contract.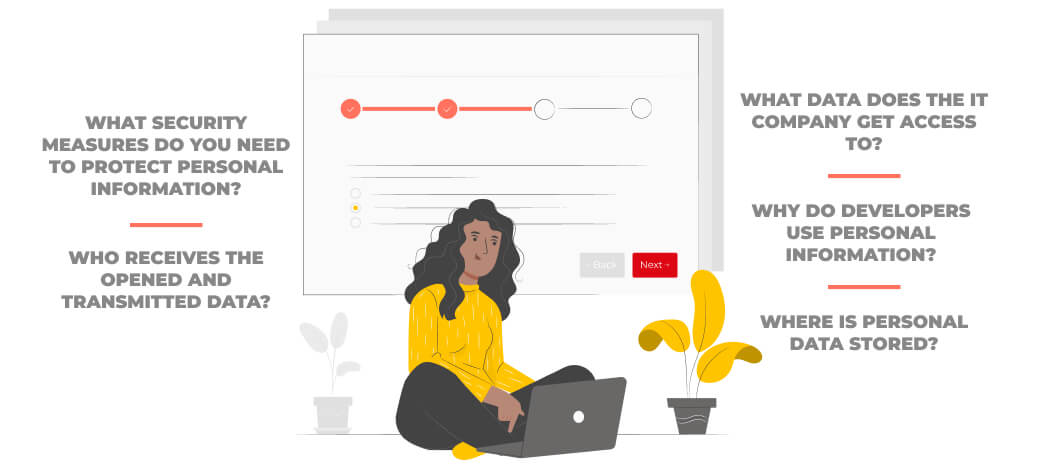 Here you may need the answers to 5 questions:
What data does the IT company get access to?
Why do developers use personal information?
Where is personal data stored?
What security measures do you need to protect personal information?
Who receives the opened and transmitted data?
Conflicts and cancellation policy
Most disputes in IT do not reach the court and are resolved through negotiations. We offer a mandatory procedure for the pre-trial settlement of the argument in the contract.
Each party of the contract may terminate it. But it is crucial to write down the number of days needed to warn each side about termination. If the agreement is terminated at the initiative of the customers, they pay the contractor for the rendered part of the services.
The contract can also be terminated by an additional agreement between the contractor and the customer. Then the document indicates the scope of work that must be completed before the completion of cooperation and the project implementation period. A specific deadline in the supplementary agreement will help you avoid missing deadlines.
4. Communication
When companies are looking for a reliable software development company, among the first criteria they consider are company size, pricing models, experience, etc. Rarely do they identify communication as the main factor. However, this aspect plays an essential role in the overall success of the project.
Methodology
A reputable IT company follows a structured and well-defined project management methodology (such as Scrum, Agile, Waterfall, etc.) in order to streamline the project development process and ensure effective collaboration between the client and the service provider.
The most popular SDLC Models (sometimes they are called Software Development Methodologies) are:
Waterfall Model – the development process is linear, tasks and steps are performed in turns and strict order.
V-Shaped Model – progress doesn't move in a straight line but rises after implementation and coding.
Iterative Model – the team develops the product cyclically, evolutionarily creating small parts.
Spiral Model – combines Prototyping and Waterfall approaches and includes the same stages as Waterfall model.
Big Bang Model – the development starts with the currently available resources, with very little or no planning.
Agile Model – is a combination of iterative and incremental approaches focused on adapting to flexible requirements.
Prototyping Model – involves working prototype of a software product with limited functionality that can be quickly turned into a finished product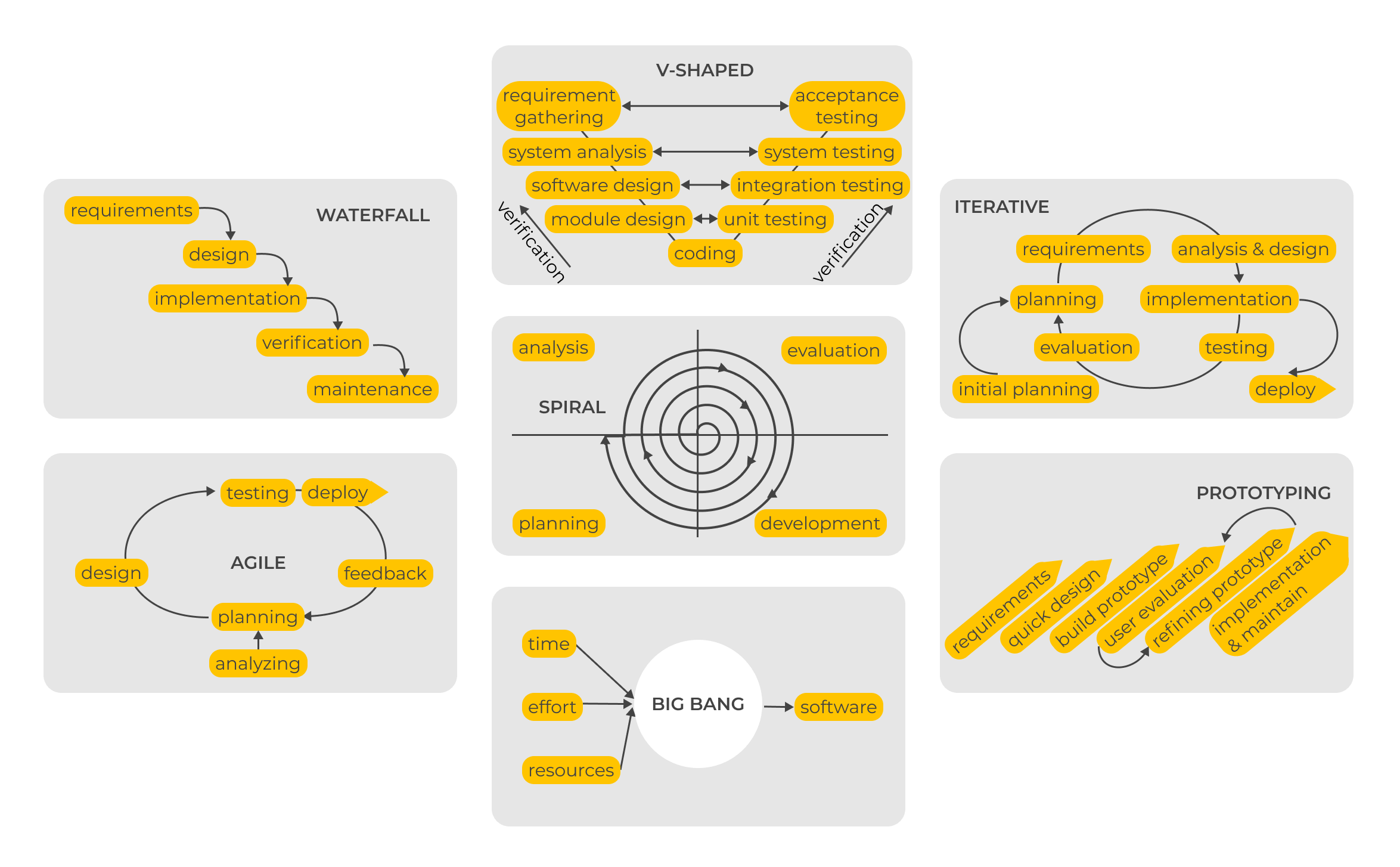 Channels
Even if you may not need to connect with every team member, it's good to know that you can do this and ask any question if necessary. Make sure you know the name of every team member and their role.
Generally, there are five channels of communication that include:
Emails;
Video conferencing;
Phone calls;
Instant Messaging;
SMS texts.
You can always communicate with the appropriate medium as per business requirements. And it would be better to brief your team members about preferred communication methods. Try also to find a balance by choosing the appropriate communication channel, as per requirement. For example, emails are considered slow, while the video is usually more high-speed medium is good when you need something done quickly.
Escalation policy
Escalation is an activity aimed at obtaining additional resources when it is necessary to achieve service level targets or meet customer expectations. Escalation can be required as part of any IT service management process but is most commonly associated with incident management, problem management, and customer complaint management.
There are two types of escalation:
functional escalation – you need the next level of technical support for resolving an incident.
hierarchical escalation – involves going to the upper level of expertise.
Incident management process policies must be followed to ensure the effectiveness of the process, and may include the following aspects:
Good coordination between users and incident responders
Incidents must be resolved within the time frame agreed with the business
User satisfaction must be ensured at all stages of incident resolution
Incident management activities should be aligned with service levels and support objectives based on real business needs
5. Execution
The execution of technical software depends on the precise implementation of each phase of the development process. A clear plan for the implementation of the necessary activities with an indication of the final goals is becoming an integral part. Only a properly drawn-up technical task will allow you to achieve the desired result and choose truly high-quality and competitive software for any platform.
Tech stack
The first step is to pay attention to the technologies the company is experienced with. It includes not only the programming languages, frameworks, and databases but also technologies such as Blockchain and Fintech, Neural networks (artificial intelligence), Virtual and Augmented Reality. These technologies are increasingly used in modern CRM systems, especially blockchain to guarantee the authenticity of data and AI to automate communication with customers, fix problems in the code and database, and optimize all processes.
Planning and timeline
The next key stage in choosing the software development partner is the planning stage, which includes modeling the theoretical basis of the future product. The most modern programming tools allow you to partially combine the stages of planning and coding. It is the technical implementation of the project based on an object-oriented approach, but full planning requires more careful and rigorous modeling.
A qualitative analysis of the prospects and product functions will become the basis for its full-fledged functioning and the fulfillment of the entire range of tasks assigned to the software. One of the components of the planning phase, for example, is the choice of tools and operating system.
Project architecture
The software architecture of a system depicts the structure of a system and gives an explanation of how it behaves. Software architecture provides a solid foundation for software. A number of architectural decisions and trade-offs affect the quality, performance, maintainability, and overall success of a system. Failure to account for common problems and long-term consequences can put your system at risk.
The main artifacts of the software design process include:
Specification of software requirements
High-level design
Detailization of design
The requirement that the system architecture should be flexible and extensible (capable of change and evolution) is so important that it is even formulated as a separate principle – the Open-Closed Principle.
Identifying defects early in the design phase is much more cost-effective than correcting them in project implementation after deployment. Architectural Risk Analysis (ARA), Threat Modeling, and Security Control Design Analysis (SCDA) are useful for finding and correcting design flaws.
Here's a quick snapshot showing the Microservices architecture.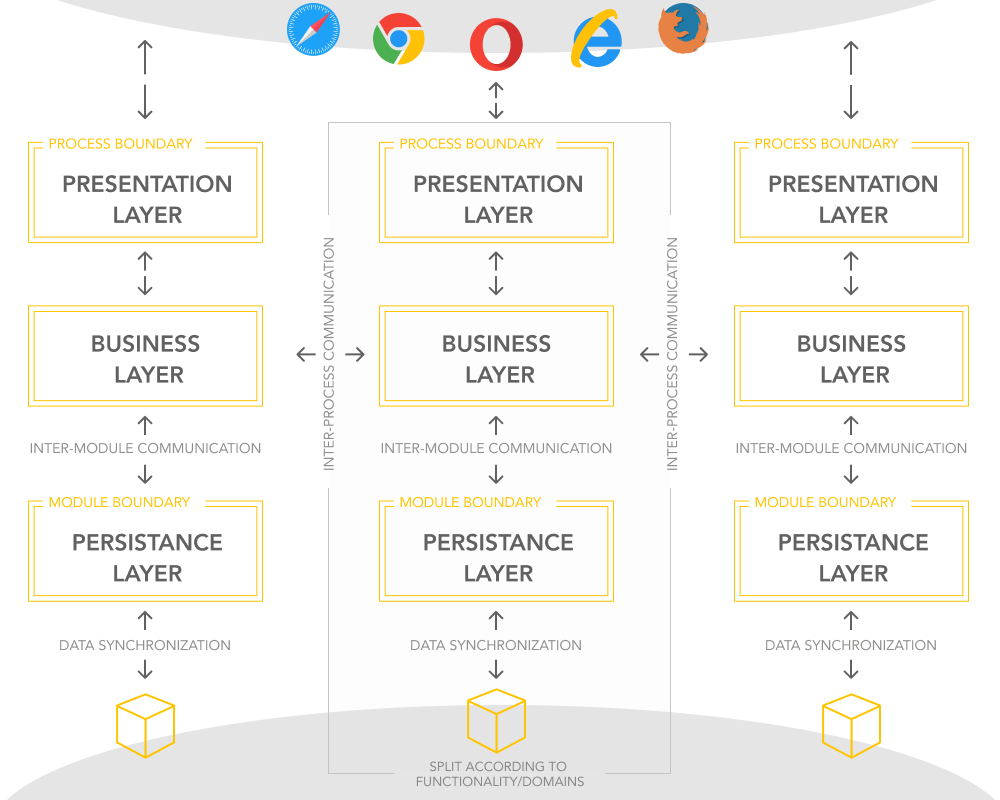 Task management tools
A good IT solution provider involves the customer in the development process. For this, you can use various tools to help you track the current state of processes, communicate in real-time with the project manager, programmers, and designers, as well as participate in planning meetings and make changes to the terms of reference.
The most popular solutions are:
Corporate messengers for exchanging internal messages and tracking process changes, code updates, system alerts, etc. Key features include task list management, audio, and video calls, integration with other tools (Jira, Trello, Google Drive, and others).
A continuous integration and delivery platform that help development teams release code quickly and confidently by automating the build, test, and deployment process. Key features: monitoring, API, troubleshooting, workflows, resource class.
An open environment for collaborating on content, the main goal of the project is the most effective exchange of knowledge. Key features include: text editor, feedback loop, organized workspaces, page and file versioning, templates.
Toolkit for collaborative software development. Key features include: code review, documentation, integration, pull requests, issue tracking.
A bug tracking system designed for user interaction or customer interaction with the developer. Also sometimes it's used for development management. Key features include: problem types and attributes, workflows, screens.
Code repository
Currently, there are many solutions for hosting software code repositories. Each repository hosting solution supports different version control systems that may underlie it.
The right repository hosting service should fit perfectly into the culture of the company and meet the expectations of the workflow. If an organization wants to use agile methodology, it's important that the repository is agile as well. The repository must comply with these workflows.
Team composition
The optimal team composition for the developing of a web project includes:
Project manager
Team Lead
Back-end developer
Front-end developer
UX Designer
QA
System Administrator
Sometimes the composition of the team may change based on the results of the project evaluation in order to reduce costs and development time.
CI/CD
CI/CD (Continuous Integration/Continuous Delivery) is essential to create software using the Agile methodology, which recommends the use of automated testing to quickly get working software up and running.
This stage includes such checks as:
Test coverage
– checks and measures the amount of testing performed;
Code standard
– checks your source code;
Unit testing
– checks individual units and components of a software;
Integration testing
– checks individual software modules in various combinations;
End-to-end (automation) testing
– checks an application flow from start to end;
Developers typically work with one or more development test environments where an application is deployed for testing and review. For this, CI/CD tools may include Jenkins, CircleCI, AWS CodeBuild, Azure DevOps, Atlassian Bamboo, Travis CI, etc.
Releases policy
Release policy (or release management policy) is a document that defines the approach to release management in a particular system. Typically, a release policy includes the following sections:
Policy application borders (IT systems, regions)
Planned release schedule, including no-change dates for productive systems
Scheduled release order:

the procedure for performing work;
distribution of responsibility;
general coordination of work;
placement and storage of releases;
used technical solutions;
Rules and procedures for issuing unscheduled releases
Requirements for the composition of the release
Release Documentation Requirements
Version naming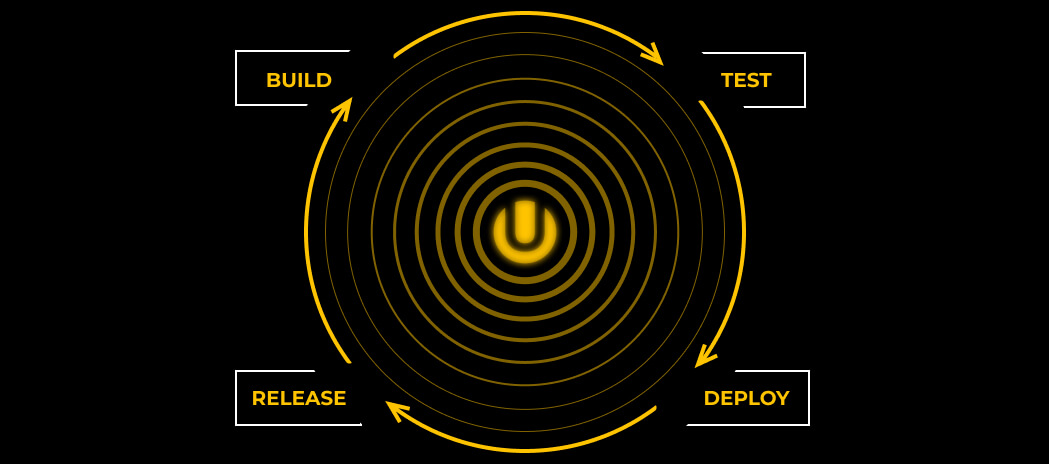 6. Closure
The final stage of software development includes the subsequent technical support of the created product during its operation. A well-organized technical support service often becomes a key factor in choosing a vendor to achieve the goal.
Product transfer
When the product has been tested and there are no more serious defects, it's time to release and transfer it to the end-users.
After the end of the project, your vendor should provide you with ownership rights for the code (usually in GitHub or Gitlab).
Maintenance & support policy
In addition, the technical support team helps to collect and systematize various metrics – indicators of the program's performance in real conditions.
For example, ​​AAARRR metrics (also known as Pirate Metrics), a marketing funnel that describes the main stages of customer interaction with a product.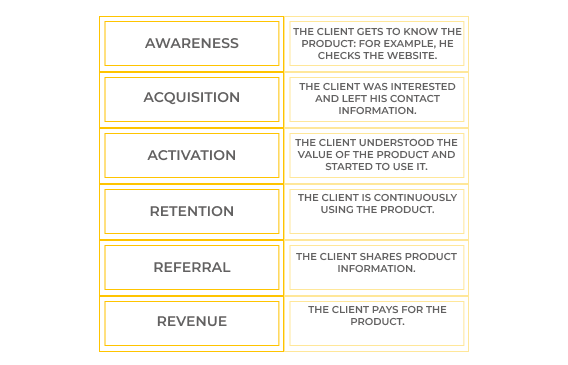 Technical documentation
After the release of the product, there are still many tech documents you need to control. These might include:
Guidelines on how to run your project locally
Guidelines on how to deploy the project
Env description
Architecture schema
Description of launch test
CI\CD description
Support recommendation
Additional documents (highload test information, contribute details, etc)
Business documentation
Business product release documentation includes:
Commented code
Forked source code with repository history
Tracking software records
User documentation.
​​Paying attention to all these clear but critical criteria described in our checklist, you will be able to form a clear and correct idea of ​​working with potential candidates, evaluate each of them and select the most suitable team for you.
---
So, before hiring your next software development team, make sure you ask yourself the following question: "What should I know before hiring a software provider?"
Gather useful information and take into account some factors when choosing a software vendor. It is also very important to clearly state what you want from the partnership.
If you know exactly what you need, you will easily find your ideal software provider. At the heart of every successful project lies mutual understanding, the natural building of good relationships, and comfort in the process of communication.