Every company requires good specialists, but not everyone has all the necessary resources to recruit and maintain a big team. That is why many companies use outstaffing type of hiring. The pandemic lockdown especially displayed the potential of this model over the others.
The choice of hiring approach largely depends on the initial needs and goals of your business. In this article, we will show the main reasons why software development outstaff is better than direct hiring and how to find an outstaffing company with a dedicated team that suits you best.
What is outstaffing?
The outstaffing means a type of remote employment when a company makes a contract with a third-party team or individual employee to perform work or a number of company functions.
Outstaffing is an approach when the company acts as an employer, which means it is responsible for the wages, bonuses and equipment provided to the outstaffed employee, while the client company issues tasks and assignments. Usually, this model (Extended Team Model = ETM) fits both short-term and long-term projects. The client might have its own core team of engineers who should receive reinforcement from new remote team members.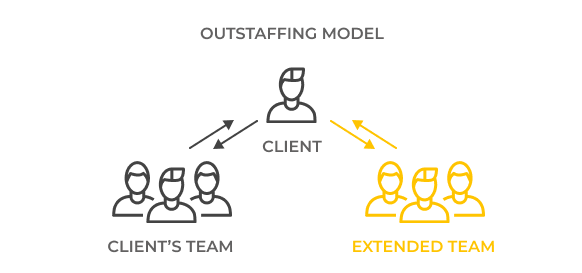 As we can see, in the outstaffing model, the client usually controls and regulates the entire scope of work and has direct access to the extended development team.
An outstaffer is not a freelancer but a specialist who works for a contractor. Thus, hiring outstaffed employees means hiring them from an outstaffing company to work on a specific project. The specialists will be part of the client's team till the end of the project.
Outstaffing is especially popular for small and medium-sized businesses, where the number of employees doesn't exceed more than 100 people. In this case, the extended team might come to help with software development process, bringing certain domain expertise, covering the skills gaps and supporting quality assurance, etc.
Why is outtaffing better than direct hiring?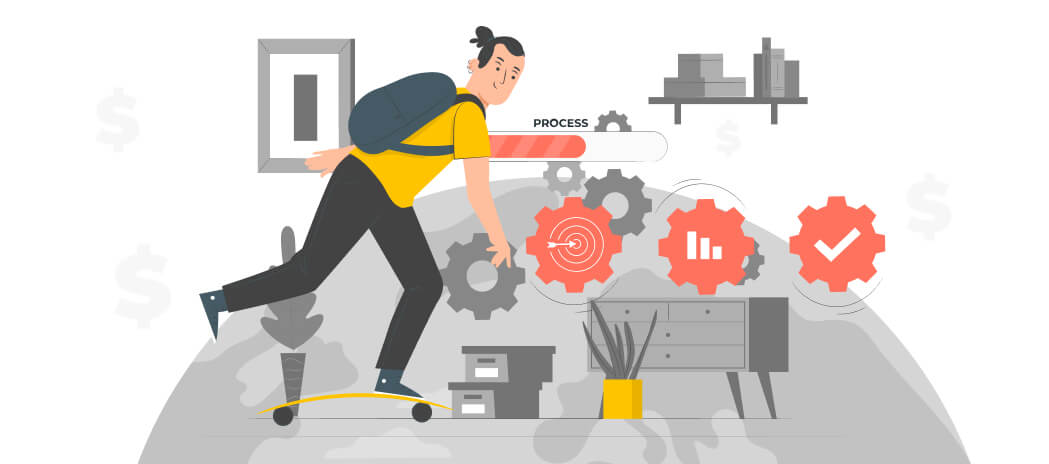 9 benefits of outstaffing
What is the reason for a growing interest in outstaffing? We've collected nine main reasons why do the leading worldwide companies value this approach of Extended Team Model:
Quick response to your business needs and less time to hire. You don't need to gather an in-house team and get a faster product and business development. You can manage the number of developers on the project. There are no problems if you need to adjust the size of the extended team or the number of tasks during the development process.
You can find talents from all over the world. There are no limitations on location. You will have direct access to the remote or offshore team with the help of easy-to-use web tools.
You don't need to take care of local taxes (in Eastern Europe or in emerging countries, taxes are lower) – it is simply cheaper than hiring an engineer, let's say, in the UK.
You don't worry about personnel retain – if the specialist stops working on your project, the company will simply find another one with the same skills. Besides, onboarding is also a task of the outstaffing company. Outstaffing helps with a high employee turnover.
Fewer efforts from your HR department – no need to search for the candidate and pay extra money to your recruiters. It only takes a few days to select a team for outstaffing, while finding a candidate for your team requires numerous interviews and more than a few weeks. You can always choose teams with extensive experience in the technologies you need. In addition, you don't need to worry about finding a next project for the outstaffed team because it is not your team anymore.
Staffing flexibility – it takes no time to scale or reduce the number of software engineers since the vendor handles all communication. A client has control over the IT team or individual developer and is constantly informed about the whole situation of the project. Regular phone calls, meetings, and discussions, updates, sprints – you will know all details about your project.
There is no need to spend resources and additional time on educating employees – by hiring an outstaffing firm, you get access to the best talent pool and no longer have to train junior employees.
Less commitment – it's better not to rush with building in-house departments if you plan risky undertakings. Contacting an outsourced firm is safer. You can quickly validate the idea since a business manager can terminate the collaboration if the project fails.
There is no need to maintain an in-house department – by hiring a dedicated team who works remotely, you will get significantly lower costs than hiring employees to your office. As a result, the lower development cost allows customers to offer a competitive price. Aside from office space, you don't need to pay for equipment, proprietary management techniques, electricity bills, and other maintenance expenditures.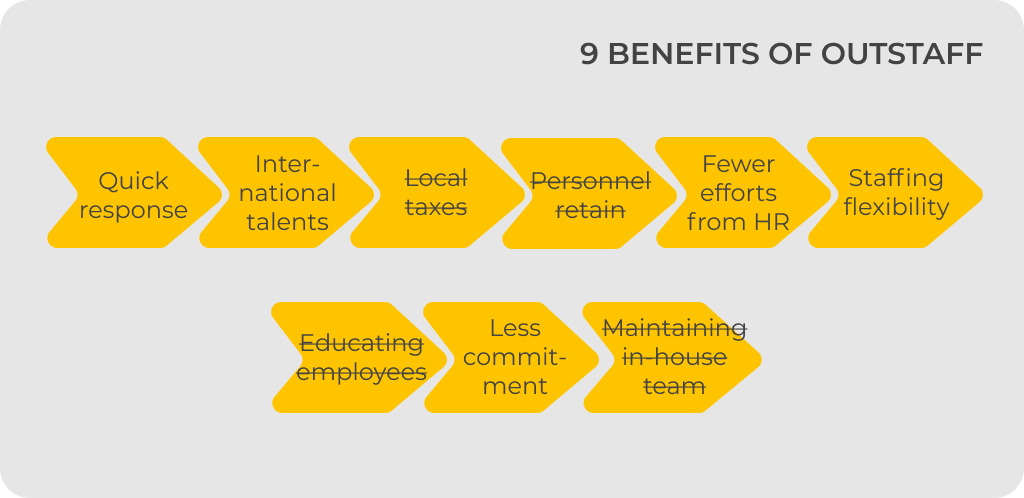 Possible disadvantages of outstaffing
Naturally, every approach has its drawbacks. The main reasons why companies don't always use the outstaffing services are:
1. Possible problems in communication between the company and the employee. If all contacts with the employee go through the outstaffing company, it can significantly slow down the speed of tasks.
2. The lack of motivation of outstaffers. An outstaff employee usually only receives a fixed payment and isn't involved in the company's branding life.
3. Great responsibility. If you choose an outstaffing model, be prepared to take on more responsibility. We recommend having technically savvy experts on your team for more effective management.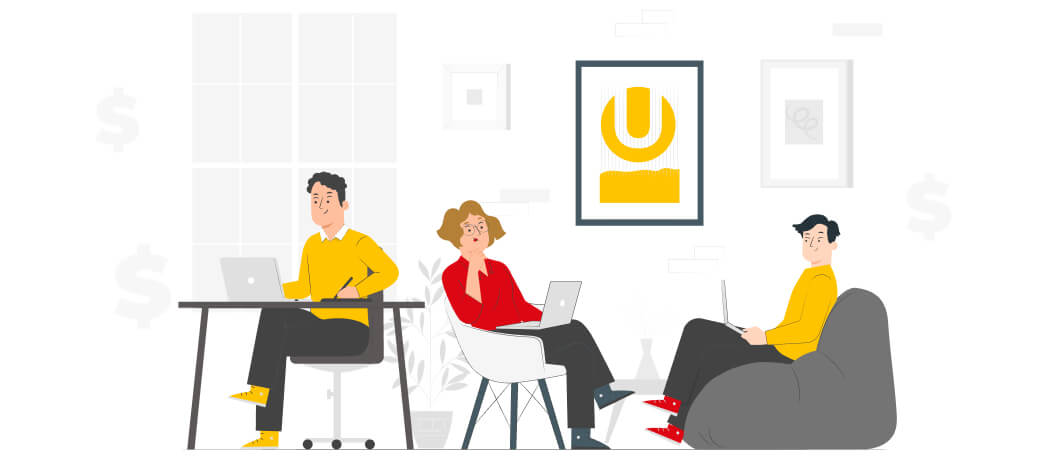 FYI, UppLabs is providing ETM for more than 7 years, and we know about these pitfalls. That is why we always make sure that the communication is clear and efficient, our engineers are motivated and have extensive experience in the field and technology.
How to find an outstaffing company?
Outstaffing can help the company optimize business processes, reduce tax and staff costs, and solve the problem of attracting qualified professionals for short-term and long-term projects.
You should carefully choose the outstaffing partner. We can divide the whole process into three stages:
Collection of information.
At this stage, you need to make a list of outstaffing companies that suits your business goals. Pay attention to the testimonials and recommendations of your colleges, friends, reviews on the internet. Find out the experience of the company and its clients. If the company has a number of regular clients, it means it is reliable. Look out if the agency has any industry rankings.
Communication and clarification of work details.
At this stage, the main task is to communicate with the selected companies to clarify the details of your future cooperation, understand the main processes, and decide whether you are ready to continue and make a contract. Here, it's essential to find out if the company can provide you with the necessary number of employees with the right skills. The efficiency and productivity of employees depend on the work environment, so make sure that the outstaffing agency provides employees with everything they need for work.
Before signing a contract, it is worth checking all the information again. If possible, visit the agency's office to assess the work environment personally and talk to the staff.
The UppLabs team has experience in both outstaffing and outsourcing. Choosing a suitable model depends entirely on your needs. If you are still not sure which model to select, contact our team, and we will advise you on the best option based on an analysis of your business and its functionality.
We hope to win your business and build a long-term relationship with you!