What can be more comfortable than to be able to search for all properties in one place? And this is possible with a Multiple Listing Service (MLS) – a database that contains the information for real estate professionals and makes the process of buying and selling property. If you have integrations with the fullest MLS listings on your website, if it's clear and all the functions are easy to use, it's more chances that a person will become your buyer. In this article, we are going to introduce to you the best MLS integrations for your Real Estate software.
What is MLS?
MLS is a database for cooperation between Real Estate brokers that contains information about properties for sale. Such a service helps brokers see other listings of properties for sale and connect them with potential homebuyers. The MLS data are usually confidential. If your Real Estate platform is not integrated with at least one of the numerous MLSs, your chances to stay on the market are low.
The Multiple Listing Service consists of a system that interacts with a database that lists properties sold on terms of exclusive contracts. With the built-in program, you can split the commission payment automatically. In the MLS service, you can find detailed information about the terms of interaction. Data on the terms of multiple listing is protected information that is available to the realtor. The realtor receives an individual agreement, which gives him the right to sell the object.
The main components of MLS are:
an electronic database of objects – exclusive objects, as well as the conditions of cooperation;
exclusive objects – objects under the entire contract;
division of commissions.
Key takeaways of MLS:
It allows realtors to provide services to clients as quickly and thoroughly as possible;
It provides a platform and conditions for mutually beneficial cooperation of realtors;
It helps to assess real estate adequate to the market;
It is a source of analytical information about the real estate market.
It automatically adds properties in your CRM to the global MLS directories, influencing the boost of your audience immediately;
It makes the marketing campaigns easier as you can pull the updated listings at any point to your leads.
Best MLS software and its integrations
Zillow is a real estate marketplace that aims to provide consumers with data and all possible information regarding their potential property and link them with the best local professionals who can help. Zillow offers a complete database to its users, offering over 110 million American properties that include homes for rent, homes for sale, and homes that are not currently on the market.
The Zillow API Network is a free service that has such options of integrations:
The Zillow Tech Connect app enables agents to send leads to tools like CRMs and marketing automation software. It works for Zillow, Trulia, HotPads, RealEstate.com, and StreetEasy and is known as Zillow Premier Agent.
Zapier allows its users to instantly connect Zillow Tech Connect with more than 3,000 apps to automate the user work and find productivity superpowers that include MailChimp, ActiveCampaign, VinSolutions, and others.
Trulia is a real estate site specializing in giving information about homes for sale, apartments for rent, neighborhood insights, and trends so that buyers can understand the overall property situation. Trulia is operated by Zillow Group, Inc.
Trulia is available for Cloud, iPhone, iPad, and Android and offers such integrations:
TourVista website enables users to create a comprehensive website for their property quickly.
DoorLoop can organize, manage and track the properties in one easy-to-use software from virtually anywhere and allows its users to work remotely, collect more rent, scale with ease and get their time back.
The Zillow Premier Agent connects with active buyers as soon as they start their home search.
Agent6S is one of the most comprehensive real estate marketing software that provides its users with a complete real estate marketing system and a dedicated marketing expert.
The Sageabletech software publishes a suite called NextGenReview that includes training via in-person sessions.
RentMe is a software business that publishes a software suite called RentMe.
Realtor.com is a real estate listings website that claims to be the largest real estate website in the United States. Realtor.com also offers homeowners a variety of valuable tools through the 'My Home' dashboard that allows property owners to manage their homes by tracking their home's value over time, researching and managing home improvements, and scouting other similar properties in the neighborhood. Realtor.com incorporates 99 percent of all MLSs and contains more than 1.5 million active listings.
Realtor.com provides such integration options:
The website offers the Lead Delivery API that allows an end-to-end direct connection between the realtor.com lead delivery system and a supporting CRM system.
It's easy to integrate TRIBUS with email parsing. Using this method, all you need to do is forward your leads to a custom email address. There you can determine the information (name, email address, property, etc.) you want to start automatically sending to your TRIBUS CRM.
The integration through the service like Zapier allows lead generation and conversion to be more streamlined and located in one central hub.
Millions of renters use Zumper to find houses, rooms, condos, or apartments for rent. Users can filter the search by location, price range, bedroom count, pet-friendly, or amenity and set an alert to get notifications when a new listing is posted.
Zumper provides such integration options:
Youtube and Google are the platforms that encourage users to speak freely, share opinions, foster open dialogue, and opens new formats and possibilities. Everyone has a chance to be discovered, build a business and succeed on their terms.
The integration with famous video service Vimeo allows reaching more engagement, more collaboration, more growth for your business.
The integration with Matterport, a powerful 3D data platform, gives you a chance to turn a space into an accurate digital twin, view your area from multiple angles, build additional functionality, get precise measurements, and more.
Showcase IDX is the leading real estate search platform that assists agents, teams, and brokers in generating leads, improving their websites, and standing out. Showcase IDX's proprietary indexes let the users search across multiple MLS feeds. The search combines advanced map-based searching with the ability to search detailed MLS features. The unique set of consumer engagement tools encourage the leads to invite other people to help and comment on their home search.
The Showcase IDX provides several integration options:
Premium Integrations enable their users to send the lead contact information and all the lead's search activity on their website in real-time. Within seconds, the contact and activity data is sent to your CRM. With your CRM, you can use real-time Showcase IDX lead data to capture and distribute contact information without having to manually add it and keep close track of their activity on your website.
The is an easy-to-go integration with such services as Follow Up Boss, LionDesk, Prospect Converter, Slack, Contactually, BoomTown, Salesforce, Zapier.
The platform allows having up to 3 real-time premium integrations on the Premium Plan and easily pause integrations at any time without losing the setup.
Main difficulties of working with MLS integrations
While integrating the MLS listings, you need to keep in mind several challenges:
The process of integrating listings from multiple MLSs can be complex and take some time as there are lots of listings without any standardization.
Each MLS has its own data standards which can result in duplicate listings.
There can be problems with compliance with the MLS integration as each listing may need a separate agreement.
The security threats need to be checked with each platform.
All calls to the Zillow API must reference the ZWSID issued to the user as an approved licensee.
Zillow and Realtor.com do not currently provide maps in their API call results, so the users will need to use their own mapping technology.
Zillow is planning to make additional developer documentation, but currently provides a guide for XML only.
In most platforms, the user is able to sign up for only the Home Valuation API or both APIs but in most cases, it's not required to use both on your site.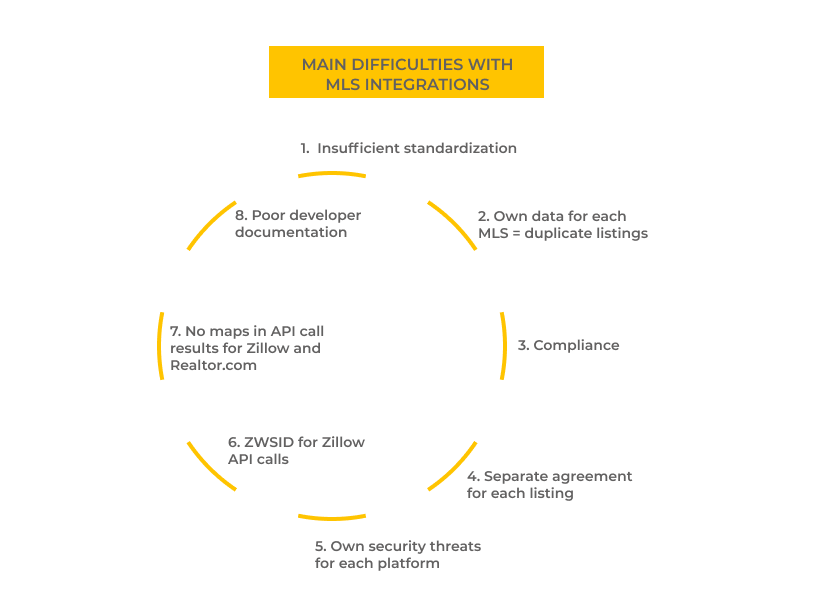 How UppLabs can help
Since 2014 we've been working in Real Estate and became professionals in web & mobile development, existing product maintenance and modernization, complex device integration, technical consulting, and more.
We can help you with:
Real Estate platform development;
Property management systems;
Custom CRM platforms;
MLS integration;
Vendor management software and more.
Our software development company works end-to-end with the clients discussing all possible scenarios and questions, starting from strategy to digital; we bring transformational outcomes. It is UppLabs' task to show you the opportunities, needs, and threats.
Our assurance as your developer's team includes:
Designing and applying appropriate project management standards
Planning and monitoring the project (timelines and budget)
Ensuring customer satisfaction
Creating detailed, comprehensive, and well-structured technical documentation
Estimating, prioritizing, planning, and coordinating testing activities
Developing and applying development and testing processes for new and existing products to meet client needs
Providing Discovery session
CI/CD (Continuous Integration and Continuous Delivery)
So, you can always book a call with UppLabs and delegate the task with a value proposition to us!