Every day, we witness numerous examples of how digital technologies contribute to peace, human rights, and sustainable development for the benefit of society as a whole. The biggest prospects along with the highest risks digital transformation brings to the financial sector. Digitalization is responsible for the birth of Fintech. But at the same time, it offers new risks, including threats to cybersecurity and the regulatory environment, facilitating illegal economic activities, and invading privacy. In this article, we are going to find what are these risks and how we can respond to them.
The digital revolution is changing our lives and society at unprecedented speed while creating both enormous opportunities and great challenges. It is obvious that digital technologies are becoming an integral part of the socio-economic life of society and a key direction of public policy at the present stage. Finance and insurance are the two of the three industries most vulnerable to security attacks.
Digitalization statistics
Digitization is evolving at an incredible rate due to its ability to collect, use and analyze huge amounts of information about almost everything. Such digital data is collected on the basis of an analysis of "digital footprints" that remain on different digital platforms as a result of the activity of individuals, social groups, or enterprises. The volume of global traffic based on the Internet Protocol (IP), which provides a rough idea of ​​the scale of data flows, increased from about 100 gigabytes (GB) per day in 1992 to more than 45,000 GB per second in 2017. The predictions are that by the end of 2022 the volume of global IP traffic will reach 150,700 GB per second as a result of the new users on the Internet and the development of the Internet of things.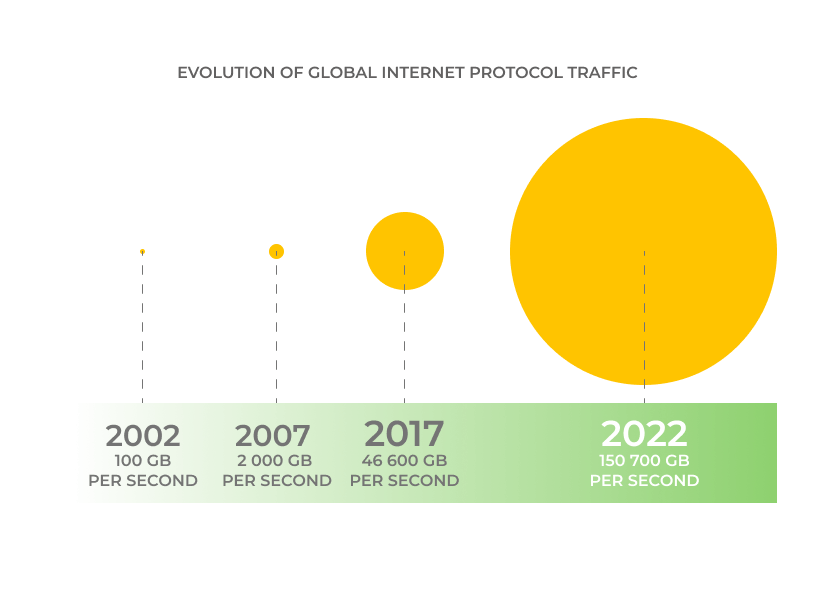 The digital trends observed today cover almost all spheres of life: from medicine and education to taxi services, they are described by "uberization" (the process characterized by the rejection of intermediaries and using computing platforms to fulfill a transaction between clients and providers) of the economy and is carried out on special digital platforms.
Currently, the following technologies have the greatest impact on the digitalization of the economy:
Internet of Things and automation of production;
digital design and modeling;
Chatbots and voice assistance;
virtualization technologies: remote access, remote office, etc;
mobile technologies and cross-channel communications;
Integrating a broader digital transformation process
According to the leadership of Internet users and level of digitalization, all countries can be divided into four categories:
Leading countries
Singapore, Great Britain, New Zealand, UAE, Estonia, Hong Kong, Japan, and Israel – that demonstrate the high rates of digital development and continue to lead in the spread of innovation; the United States and Germany are on the border between leading countries and countries with slower development.
Countries with slower development
This includes many developed countries in Western Europe, Scandinavia, as well as Australia, and South Korea. For a long time, these countries have shown steady growth, but currently, they significantly reduced the pace of development. Without innovation, they risk falling behind the digital leaders.

Promising countries
Despite the fact that these countries show a relatively low overall level of digitalization, they show a steady growth rate that attracts investors. These countries include China, Kenya, India, Malaysia, the Philippines, Indonesia, Brazil, Colombia, Chile, Mexico.
Problem countries
These include South Africa, Peru, Egypt, Greece, Pakistan. These countries face important challenges due to the low levels of digital development and slow growth.
Impact of digitalization on cybersecurity
A hacker attack happens every 39 seconds

Clark School study at the University of Maryland
The banking and financial sectors are becoming more attractive to attackers. After recent attacks on financial institutions and the mass transfer of online banking services in the quarantine era, more and more experts agree, that cyber threats are becoming key to the financial stability of banks and financial services.
The hacker's position is being strengthened by the latest advances in artificial intelligence. AI can both improve people's lives and lead to problems. In the hands of hackers, such developments support cyberattacks, finding vulnerabilities much faster and determining the vector of an attack.
Another important thing is that Fintech companies continuously need to increase investments in the creation, support, and modification of new digital platforms and processes since this requires a constant change in the technological landscape and scenarios of interaction with users. Moreover, enterprises are forced to rapidly adapt to technological and economic changes in order to remain competitive and grow faster than the market.
It is almost impossible to provide 100% protection against cyber threats today. In the corporate world, security is always a fine line between maintaining a high level of security and having to please a range of departments that might resist certain procedures.
However, a hacker attack is not always an outside interference. Sometimes an employee of the company, or a private person, can knowingly or unintentionally inflict viral harm as a result of deception. That is why there are two types of hacker attacks – external and internal.
One of the most common hacker traps is the sending of a viral e-mail or message, the so-called phishing letter. Phishing is a fake email (or SMS, or messenger message) that appears to have been sent from an official source – a company, colleague, friend. To avoid this, the user shouldn't rush to immediately follow the link or respond if the style of the text or the format of the message is somewhat different from the usual language of the addressee. Better to try another way to contact this person and find out if they really emailed you.
Companies, both public and private that have corporate mail, internal work programs, and service storages, it is better not to save on a full-time specialist in the protection of electronic information systems.
The European companies usually follow the EU Cybersecurity Act that introduces an EU-wide cybersecurity certification framework for ICT products, services, and processes. Companies doing business in the EU have to certify their ICT products.
Effective incident management include:
Training users to determine a potential attack and knowing who to inform
Preparing necessary tools and technology to identify and prevent malware
Processing regular monitoring in place over systems and infrastructure
Preparing a formal tested process that deals with incidents and can resolve them as quickly as possible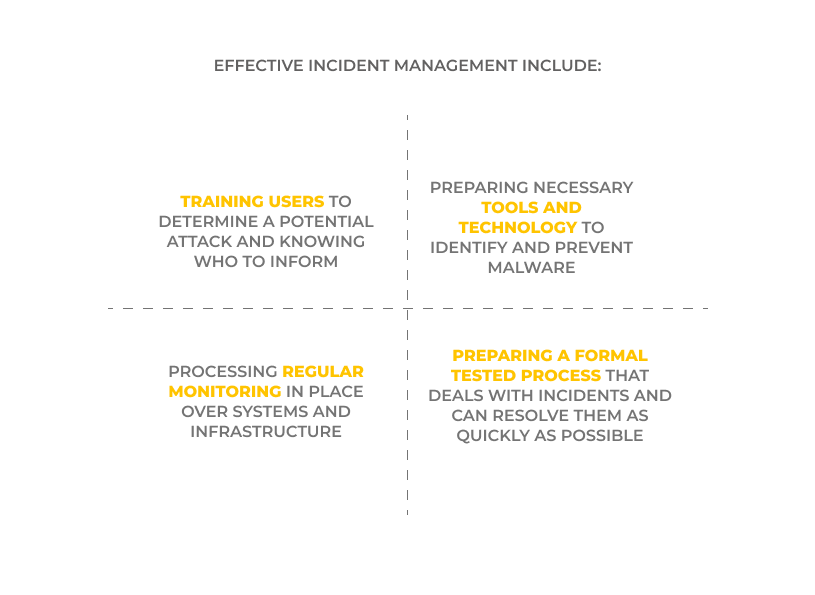 Measures that can be taken to keep data secure include:
Backup data
Access control only to authorized staff
Running anti-virus software
Turn terminals off or lock devices
Use a system of passwords with a restricted data
Protect data by using write-protecting disks
Use data encryption
Store data safely on removable disks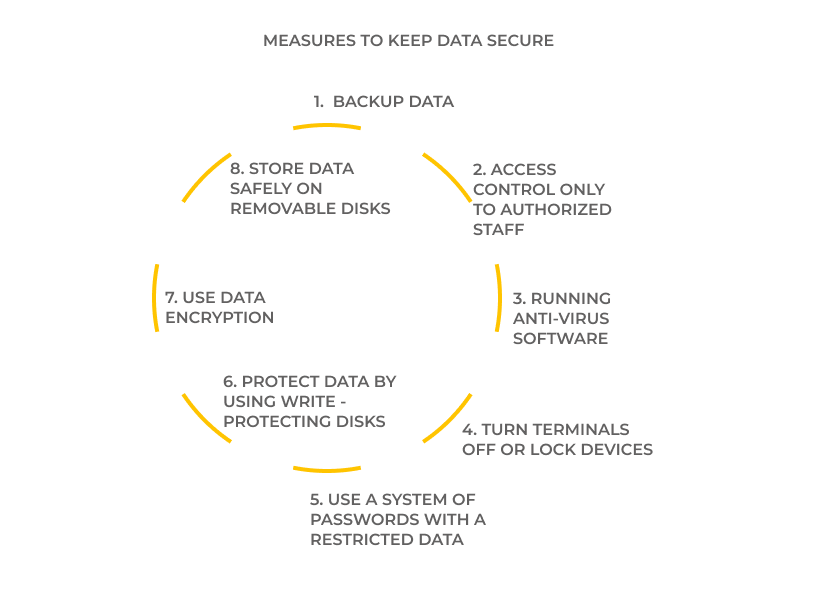 Regulations security practices
Due to the interrelated global trends and possible financial risks that banks can face, the innovations enable large organizations to process high data volumes more efficiently and rationally. In this regard:
The regulators are constantly reviewing the rules, expanding them, and responding to threats from both organized crime and the growing threat of global terrorist networks, many of which have become stronger and more complex in recent years;
Integrated networks and an increase in the number of cross-border operations have created gaps in the infrastructure of banks, increasing their vulnerability;
The work of banks is affected by the wider use of economic sanctions for individuals due to foreign policy;
Regulatory authorities are wary of potential threats, and their increased expectations entail the creation of demanding regulatory conditions for banks and financial institutions;
There exist best practices and the latest approaches that can help your company to deal with the concerns and protect valuable data within your product and involve KYC, use of Payment Card Industry Data Security Standard, Digital Signature Certificate, etc.
The digitalization of society has led to an increase in the number of threats for users and companies. But the main weapon of attackers is not technology, but a low level of knowledge in the field of cybersecurity. That is why, in addition to using special software, each network user should study information about current threats, as well as maintain maximum caution and vigilance.
The Achilles' heel of cybersecurity is the rapid and constant development of electronic programs, remote and almost unrecognizable control methods. And also the inaccessibility for the majority of ordinary users of skills and tools that can secure the "digital" part of their lives.
How UppLabs can help
Regardless of your business, Fintech security practices are one of our priorities. Over the last 7 years, we at UppLabs mastered the latest Fintech technologies and gained experience in creating reliable, secure, and sophisticated Fintech solutions and products:
Fintech web and mobile development
We follow Fintech trends and innovations, constantly learn, visit the best fintech conferences, and have the best team of professional web and mobile developers.
Money transactions platform engineering
Our fintech payment ecosystem is transparent and multifunctional.
Online trading and exchange platform engineering
We create online e-trading platforms that offer real-time solutions with various trading fintech opportunities.
AI-based Fintech solutions
We are ready to use AI-based solutions to collect and process huge volumes of data aggregated by Fintech companies.
Payment systems integration and optimization
We automate your accounting and ERP creating the best fintech services and apps.
Existing services maintenance and modernization.
Our portfolio includes the use of modern architecture that guarantees easy maintenance and easy integration with the best fintech services.
If you need to develop a Fintech product compliant with all regulations and protected from the latest forms of cyberattacks – ask UppLabs!