Whether you work in the banking sector, credit companies, financial investment companies, insurance groups, or the consumer finance industry, Fintech app development has become the most famous success trend of the past years.
Before starting a app development, you may wonder how to create a Fintech App? How Much Does It Cost to Develop? This article will answer these questions and reveal must-have features, the required tech stack, helpful design tips, and the cost of a Fintech app.
How to Estimate Cost to Develop a FinTech App?
Before delving deeper into understanding how to get started with a FinTech app, what features and trends need to be implemented, and how much it will cost to build such an app for your startup in 2022, let's start with the basics.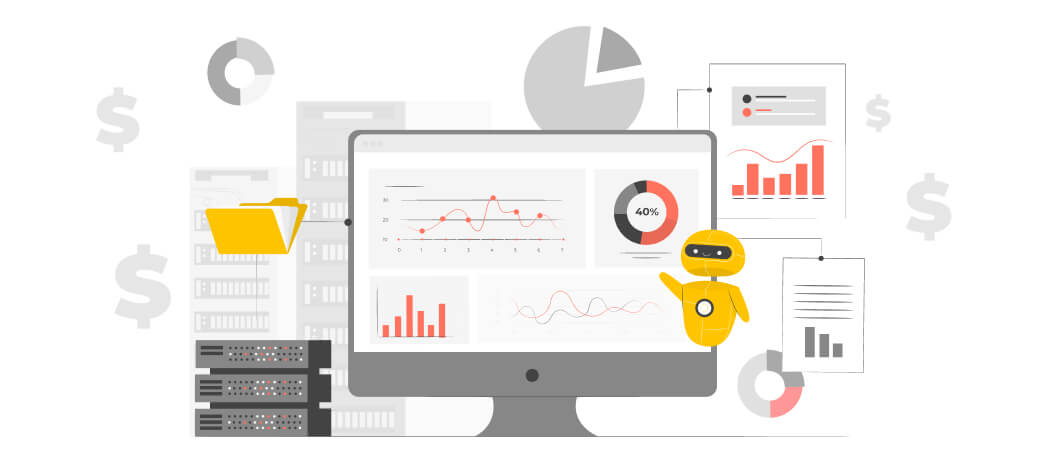 1. What are Financial Apps?
Fintech applications are financial technology solutions that refer to companies that provide financial services to end customers with the help of software solutions. Fintech is the result of a digital transformation that continues to serve a variety of industries and reveal new business growth opportunities for companies.
The Fintech ecosystem offers various solutions. That's why large corporations and startups usually provide numerous financial activities, like:
Online money transactions
Internet banking
Fast billing services
Tracking and management of personal capital in real-time
Digital insurance system
Exchange trading services
Tracking financial transactions
Tracking your spending
Exchange of virtual currencies such as bitcoins, cryptocurrencies, etc.
Digital mortgage services
B2B Fintech services
Auditing, risk management, and compliance software
etc.
2. Types of Fintech Applications
Before starting the Fintech app development, you need to define your product and the type of application you want to create.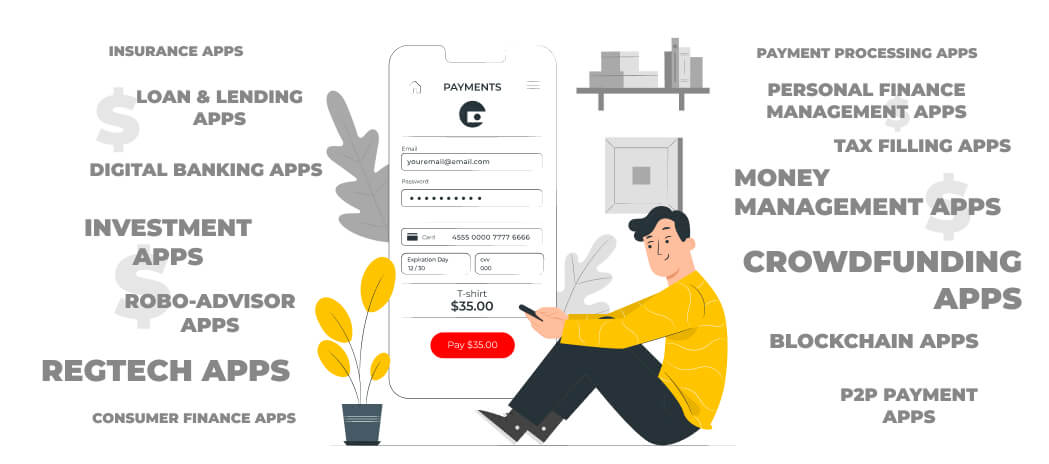 Let's see some of the main popular types:
Insurance apps
Loan & Lending apps
Digital Banking apps
Robo-advisor apps
Regtech apps
Consumer finance apps
Payment Processing apps
Personal Finance Management apps
Money management apps
Crowdfunding apps
Blockchain apps
3. Features of Banking and Finance Apps
Each business has different goals and market objectives, so there is no standard list of functions and features to rely on. So, whether you decide to create a basic or modern Fintech application, make sure that it has high performance and provides the latest features to meet the expectations of your customers.
Although every financial institution wants to serve its clients individually, here are some essential features and functions that you need to implement in your banking and finance applications:
Sign-up and sign-in screen
Card details
Transaction History
Checkout
Cashback
Money Installment
Saving management
Deposit Machines
Bank Branch Details
Accounting Settings
Support
Push Notifications
Bank Details
Depending on the features and functionality of your app, you can calculate the price for the development.
4. Cost to Build Fintech App by Types
Since every business operates at a different pace and pursues various goals, there is no Fintech application that meets the needs of all businesses. Hence, there is no standard price for building a Fintech app for your business. Budgeting apps will require a deep understanding of their purpose, features and regulations applied.
However, you will need a rough estimate of the based budget and time to plan the development of your application correctly. Thus, to create a basic application that provides a safe, transparent, efficient, and convenient way to transfer online payments, you will need a minimum budget of $40,000 and a timeline of 3 to 4 months.
A financial application with basic functionality and a simple user interface for a single platform will cost between $30,000 and $50,000.
However, it will cost from $50,000 to $65,000 to create an advanced solution with more functionalities and modern technologies.
| | |
| --- | --- |
| Basic Fintech App | $30,000 and $50,000 |
| Average Fintech App | $50,000 and $80,000 |
| Complex Fintech App | $80,000 + |
These are rough estimates that can vary greatly depending on various aspects such as platform specifics, functionality, API integration, complexity, development team, hourly developer rate, interaction patterns, and more.
4.1 What is the Cost of Maintenance?
How to develop a financial application that is convenient and easy to use? The chatbot or customer support is critical. Your application will manage users' finances, and they will have a lot of questions about how everything works and where the money goes. Nobody wants to send an email and wait for hours for a response, so the support team should have an in-app chat, work 24/7 and quickly answer frequently asked questions.
Maintenance and security are essential parts of the banking and financial industry. The Fintech application maintenance should happen regularly so that the users can see the guarantee of the security measures.

For a basic Fintech app, the cost of maintenance will be minimal, but they can change as the banking and financial technologies are constantly improving. It can bring more expenditures for security, user experience, and quality improvements.
4.1.1. Cost Defined by Types of Apps
Let's compare the average prices depending on the different types of Fintech App.
| | |
| --- | --- |
| Type of App | Development cost |
| Banking App | $40,000-$70,000 |
| Lending App | $30,000 to $50,000 |
| Insurance App | $45,000 and $70,000 |
| Investment App | $60,000 and $120,000 |
| Consumer Finance App | $50,000 to $300,000 |
Cost for different types of Fintech App
Consider that if you want to enable advanced features of your app type, such as real-time credit score tracking, EMI calculator, data analysis will require more budget than expected.
4.1.2. Cost Defined By Types Of Teams
Your choice of the team greatly influences the price of the development. Let's see the average banking app development cost for the product if we presume that the local agency is based in the USA and the outsourcing company is located in Eastern Europe.
| | |
| --- | --- |
| Type of team | Development cost |
| In-house team | $90,000 |
| Local agency | $120,000 |
| Freelancers | $30,000 |
| Outsourcing company | $50,000 |
The trending banking app development cost also depends on the size of the team. If the mobile app development company doesn't have the required resources, they need to hire employees and fill the skill gaps in the team. The money spent by mobile app developers on resources will be reflected in the total app development price.
4.1.3. Cost Based on Location
The other important aspect that influences the price of the Fintech development is the location of the development company or freelancers. We've compared the prices in different regions based on different types of apps and estimated the average cost of the Fintech app development in 2022.
The price is calculated based on the average size, the moderate complexity of the product, and the hourly rate of the team of 4-7 specialists (business analysts, project managers, developers, QA, designers) and the period of 4–9 months of the app development.
| | | | | | |
| --- | --- | --- | --- | --- | --- |
| Type of app | Eastern Europe | Central Europe | Western Europe | North America | Latin America |
| Banking app | $280,000 | $390,000 | $660,000 | $820,000 | $240,000 |
| Lending app | $190,000 | $270,000 | $450,000 | $560,000 | $160,000 |
| Insurance app | $140,000 | $190,000 | $300,000 | $390,000 | $120,000 |
| Investment app | $198,000 | $270,000 | $450,000 | $560,000 | $170,000 |
| Consumer finance app | $290,000 | $400,000 | $670,000 | $840,000 | $250,000 |
As we can see, if we compare the cost for the app developers in the US with other European countries, we can notice that Fintech mobile app development in Eastern Europe can be available even for startups.
5. Technologies Used in Fintech Development
The choice of the programming languages and frameworks is significant for the Fintech founders, as it determines the work of the application and the whole process of the development. The primary programming language that is leading now and is predicted to still be popular in 2022 for Fintech projects is Java. It is followed by Python, Go, and PHP.

In Blockchain projects, the most used languages are Go, Python, Java, Ruby (Ruby on Rails), Scala (Akka), C ++ (.NET), C # (. NET).
Generally, we can select three types of applications, and each one requires a specific technology stack.
Fintech apps for iOS or Android are developed exclusively for one platform. The technologies to build native iOS apps are Objective C, SWIFT, Apple Xcode, and the iOS SDK. The native Android apps usually use Java, Kotlin, Android Studio, and the Android SDK.
For the development of smart contracts, developers prefer to use the Solidity language (for the Ethereum platform).
Cross-platform applications
Cross-platform apps support multiple mobile platforms and are developed using Native, C #, and Flutter.
These apps support both web apps for web browsers and native apps to install on specific devices, Android and iOS. To develop hybrid apps, the developers use technology stacks such as HTML 5 or PhoneGap.
6. Stages of Fintech Application Development
When you define your team and choose the app type of development, it's time to start the process of Fintech app development.
The goal of Fintech apps is to help users with financial matters as efficiently as possible. Once you line up your strategy, you'll get a more clear vision of your app.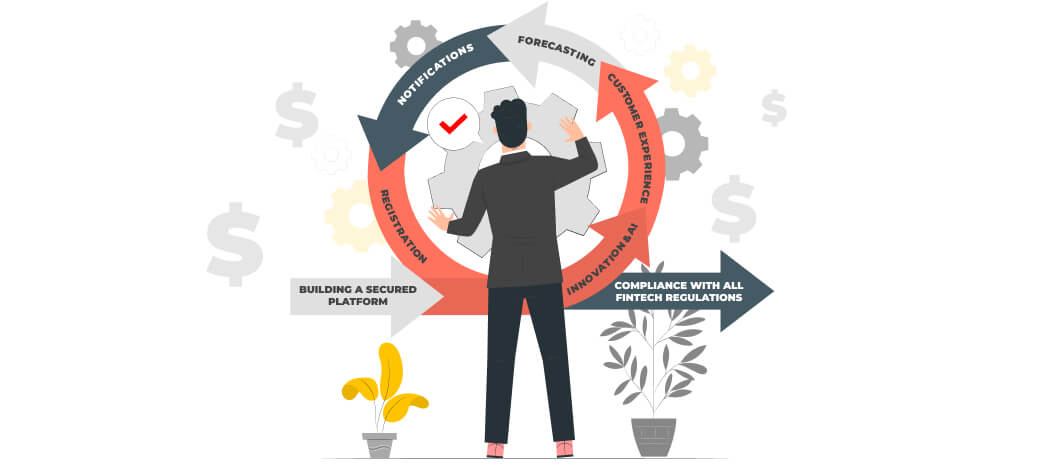 The key aspects that you should consider before developing a FinTech app are:
Building a secured platform
Introducing innovation and Artificial Intelligence
Changing the dynamics of customer experience with immersive technologies
Re-imaging the future with blockchain services
Robusting notification system
Easy yet secure registration process
Compliance with all Fintech regulations
6.1. Realization of features in your Fintech App
New technologies are the foundation of the Fintech industry. Various technologies that include Artificial Intelligence and Blockchain are a requirement of the time, and you simply have to include them in a product. Blockchain can help with record tracking, and Artificial Intelligence can support personalized recommendations, data analysis, customer interactions, etc.
Data Analytics and Personalization
Big data analytics helps Fintechs create a digital analysis of a user's banking activity, potentially identify errors, and constant maintenance and support. Based on the user's expenditures and transaction history, the system can provide recommendations for using the right Fintech services.
The Fintech app usually fulfills different functions like bill tracking and money transfer, so it's crucial to utilize them with other services. For this, you'll need smooth APIs and quick access to the website. For API development, choose strong database solutions like MongoDB and PostgreSQL.
The growth of industrial data processing, the improvement of machine learning algorithms, the lower cost of process support, high competition, and excessive consumer demands on financial companies – all these factors made artificial intelligence an essential part of financial technology.
7. Possible Challenges in Fintech Product Development Processes
Recently, financial technology innovations have revolutionized finance and changed the way we manage it. Fintech companies are at the forefront of these changes, but there can be possible challenges.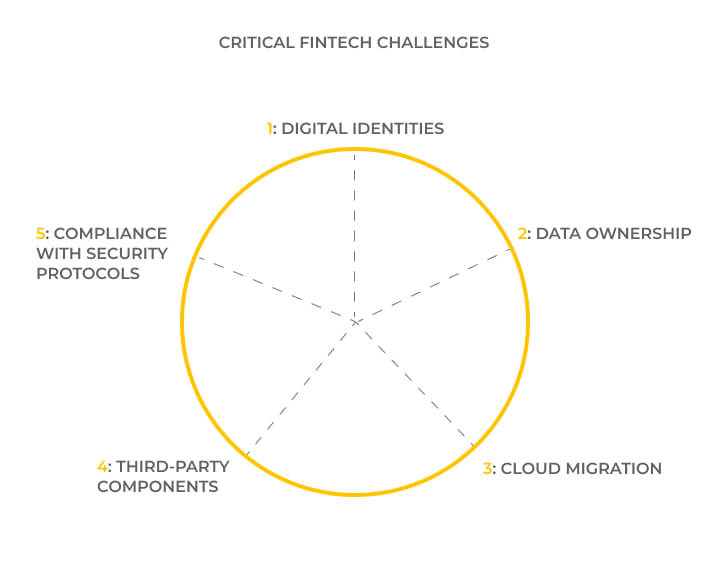 Among the most critical Fintech challenges nowadays are:
1. Digital identities

To improve already existing biometrics technologies, Fintech companies use one-time passwords (OTP), together with risk-based authentication. This adaptive authentication collects and gets information about a user's geolocation, registered devices, biometric data, OTP, and many more.
2. Data ownership
While providing data ownership in your startup, you have to consider lots of technical and legal processes and their compliance with the standards and regulations in your country.
3. Cloud migration
Especially for the Fintech industry, it is essential to choose tools to manage your cloud solutions in complete integrity.
4. Third-party components
Integrating with third-party components like payment gateways, analytics systems, social network buttons, chatbots can compromise the security of your Fintech product.
5. Compliance with security protocols
Your Fintech startup has to comply with the regulations and standards of the country of its regulations.
8. Conclusion
The right choice of fintech application development company can guarantee you the use of the best technologies, trends, features, and functionality for your financial solutions. It allows you to efficiently and cost-effectively manage your business operations and be aware of the newest Fintech trends.
Our UppLabs dev team is proficient in using the latest technologies, frameworks, and methodologies to create the best web and mobile solutions for our clients.
If you're looking for a Fintech development partner – there is no point in further search! Check our expertise here.
UppLabs is a perfect companion to lift you Upp!