The digital innovations take hospitals and medical facilities into a new stage of development. The technologies simplify the daily process and automate the healthcare system. Some medical institutions use ready-made software solutions, others prefer to choose the custom software, depending on the type of institution and the daily tasks needed to be optimized. In this article, we'll cover different types of medical software, reveal their benefits, and think of the ways to implement them.
Before you start choosing a specific system, compare two approaches and answer the questions – what benefits does the custom medical software bring to the healthcare industry, and how to choose the ready-made solutions that will fit your business purposes?
Digital healthcare
Digital healthcare is a new era of medicine that appeared with the spread of social media and leading technologies such as sensors, artificial intelligence, and robotics. Digital healthcare appeared only in the 2010s, so it is still evolving, as are the challenges that come together.
The potential of open data in the medical field is enormous. Thousands of startups around the world use open data for medical research, vaccines, and information systems. Healthcare providers use technologies to provide additional services and bring more value to the patients. The benefits of digital medicine lie on the surface. First of all, they simplify access to the services of doctors, laboratories, human health control, and monitoring the quality of medical services. Hundreds of millions of people in Europe, America, and Asia now use e-medicine with just a cell phone and bracelets to measure their heart rate and blood pressure.
Digital healthcare consists of a range of services or systems, including:
Computerized diagnostic;
ePrescribing;
Clinical decision support system;
Teledentistry;
Telerehabilitation;
Telesurgery;
Consumer health informatics;
Health knowledge management;
Virtual healthcare teams;
Mobile Health or m-Health;
Healthcare information systems;
Biotechnology
Medical and diagnostic laboratory services
Main functional components of healthcare software development
Complex medical information systems usually consist of modules. This allows you to configure the software for institutions of different types and provide the necessary functionality with the ability to further add or remove modules. The structure of a medical software system consists of the individual components that can be combined into several large groups:
1. Analytical and management components
Modules and tools for management accounting, tools for analyzing the quality and effectiveness of medical services. These components allow you to analyze the state of your medical organization, identify problem areas and optimize business processes. At the user level – you can search for medical records by any criteria, subject to restrictions on the access level.
2. Medical components
All modules related to patient registration, maintaining a register of electronic medical records, keeping records of sick leaves, maintaining treatment protocols, information support for the treatment of patients in various types of institutions (outpatient clinic, clinic, hospital), medical statistics, and analytics, medical history, etc.
3. Financial and economic components
These include tools for keeping records of medicines, stock management, cost calculation of treatment and medical services, calculating allowances for doctors, tools for conducting the economic analysis of the organization's activities, etc.
4. Data exchange components
Maintaining unified registers, catalogs, and reference books, data exchange in the system of healthcare institutions, processing of the received data.
5. General technical components
User access control and database protection, as well as support for integration with other systems and programs.
Off-the-shelf healthcare systems
Depending on the medical institution's budget and needs, there are 3 ways to approach the development of HIPAA-compliant healthcare solutions:
You choose a ready-made software solution and use the basic functionality needed to perform all current tasks. In this case, it's recommended to choose systems with trial access to all functions – so you can understand whether you really need so many modules, or you can do with the standard ones included in the basic package.

You choose rationally and take into account the needs of the medical institution. In this scenario, it's important to consider the integration of the ready server decision and its subsequent use to the concrete needs of the organization. In practice, users may find that the usual algorithms for their actions or decisions differ from those offered by the system. It is much easier to hire developers and rewrite/add functionality than to restructure the work of the entire organization for specific software.

You choose an individual approach, for non-standard tasks. It means you create the system from scratch. This option may be suitable for institutions with unique specialization. Modern integrated solutions can offer integration or have built-in modules developed for specific tasks. You may want to add new features to the existing system, for example, connect a document recognition service to the contract module? Your software provider may not provide such modules while connecting third-party programs to a system containing vulnerable personal data are rather risky. Developing an individual custom solution to optimize routine operations may need proper thought. However, as a result, you can get exactly what you need.
The use of cloud services reduces the cost of programs, as its support, security is up to the developers. The high level of competition and the presence of similar products on the market contribute to the fact that almost all ready-made solutions offer convenient interface, training, support, and test access to the functionality. The downside is that they are not always able to cover all the processes of the organization.
Data management solutions for hospitals and clinics
Patients in the 21st century demand personalized services. They want to research their health on their own terms while getting the doctor's input at the same time. Modern health systems can offer unique solutions for patient's convenience. Custom software companies allow you to develop applications and software that your customers can access anywhere and anytime. That's why more and more people are interested in investing in the development of specialized software for healthcare. The process of developing a medical application or software may seem easy and straightforward, but there are many technical details that need to be taken care of.
The advantage of a custom healthcare web and mobile app development on the basis of your own server equipment will be that third parties are completely excluded from the process of collecting and managing data, while the set of services is expanded by purchasing additional modules, and the development of the system is more flexible. Among the other benefits of the custom medical solutions are:
The ability to implement and adapt the functionality exactly for your product;
More design options to choose from;
The ability to develop a product in the direction of your business;
The ability to choose any kind of integration;
The possibility to sell solutions to other companies from your market;
No license fees are required.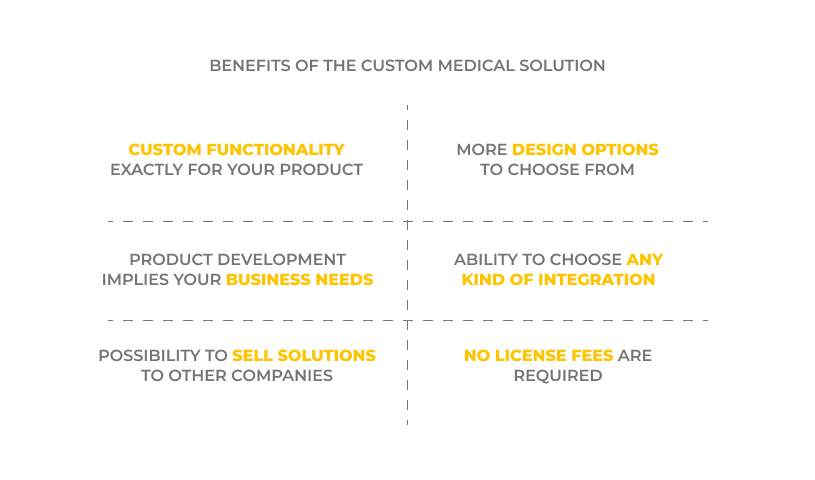 There are several types of business-centric medical software:
EHR Software
Installing EHR (Electronic Health Record) will allow your medical staff to become more efficient regarding the digital charts.
Hospital Management Software
Even small improvements for easier patient check-ins, procedures for filling the applications, and paying for services will encourage your customers to stay loyal.
Medical Imaging Software
This kind of software will allow you to analyze data that is obtained from medical images.

Medical Diagnosis Software
The use of the updated data management solutions will improve your staff's effectiveness, and offer your doctors to get the results quicker.

Medical Billing Software
Improving the medical billing system will diminish rejected claims and provide a quick reaction to the errors, which accelerates the entire flow of the company's revenue.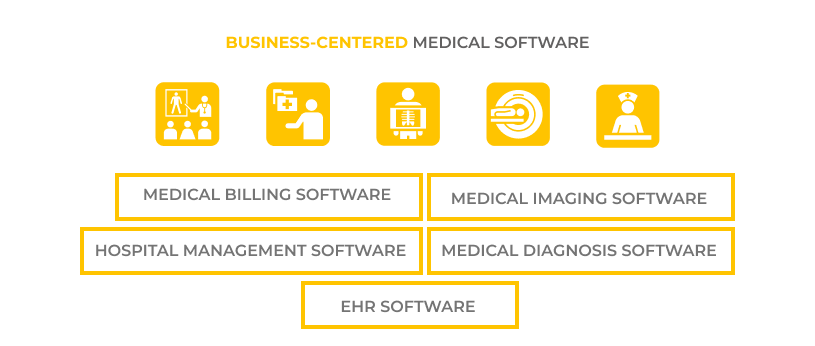 Benefits of custom software for health facilities and medical experts
Easy and consistent management process within the facility:
It is convenient for clinics to have online registration, to maintain general hospital databases of patients, distribute them to branches, taking into account the workload and schedule of specialists, while being able to assess the demand for certain services. It's also easier to communicate with other medical workers within the healthcare system.
No need to fill out papers:
There is no need to duplicate records and enter information into other documents: doctors and staff have access to a patient's card and are able to research results, familiarize themselves with the patient's medical history, the course of treatment, etc. from a single database. There is a possibility to automate the various day-to-day tasks.
Telemedicine and real-time access to data:
Doctors have the opportunity to consult their colleagues and other specialists in real-time regarding the correctness of the diagnosis (especially in an emergency), the appointment and correction of treatment, remote monitoring of the patient's condition, etc.

Reduction of manual mistakes and improving the quality of services:
The doctors are able to offer efficient treatment due to the early detection of diseases. Automated workflow allows you to reduce the amount of paperwork, successfully maintain a customer base, relying on up-to-date information about research and services provided. It is much easier for doctors to make a diagnosis. The risk of losing important data is reduced, as is may happen with the paper test results: they can be trivially attached to someone else's card, which is why they have to go through the tests again.
Healthcare software development and VR / AR:
These technologies have gained popularity due to the spread of COVID-19. It helps doctors start their practice and learn without coming into contact with infected patients. This provides a high-quality user experience, so there are many investors today who are investing in VR/AR compatible apps and software for android and iOS platforms. It will also allow surgeons to practice their surgical sessions without using a real body, allowing them to have a high-quality experience without risking anyone's life.

Efficient help for patients:
Patients gain access to their data, are able to quickly receive the results of laboratory tests and track them together with the attending physician, make an appointment and get feedback. The likelihood of falsification and loss of medical data is reduced because the patient can monitor them on his own. The online pre-registration system allows the patients to avoid the queue at the hospital.
Patient-centric Solutions
Telemedicine Software
Telemedicine, as a field of health, has grown significantly during the pandemic as people around the world try to limit physical contact. This practice has shown that remote consultations are not only possible but also simple and more preferable.
Personal Health Record Software
Personal health records are digital files that include a story of all healthcare procedures and medications. It gives the patient the chance to track and access their health, plan their visit, analyze their data, track appointments, vaccination, and other services.

E-Prescribing Software
Such software enables doctors to track or cancel prescriptions online. It is also can be integrated with national drug reference databases, so doctors can see the entire course of medical treatment.

Appointment Scheduling Software
The patients can gain access to their data, can quickly receive and track the results of laboratory tests, attend the physician, make an appointment, provide feedback, etc. The likelihood of falsification and loss of medical data is reduced because the patient can monitor them. The online pre-registration system allows the patient to avoid the queue at the hospital.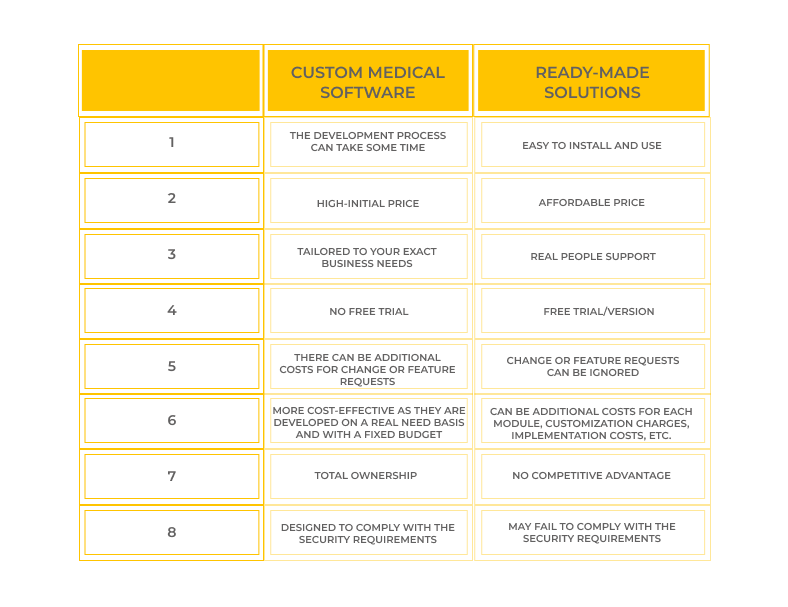 How UppLabs can help
Over the last seven years, our dedicated healthcare software development team mastered our skills and gained experience in creating innovative, reliable, secure, sophisticated, and HIPAA-compliant healthcare products and applications. UppLabs obtain strong Healthcare industry expertise, so if you're looking for help, we'll be glad to assist you!
We provide business and software development support during the COVID-19 pandemic.
UppLabs is proficient in:
Data management solutions for hospitals and clinics
We create highly reliable systems to support interactive communication between doctors, patients, and medication suppliers to improve healthcare quality.

Complex system integration with medical devices and medical software
UppLabs actively uses the best cloud-based platforms, Google, Amazon, Microsoft, and the best world practices, to build secure and reliable solutions for our clients.

Custom healthcare web and mobile applications development for:
VR and AR healthcare software development
UppLabs deliver end-to-end virtual, augmented, and mixed healthcare reality solutions for all popular devices.

Development of HIPAA-compliant and secure software
We have huge experience with compliance and security regulations in the healthcare industry.
Ask UppLabs about the experience of working with top-notch digital healthcare solutions!