Our team develops iOS and Android mobile apps using the latest techniques applied to the top apps in the world. We can help you to create a unique mobile application or extend the capabilities of your existing software on mobile.
Mobile applications development services
What is a mobile application?
One of the key features of today's digital environment is a multichannel system. Organizing effective presence across different channels that reach potential customers is a vital task for any business. In order to be closer to your customers, your company needs not only a proper website but a better mobile application. Focusing on mobile gadgets is not just a modern trend, it is a must-have strategy to avoid losing existing and potential clients.
How mobile apps can benefit your business?
Creating a mobile application is one of the most powerful tools for reaching your target audience. But if you're still thinking about developing your own mobile apps, here you can find some of the essential reasons:
Increasing sales and reaching more audience
This is a channel that can help you to increase your business profits. And it can be quite a significant increase, depending on how large the potential audience is. Every new user who installs your mobile application gets to your potential information space. Therefore, it's recommended to use different methods to increase the number of installations. And if you combine the "web app + mobile app" strategy, the company receives double benefits.
Marketing and communication channel
Mobile applications can be successfully used to attract brand awareness through various marketing campaigns. In this way, it's possible to expand your leads and build a trusting relationship with them. Especially valuable in this context is the ability to receive user feedback.
Optimization of business processes
The mobile apps allow business owners to create an application for employee interaction within the team, tracking and managing any processes, file and data sharing, aggregation of certain statistics, etc. Mobile applications can be effectively used as a tool for organizing and automating many business tasks.
Increasing customer loyalty
If customers want more information about your business, the products and services you offer, they can always do it through the mobile app, 24/7. Continuous engagement increases loyalty, and a good level of loyalty drives sales.
Source of valuable analytics
With the mobile application, you can gather a lot of useful information for further analysis. What do customers buy most often? How much time do they spend in the app? What features are most in-demand, and which are not? By tracking how people interact with your application, you can understand how you can improve your interaction experience, and make the whole process more useful. Understanding your customers is the key to success in any business.
Ways to develop a mobile app (types of mobile applications)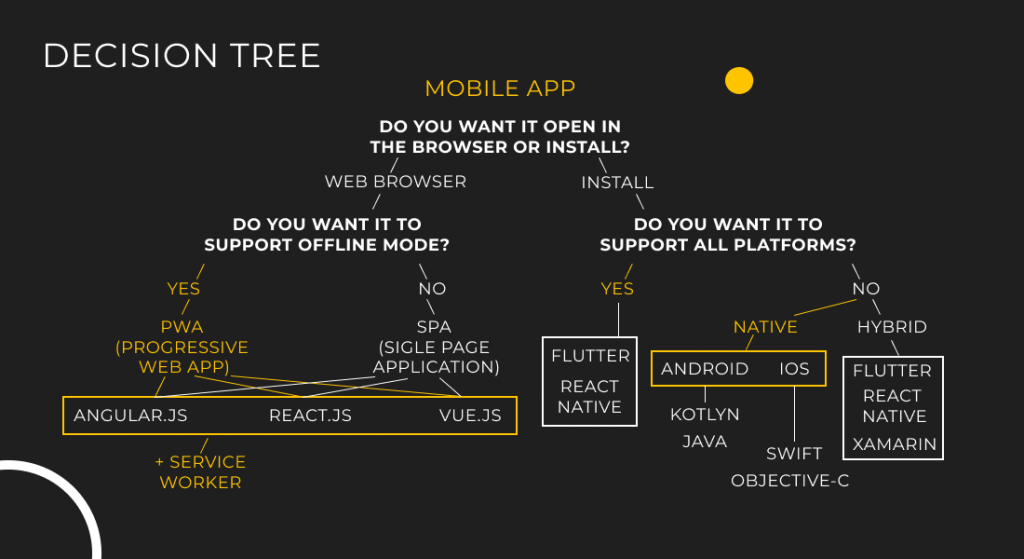 There are 3 main types of mobile apps:
Native apps
(for iOS, Objective-C, Swift, Android on Java, Windows Phone on Net). Such apps are designed for a single mobile operating system, that's why they are native for a platform or device. Their main advantage is a high performance, great user experience as developers use native device UI and access to a wide range of APIs with no limitation on app usage.
Hybrid apps
(all platforms altogether with Xamarin, React Native, Ionic, Mobile Angular UI, etc.). They are developed using multi-platform web technologies (like HTML5, CSS, and Javascript). The code is written using standard web technologies (JS, HTML & CSS) and then it is packaged as a native app. These apps are fast and easy to develop, as they have a single code base for all platforms. It allows low-cost maintenance and smooth updates.
Cross-platform mobile apps
(outstanding possibility to create an app on multiple platforms simultaneously). Cross-platform mobile app development uses JavaScript to enable app functionality and HTML and CSS to create design elements. Cross-platforms are developed using:
Mobile application technical stack in UppLabs
Our team develops iOS and Android mobile apps using the latest techniques applied to the top apps in the world. We can help you to create a unique mobile application or extend the capabilities of your existing software on mobile.
UppLabs create mobile applications with:
React Native
Swift
Kotlin
Xamarin
Ionic
How mobile apps developed in UppLabs are different from the rest?
For more than 5 years we've been mastering our skills in mobile app development to provide you with:
The professional dedicated software development team
Custom mobile app development from scratch
IT consulting
Continuous technical support
You get the most value from our services when it comes to:
Custom mobile application development;
Supporting or extending an existing application that was built with .NET or Node.js;
Revamping and innovating your legacy system;
MVP Development;
Converting PSD to Mobile screens (Ionic, React-Native, Xamarin, Swift views).
Here in UppLabs, we have experienced and dedicated software developers who want to create honest and trustful relationships with their clients. Our team has been working in the mobile development sphere for many years, and have dozens of successful projects and satisfied customers from all over the world. Our aim is to implement the latest innovations in providing the best solutions for all stages of project development, timely technical support, and a high level of maintenance for our customers' businesses.
Team cohesion, highly experienced and result-oriented employees, innovators in product development, focused on the success, delving deep into the issues and needs of the customer's business to solve set tasks – these are the values that allow us to be effective in the development of any complex digital products.
Mode of collaboration: extended teams and product development by UppLabs
The extended team model (ETM) is the outsourcing model of the extended in-house team of the developers that ensures profoundly effective cooperation. The main peculiarity of this model is its communication process that usually is organized directly between the team members.
Overall, this model is popular nowadays for different business industries from FinTech, Marketing, Infrastructure, Real Estate, Service Industry to PropTech and Healthcare. The development team, in this case, becomes a part of the bigger project that enriches the key team. This completely changes the entire dynamics of the whole working process.
Thanks to this model, while working on your project, UppLabs specialists can turn to be yours.
We specialize in working with startups and small/mid businesses.
Lean startup approach,
Digital Transformation and
business process re-engineering – our three main expertise we can help you with.
While working with UppLabs you can gain:
Expertise in technical requirements and development of roadmap formation;
Requirement analysis and coming up with the right solutions;
Try our free services to evaluate our level!
A quick prototype to validate your idea or an optimized scalable platform;
Transparency of the work processes;
Accessibility to team members who are working on your project;
Result-oriented and high-quality work; 
The code that is written following best practices;
The functionality that is manually tested by our QA specialists; 
A dedicated development team or developer for your project/tasks;
Efficient communication and escalation policy best practices;
Solid results and good vibes.
UppLabs team works with various databases and APIs, and implement scaling and integration with other services. With the help of the latest technology stacks, we are creating solutions that streamline your business operations and deliver value. Mobile apps for different industries and purposes – from portfolios to AI-based FinTech solutions.
Benefits of working with UppLabs
Except for high software development quality, collaboration with UppLabs brings you many business values.
If you are limited in time and budget or you don't know where to start, UppLabs team is ready to help you to validate your startup ideas by:
Finding the right tech solutions within your budget;
Prioritizing of steps and features;
Product development consultation;
MVP building.
Having solid expertise in Fintech, Healthcare, Real Estate, Marketing, Education, E-commerce and Entertainment, we are ready to provide you with vital industry insights that will bring new opportunities to your business.
Subscribe to the industry news digest!
For the years of app development, UppLabs created some rules and strategies that ensured its successful realization. Before jumping into the project, our project managers create a detailed development strategy. After getting the entire plan, clients are able to make adjustments as well as track the work in process.
Moreover, in the process of work, UppLabs' project manager usually:
leads the project from the ideation to project release;
determines resources and schedules for project implementation;
creates and maintains technical and project documentation;
performs team assessment and evaluation;
assigns individual responsibilities within the team;
effectively predicts, prevents and solves project issues.
Take a closer look at our amazing team!
Let us help you to build an outstanding mobile app for your business!
We hope to win your business and build a long-term relationship with you.