There is a market that always seems to be growing, and it is the Real Estate market. Fortunately, there are several very complex solutions on the market for businesses that need to manage multiple properties. Many of them are cloud services, which means that you can access what you need from anywhere in the world, for example, using your smartphone. This article highlights the best real estate property management software and shows how to integrate with them.
The benefits of Real Estate property software
The software market for real estate agencies offers many systems that can automate a real estate agent's work. Such systems generally can be developed for individual real estate agencies or are aimed to automate some specific business purpose. The need for proper organization of the work process in the real estate market has become increasingly important. The quality of work of a real estate agency can significantly depend on the awareness and ability to work quickly and navigate the real estate market range. What other benefits can be featured?
A quick search for the suitable options of property (this depends as well on MLS);
The speed of service;
Compilation and maintenance of a single database of real estate units, information on real estate sales;
Real-time access to data;
Quick property inspection;
Less administration work;
Online immediate payments;
Protection of sensitive information;
Data analysis;
Tenant applications and screening;
The ability to quickly navigate through the Real Estate market and be sure you are up to date depends on integrations with MLS.
MLS (multiple listing service)
MLS is a database for cooperation between Real Estate brokers that contains information about properties for sale. Such a service helps brokers see other listings of properties for sale and connect them with potential homebuyers. The MLS data are usually confidential. If your Real Estate platform is not integrated with at least one of the numerous MLSs, your chances to stay on the market are low.
The main components of MLS are:
an electronic database of objects – exclusive objects, as well as the conditions of cooperation;
exclusive objects – objects under the exclusive contract;
division of commissions.
Here is the list of the most popular MLS software in 2021.
Key takeaways of MLS:
It allows realtors to provide services to clients as quickly and thoroughly as possible;
It provides a platform and conditions for mutually beneficial cooperation of realtors;
It helps to assess real estate adequate to the market;
It is a source of analytical information about the real estate market.
But we will look closely at multiple listing services in one of our following entries. Today our attention is dedicated to property management solutions.
Three most popular Real Estate property management tools
Appfolio – real-time property management application
Appfolio provides a range of cloud-based tools for apartment, residential, commercial, office, and student property managers. The software helps real estate professionals manage assets and financial data and attract new tenants and clients.
Appfolio started by offering real estate management a platform to track potential tenant payments, host websites, monitor maintenance requests, and track tracks. The number of real estate management clients on its register has increased from 4,000 in 2013 to more than 12,000 today. AppFolio was ranked №1 on Fortune's Fastest-Growing Companies list in 2020.
The platform is designed to manage your entire residential portfolio on one intuitive platform with the ability to do anything from every place in a wholly digital environment. Streamlined processes and intelligent automation can free your team to focus on your communities and deliver an outstanding resident experience. Designed to streamline real estate and property management processes, the platform enables users to access business metrics, track maintenance, and communicate with tenants, owners, and sellers.
Other features include the ability to accept online rental applications and view potential tenants, advertise online vacancies, collect rental fees online, and conduct mobile checks. What's more, tenants can submit service requests through the software, which means property managers can quickly fix all kinds of errors.
Appfolio Integration
The Appfolio provides its Application Programming Interface – a specification for how the application interacts with other software. API's empower the integration of data, logic, objects, and additional information with other software applications:
It can be easily integrated with social media channels, which usually simplifies the posting and sharing processes and shows real-time updates.
As per CRM integration, the Appfolio has a ready solution for connection with existing CRM to leverage client information.
It manages the integration of real estate listings from the MLS database to the existing website.
It provides integration with rental payment software to ease the transferring, receiving, and processing of rental payments.
It uses a cloud-based procurement software solution Procurify to sync with data and ease the setup process.
BirdEye has an Appfolio Integration that simplifies reviews' request and management, right from inside the Appfolio software. It is useful when you're not working with HubSpot to automate your review requests.
AppFolio integrates with the AvidXchange platform to guarantee the record of all invoice details and transactions in the record accounting system. The payment transaction data are quickly passed to the AvidXchange Payment Application for automated payments.
AppFolio Property Manager offers a supported integration with Stessa, smart accounting software for landlords.
Buildium is considered to be the best enterprise-grade property management app for real estate professionals. It has a wide range of tools and features for property management, accounting, business transactions, and leasing. With Buildium, you can approve lease applications, resolve maintenance issues, handle payments and update financials from wherever you are.
It doesn't matter how many properties you would like to manage. Buildium gives you a quick and easy way to expand your real estate portfolio anytime. You can find properties next door or across the country. With Buildium, you can expand your door count at your own pace while continuing to provide the level of service your residents expect.
You can accept online bids and check tenants before drafting contracts. There are also portals for property owners, homeowners, residents, and board members, making it easy for you to communicate with stakeholders. The ePay function, powered by Buildium, allows you to automate collections and payments to vendors, owners, and residents.
Buildium Software Integrations
As Buildium is a cloud-based property management software, it has integrations with many cloud platforms and APIs. Here are the critical points of Buildium Integrations:
The platform has an open API aimed to free your data and provide the transfer of main data points from Buildium into other business tools, services, and systems.
Integrating with All Property Management means that property managers can generate new business leads, all from within the Buildium dashboard.
Buildium offers integrations through the Tray Platform's robust Buildium connector, which brings together any services without the restriction of integration tools.
It has easy-to-go integrations with such payment platforms as AvidXchange and Payment Automation Solutions, which allows transferring of all electronic invoices and payments without losing visibility or control.
Buildium property management software can easily be integrated with many websites, including goodjuju, which incorporates your current property management software into your website to suggest rental listings and client portals.
This platform allows you to track, manage and solve service problems, as well as keep track of your finances by downloading detailed reports. If you want to find new tenants or buyers for the property, you can create a professional website integrated with the rental manager.
The system is managed by a great real estate database containing more than 100 pieces of information about each property. It means that you can create an extremely detailed record of the property, which is essential when describing customers. This information is used by a web application to get a clear understanding of the properties.
The database contains such information as details of the previous and present lease of the property, the reference data, lease term, and utility indications. For each lease, you can find the tenants with contact details and links.
Rent Manager Integrations
The Integrations Program allows improving the software experience to meet the needs of your business. The open API system gives full access to any custom software. It provides many integration opportunities entitling the top solutions and seamless connection of the property-management technologies that suit your business purposes. The list of provided platforms and services for integration includes AmRent, AvidXchange, Safeguard, Zego, Opiniion, Different, Purchasing Platform, and many others.
So, what platform are you going to integrate with your Real Estate product?
Let's compare the platforms using the following criteria:
Pricing
Geographical area
Ease of setup
Support
Features

Leasing

Vacancy Advertising
Rental Applications
Tenant Screening
Lease Templates
Document Management

Building Operations

Maintenance Service Requests
Property Inspections
Service Portals
Building Announcements
Resource Reservations

Accounting

Property Accounting
Online Payment
Company Financials
Certificates of Insurance (COI)
Dashboards

Operations

Tenant Portal
Integration with Rental Payment Solution
Lease Application Management
Tenant Screening
Amenity Management
Accounting Module
Maintenance Management
Listing Syndication
All of the above matters when you're considering Real Estate property management platforms to integrate with. According to G2, the core criteria for Appfolio, Buildium, and Rent Manager are correlate in the following way: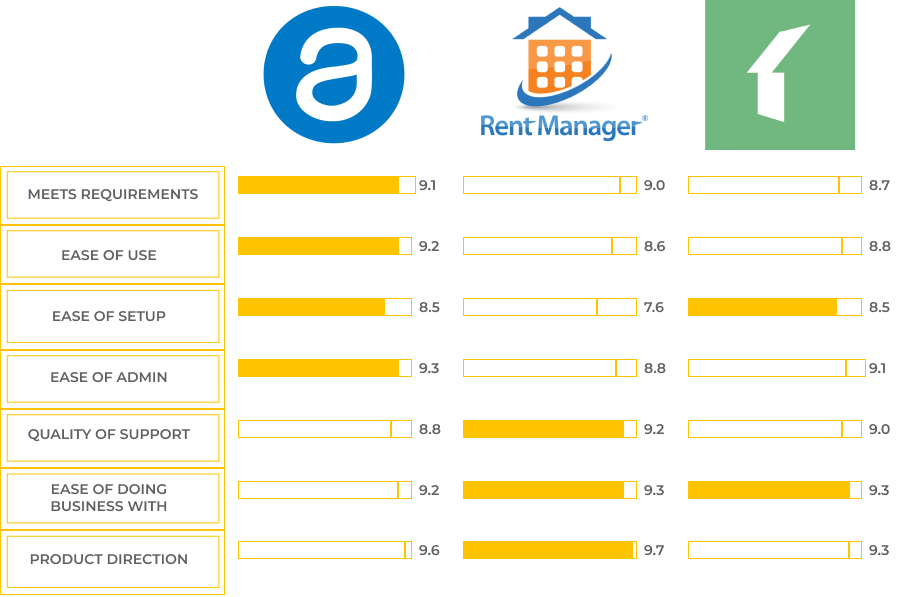 But in this material, we pay particular attention to the ease and methods of integration with these platforms. Are the Real Estate property management products you're considering easy to integrate with the other business tools you're already using? For example, if you're using a separate accounting, CMS (content management system), CRM (customer relationship management), payment gateways, etc. You need to be sure that the chosen property management solution can be integrated with these systems.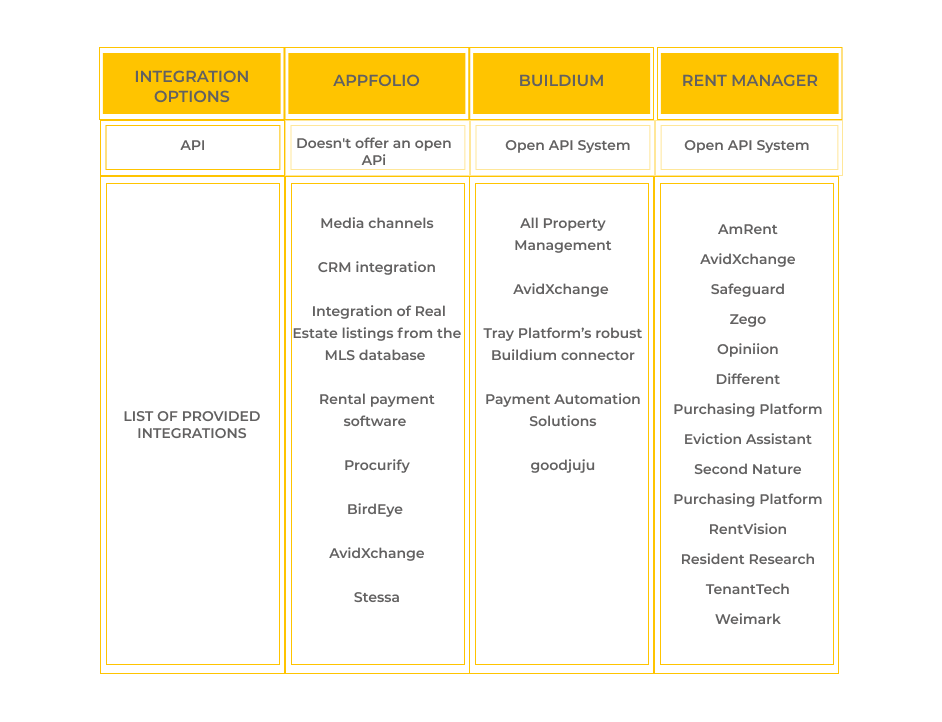 Solutions from UppLabs
Our portfolio includes a modern architecture that guarantees easy maintenance and easy integration with the best real estate services. Take a look at some recent solutions on Real Estate platform development from UppLabs.
HomeToro is a Real Estate platform and direct home-buying app that allows empowering simplicity in the sales process. HomeToro helps real estate agents put the selling offers of houses into the platform.
For this platform, UppLabs helped the client automate their marketing activities and multiply the ROIx2. The platform allowed the business to start working with several broker agencies and integrated with Bright MLS and Facebook platform.
Ukrsutki is a high-performance real estate platform that was based on an obsolete website. It provides solutions that allow real estate professionals to work efficiently from the very beginning.
Ukrsutki aims at satisfying numerous searchers' demands by providing apartment owners, real estate agencies, and potential tenants with an online platform for short-term rental services.
UppLabs rebuilt the old platform to a new technology stack that improved its position on the market and integrated with such platforms as Stripe, Liqpay, and Google Maps. Updated UI/UX allowed to increase the number of active users two times and increase revenue by 80%.
WeOffr is a home-buying company's website and direct home-buying company whose goal is to empower homeowners with simplicity in their sales process. It specializes in working closely with homeowners to provide fast cash buyouts for their houses. No realtor and no repairs necessary. WeOffr provides users with support consultants to make the process quick and straightforward.
UppLabs saved investors' business time on comparison:
– Property details
– Purchase information
– Financing details by three times
We developed a unique platform where potential investors could buy a property within several minutes and successfully integrated it with Zillow, Shapiro & Ingle, Phillip Jones Law, Rubin Lublin, Brock & Scott.
Spec and Mortar. It was developed for providing commercial Real Estate online services, namely renting offices, warehouses, co-working spaces, and various premises for business needs. The service offers to post rent ads, real estate rent search, listings, order tours, and leave feedback.
Its target audience was customers from the United States. With the help of the project, customers could post ads on renting or search a real estate for rent, create listings, order tours, and leave feedback.
We helped the client build the right product development strategy to launch the product 1.5 times faster. UppLabs helped the client create a platform that made finding a proper workplace easier and integrated it with Google Maps and social networks.
How UppLabs can help
Since 2014 we've been working in Real Estate and became professionals in web & mobile development, existing product maintenance and modernization, complex device integration, technical consulting, and more.
We can help you with:
Real Estate platform development;
Property management systems
Custom CRM platforms
MLS integration
Vendor management software and more
Our software development company works end-to-end with the clients discussing all possible scenarios and questions, starting from strategy to digital; we bring transformational outcomes. It is UppLabs' task to show you the opportunities, needs, and threats.
Our assurance as your developer's team includes:
Designing and applying appropriate project management standards
Planning and monitoring the project (timelines and budget)
Ensuring customer satisfaction
Creating detailed, comprehensive, and well-structured technical documentation
Estimating, prioritizing, planning, and coordinating testing activities
Developing and applying development and testing processes for new and existing products to meet client needs
Providing Discovery session
CI/CD (Continuous Integration and Continuous Delivery)
So, you can always book a call with UppLabs and delegate the task with a value proposition to us!