What advantages to accounting does Fintech technology have? The accounting field relies on precise organization and analysis of numbers and financial data. Computerized accounting systems aid businesses by minimizing accounting errors and organizing income and expenses of accounts.
In this article, you will learn different types of computerized accounting and the impact of information technology and the financial industry on accounting.
1. What is computerized accounting
Computerized Accounting is a way of recording, summarizing, and classifying financial transactions according to the basic bookkeeping standards, methods and procedures. It includes monthly, quarterly or annual interpretation of results using computer-based software designed to automate bookkeeping processes.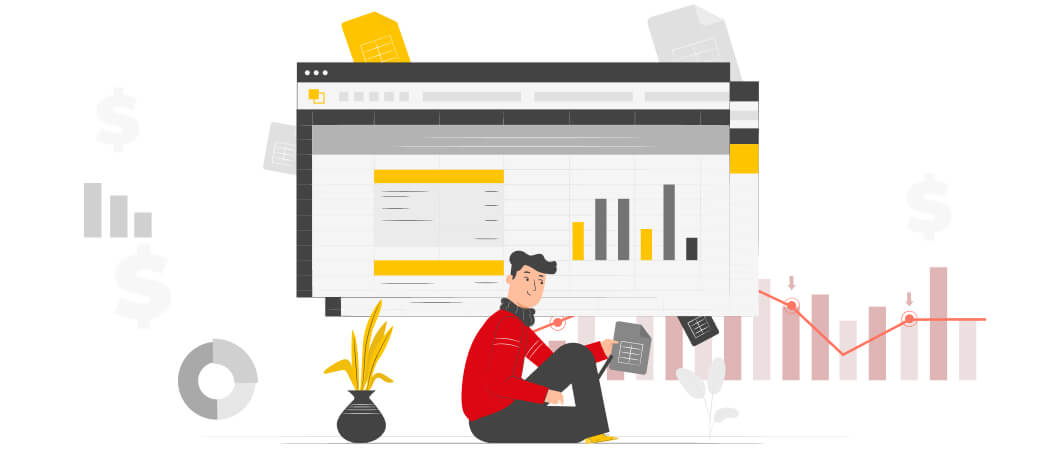 Financial accounting software automates and integrates all business transactions, including sales, finance, purchasing, and inventory, making the process cost-effective and straightforward.
A dedicated specialist has a detailed knowledge of the accounting software packages and the methods, principles, and procedures necessary to conduct computerized bookkeeping.
2. Manual vs. computerized accounting
Computerized accounting has become an integral part of modern companies. The demand for such systems is increasing dramatically in almost all industries. How is it different compared to the manual one?
Both accounting systems apply the basic principles and international standards to solve accounting problems. However, in a computerized approach, all automation tasks are performed with the help of software. It is designed to make bookkeeping for financing and budgeting more accessible, faster, and more cost-effective.
The main difference between automated and manual accounting is that the software performs almost every aspect of your billing and reporting. Rather than having a fully staffed department or a contracted CPA (Certified Public Accountant) to help you with these tasks, the software performs most of the work for you.
3. What are the types of computerized accounting?
We can suggest the following classification of the computerized accounting systems:
1. Readymade Software
The readymade solutions work for all users and suits general purposes. They aren't designed for specific needs and are based on available algorithms and relatively low accounting volume of work. Instead, they are suitable for small businesses with minimum requirements for bookkeeping and don't expect specific programming skills. Such solutions are comparatively cheap and easy to use.
2. Customized Software
Custom fintech software is a readymade solution that offers more programs for different needs. They are designed for medium and large-scale businesses. Here, you will have to pay more for the installation and maintenance of the software. But as a result, you should expect higher security of data and excellent performance. Such programs usually require serious training before the work.
4. What are the needs for computerized accounting?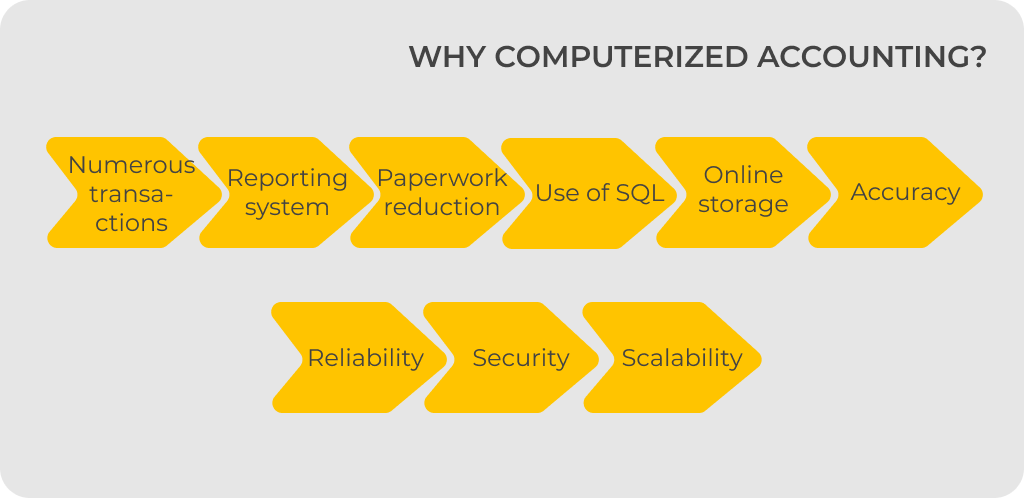 The need for computerized accounting is high and is connected to the incredible speed and security issues, accuracy, and many more advantages of the bookkeeping software performance. Among them are:
The ability to perform numerous transactions;
Quick and flexible reporting system;
Paperwork reduction;
Use of SQL (Structured Query Language);
Online storage of data and transaction information;
Accuracy and reliability;
Security and confidentiality;
The system scalability.
5. Advantages of computerized accounting system
According to the Journal of Accountancy, there is a big chance – about 94% – that accounting will be automated in all kinds of enterprises. No matter how complex is your company's accounting, automated computations can dramatically improve your accounting workflow and operations in general.
There are numerous benefits of bookkeeping automation for your business:
Saves time – performing manual balancing and reporting tasks is usually time-consuming. Switching your accounting system to automated software can save time. Basically, on entering information, checking calculations, generating reports, and doing much other routine work. Using external financial services results in fewer hours and increased productivity.
Reduces the number of errors – automation helps to minimize such incidents, mainly when a large number of transactions are recorded simultaneously. The integration of accounting software with other tools allows to automatically update the data and ensure its correct record.
Saves money – instead of hiring a full-time accountant, you can pay for a software subscription that does most of the work for you. If we take bookkeeping software, we can pay around $25 per month and use the program that significantly simplifies accounting processes. As a result, your finance team will need to devote less time and resources to these functions.
Provides valuable insight information – you have access to detailed and easy-to-read reports. A good understanding of your company's financial position is critical to making better decisions and ensuring long-term stability.
Improves Cash Flow Management – many business owners struggle with cash flow management. By automating your accounting with top-notch software solutions, you can access tools that make calculating your cash flow much more accessible. You can instantly get accurate cash flow information with real-time data analytics and reporting.
Simplifies tax return – filing a tax return is not easy. However, with automated computations, filing tax returns becomes much less distressing. With this kind of bookkeeping software, you can track mileage, store receipts, track sales taxes, and increase deductions.
Apart from these benefits, automated accounting with a cloud-based software solution is much safer. It is essential due to the increase in cyberattacks over the past decade. Cloud storage is not only safer but also accessible from anywhere, allowing you to track and share financial information at any time.
6. Which of the following is not an advantage of a computerized system?
Like with every program, the computerized system is imperfect and can have some challenges. Even if the user has all possible reports, there is no guarantee of the input or program errors. In this case, the developers need to implement algorithms for preventing system bugs and ones for actions in case of user errors. However, it doesn't happen immediately and is possible over time when the software is already in use. Therefore, it is impossible to exclude program errors completely.
Another important aspect is that accounting software is just a tool. And for the user to understand the value of this tool, the specialist needs to know bookkeeping specifics very well. Because the program doesn't understand the tax code or Accounting Regulations but operates according to the algorithm.
In this case, the user still specifies an algorithm containing apparent errors. Therefore, the specialist is still responsible for the program's data. You should also remember that there is always a risk of system failure, virus attack, or technical issues.
Any software should have its performance indicators:
7. Fintech technology for computerized accounting
Technology brings accounting and Fintech software closer together. Electronic document flow, robotization of bookkeeping processes, online data exchange with banks to quickly close cash gaps – all of this is a part of Fintech software development.
Now all spheres of business are actively developing, so almost every enterprise needs to implement information systems that will help optimize some part of the company's work.
Unlike other business segments, accounting needs to maintain processes and technology upgrades. So the accounting specialist must be linked to existing technology resources in the market. One of the leading solutions in this sphere is an ERP (Enterprise Resource Planning) – a system that can help increase profitability and improve compliance. AI-powered dashboards and analytics provide you with real-time financial summaries and other data from any device. It can help you minimize manual data entry by automating daily tasks and tracking changes for regulatory compliance.
The professional profile constantly changes from the person responsible only for bookkeeping to an effective manager who assists in decision-making. It is facilitated by introducing Fintech technologies and integrated systems like ERPs. Now the system is responsible for the operational part reports, while an accounting specialist is in charge of their analysis.
Among the other Fintech technologies that boost the potential of accounting are virtual and augmented realities. They offer new ways to analyze data and blockchain technologies that add optimization systems for records management and many more.
8. How to switch to computerized accounting
Moving from manual to automated computation is a transitional process that requires some time. To make the change as smooth as possible, there are a few key steps you can take:
Find the right bookkeeping software for your business needs.
Plan a date when you start the transition and notify the team members responsible for the changes – primarily the CFO, your accountant, and finance departments.
Give your team access to the resources to help them learn about the new system and schedule training for anyone who needs it.
Decide if you want to transfer all financial information or start from a new reporting period.
Customize your software by personalizing your preferences, creating account templates and links to other programs, your bank account, and more.
Correctly selected Fintech solutions will make life easier for all interaction parties and make most of the processes automatic.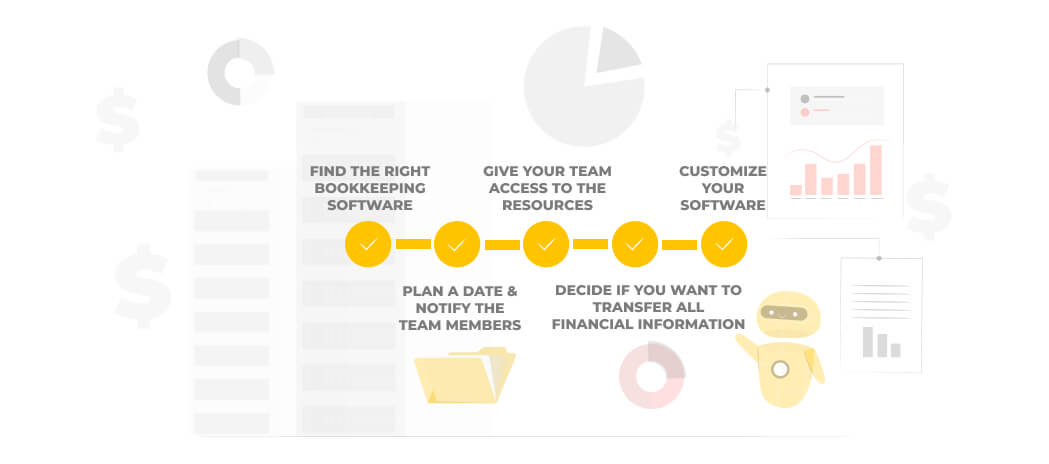 Regardless of the Fintech business model your business follows, UppLabs is ready to help! We mastered the latest Financial technologies and gained experience in creating reliable, secure, and sophisticated Fintech solutions and products. We have strong knowledge of trends, innovations, and new business models.
According to TopDevelopers, UppLabs is one of the best Fintech companies in 2021.
If you're looking for a Fintech development partner – there is no point in further search! Check our expertise in financial software development.
UppLabs is a perfect companion to lift you Upp!