In a highly competitive business world, originality and uniqueness have become critical factors for successful business development. That's why modern companies are increasingly using only software solutions that fully consider all the individual features of their projects.
What is the purpose of custom software?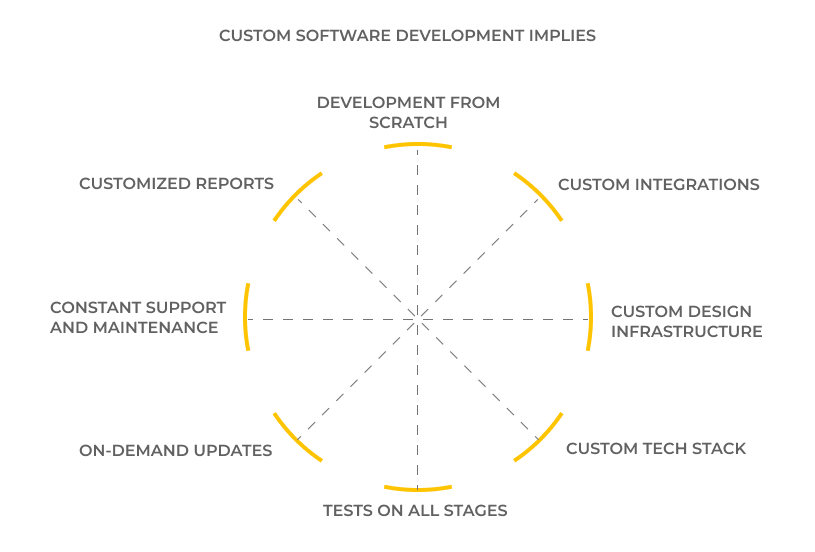 Custom software development implies the next things.
The investment in such custom software is considered one of the most promising management solutions since such software tools help to more effectively solve current company problems, reduce costs, increase the productivity of personnel and equipment, and also contribute to the growth of business profitability and strengthen its competitiveness in the short term.
Generally, custom software development implies:
The development of the software from scratch;
Multiple integrations made in a custom way;
Custom design infrastructure;
Custom tech stack;
Tests of the product at all stages;
On-demand updates of the product;
Constant support and maintenance of the product;
Customized reports.
Regardless of the business model your business follows, UppLabs is ready to help, as we mastered the latest technologies and gained experience in creating reliable, secure, and sophisticated solutions and products. We have strong knowledge of trends, innovations, and new business models. We constantly learn, visit the best conferences, and have the best professional web and mobile developers. 
If you're looking for a Fintech development partner – there is no point in further search! Check our expertise
UppLabs is a perfect companion to lift you Upp!