MVP is a minimum viable product that allows you to get feedback from users, understand what they need and reduce the project launch time by creating only the necessary functions of the product.
Minimum viable product development
What is MVP? How is it different from the prototype?
One of the key characteristics of MVP development is ensuring the viability of the product. Much of the functionality of the average product more often is not used at all. A viable product concentrates on performing one main function. It can be a frequently updated environment with features that can be tested by clients.
The examples can be the updated registration page, an admin panel, email notifications, etc. As a result, an MVP will help you understand which direction to move and what can be improved.
The MVP is similar to the prototype but has some crucial different features:
It's is viable. It solves real problems.
It's a product. It should be something users can try to test for real.
It's a mini version of your final product.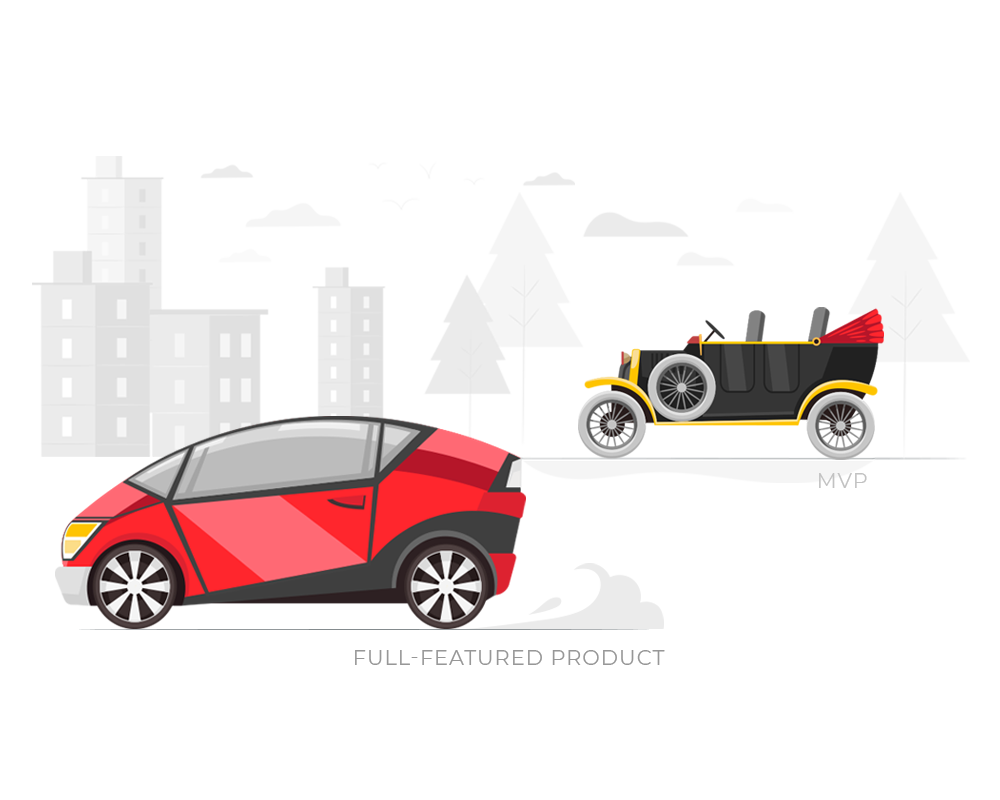 When you need an MVP?
MVP is the best way to launch your app with a minimum amount of time and expenses. Besides, it brings you the scope of benefits that's hard to ignore. MVP development gives you such possibilities as:
Checking if your product is interesting for potential users
Creating a base of potential customers and find early adopters of your product
Bringing the product time to market as fast as possible
Collecting real feedback from the users
Reducing development costs
Getting fast market change adoption
Implementing frequent application updates
Finding investors will be much easier with a ready-made MVP product.
What is included in the process of minimum viable product development?
A product always starts with an idea. The main difference between a successful product and a failed one is that a popular product is the result of a feasible idea transformed with the help of a detailed development plan.
The main stages of MVP product development are:
Creation of concept
– What features of the product must be included in MVP, and which are better to save until the full release?
– Which of these features will get the target audience?
– What will help you to be better than your competitors?
Analytics
Make a detailed description of the person who may like your product, who will use it without doubts. Analyze your competitors and create a user flow map. Make a list of prioritized functions.
Design
Strong UX competence saves money on development as it is based on the prototypes. This step will help you to correct possible shortcomings and make the product more user-friendly.
Development
An MVP should not be of lower quality than a final product, and still needs to fulfill your customer's needs.
Setup of MVP.
Implementation.
Review everything thoroughly after launching the MVP, it means compile your user's reaction to the release. With their feedback, you can decide on the acceptability and competitiveness of the product in the market.
Due to the fact that MVP is created in order to understand whether your product is needed, the process of its development is cyclical: idea – prototype – demand assessment – information collected – mistakes analysis – improvement and repeat.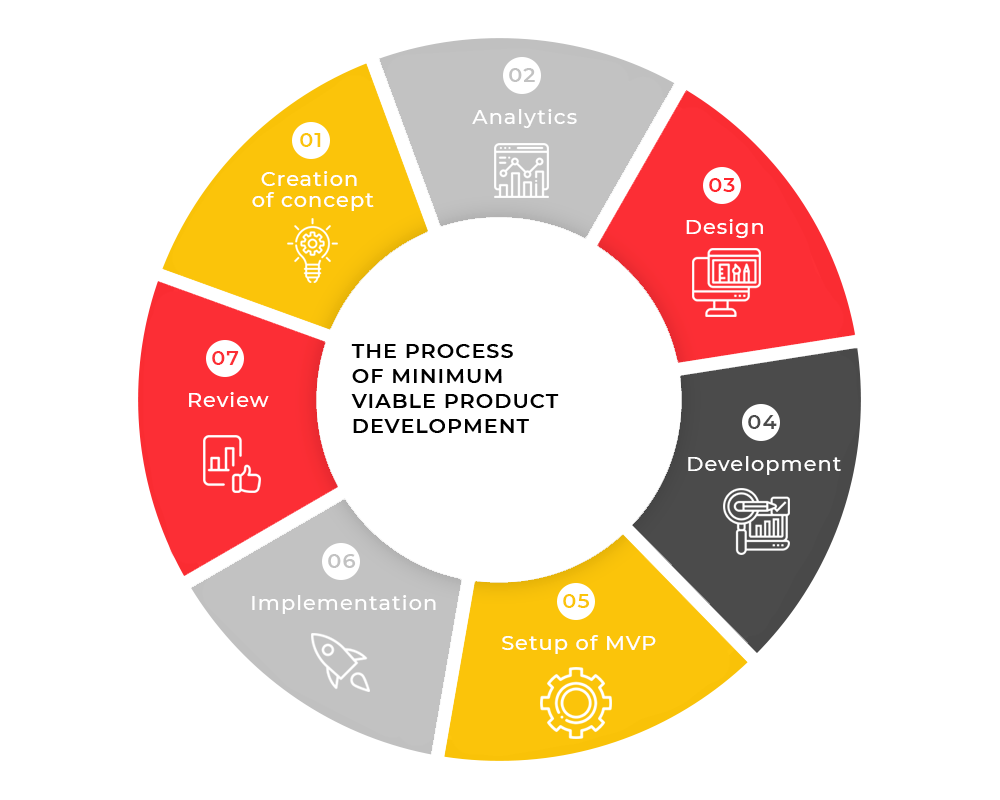 The successful businesses started with MVP
If we look at the examples of companies that began their journey with MVP, we can find many strong examples like:
Spotify. Spotify MVP developers focused on a single feature: streaming music. Having studied the data of closed beta testing of the Windows applications, the founders were able to make contracts with large record labels and receive significant funding for their project.
Foursquare's MVP contained check-ins and badge rewards for them. Having studied the user reaction, MVP developers began to expand its capabilities by adding recommendations and city guides.
Airbnb, a popular rental service for travelers, began when its founders decided to rent out their apartment in San Francisco for a design conference. They took photos of their house, launched the MVP as a simple website, and soon hosted their first guests. Thus, startups were able to check that the idea of renting their own housing for a short time could compete with hotels.
Groupon. Before testing the idea of ​​a collective linking service, the creators of Groupon created The Point, website designed so that people who cannot do something alone could find soulmates. However, the idea turned out to be too general, so they launched a customized blog on the WordPress platform. When users signed up for a particular discount, a PDF file with information was sent to them by e-mail. Thus, the founders of Groupon were able to test their idea with minimal cost.
eBay, one of the most popular online auction websites was originally called AuctionWeb when it launched its MVP website in 1995.
Virgin Air. Richard Branson's MVP was implemented with the help of one aircraft that has traveled the same route to validate business hypotheses. Airplanes and routes were added as the business grew.
Lean startup approach for MVP development
The MVP concept is part of the Lean Startup methodology that includes:
Development;
Measurement;
Receiving feedback.
This approach allows the business owners to distribute the project resources as efficiently as possible, and come to launch a full-fledged successful product with the minimum losses.
It is important to understand that the MVP strategy is not about creating a minimum product to achieve a short-term goal. The method involves the development of the first and the most simplified version of the product, available for public use. Improvements introduced in this version are always based on the users' feedback. The goal of creating an MVP is to find out what functions a product should provide to a target audience.
The main components of a lean startup approach are:
Viable business.
Most minimally viable products lead to the Minimum Viable Business model that allows the traffic and profits to grow slowly and stably.
Feasible product.
After creating the MVP you need to make sure that finances, resources, time and technology allow you to realize the idea. If the feasibility of the product is not confirmed, the transition to the next stage does not make sense.
Desired Product.
The minimum desired product is the simplest experience required to display the value of the offer and satisfy the needs of the audience.
In his book 'Lean Startup', Eric Ries, the author of the approach, tells about how to choose hypotheses for testing:
"Choose the riskiest hypothesis – if you cannot reduce the highest risks in order to achieve the ideal result required for a viable business, it makes no sense to validate other assumptions."

Eric Ries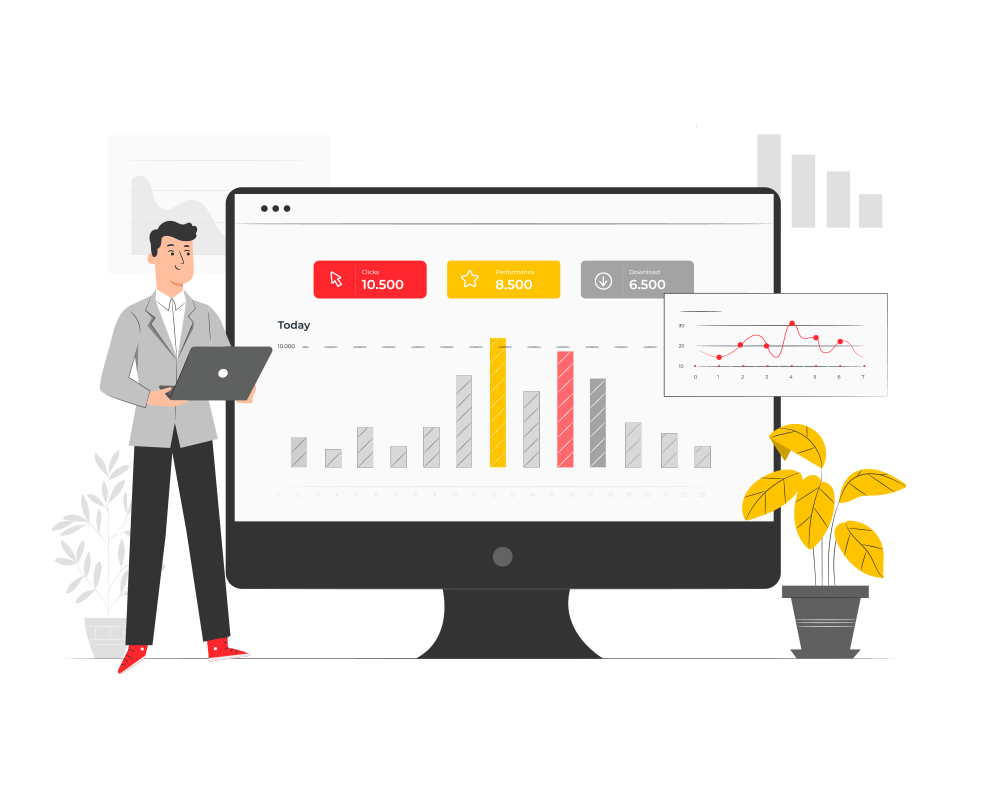 MVP development services offered by UppLabs
If you are limited in time and budget or you don't know where to start, UppLabs team is ready to help you to validate your startup ideas by:
Finding the right tech solutions within your budget;
Prioritizing of steps and features;
Product development consultation;
MVP building.
Having solid expertise in Fintech, Healthcare, PropTech, Real Estate, Marketing, Education, E-commerce and Entertainment, we are ready to provide you with vital industry insights that will bring new opportunities to your business. Due to the COVID-19 outbreak, many businesses were forced to start working from home. Now we also offer you our expertise in managing remote teams.
Every day we implement complex and challenging web projects. We have accumulated extensive experience in subtleties and nuances, which will undoubtedly help improve any project. We try to help the customer realize the best products because its success is our success too.
If you have any questions about MVP and idea validation – UppLabs is always here to help you!
Let us help you to build an outstanding MVP to validate your business idea!
We hope to win your business and build a long-term relationship with you!
Book a call with UppLabs! (via Calendly)