UppLabs is proud to join the community of the global top 7% of software engineering vendors by Pangea! During the last months, we went through a long and complex in-depth verification process to provide unparalleled transparency about our organization to the external universe of future hires and clients.
As a company that values transparency and honesty, the UppLabs team has been thinking about joining Pangea since last February. Why? Pangea gives the clients only true and verified information about every vendor presented on the portal. That builds additional trust and helps vendors to get a better reputation, supported and proved with the Pangea's verification process. Which is hard to pass because it demands the engagement of every team member from the vendor's side.
Eventually, this summer, UppLabs made a final decision to join Pangea. It will benefit both the team and the clients, as we will have a clear picture of the expectations, capacities, and opportunities.
We went through the hell verification process, and it made us stronger!
To be included in the elite group of the TOP 7% global software vendors, Pangea asks each company to submit lots of documentation. It includes:
Organizational Mapping
Here we provided detailed information on recruitment stats and metrics, business strategy, company culture, project metrics and technologies, certifications, awards, partners, etc.
Documentation
Team Health
Every team member should submit their answers about the company, the processes, relations, atmosphere, etc.
Client insights
Pangea asks for feedback from a minimum of 3 vendor clients.
The process of collecting data and gathering submissions lasted for more than a month. But, afterward, it was definitely worth it!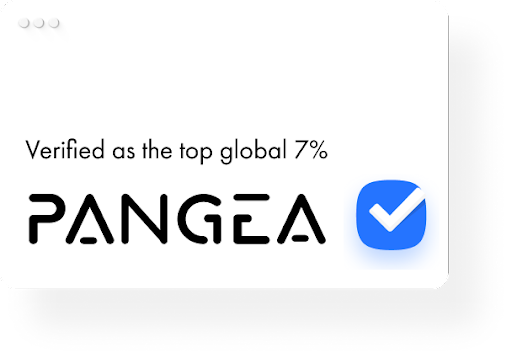 What is so special about UppLabs?
After our acceptance to Pangea, UppLabs can proudly say that we have raised the bar for the score, and our competitors will have hard times trying to meet the same standards as we did.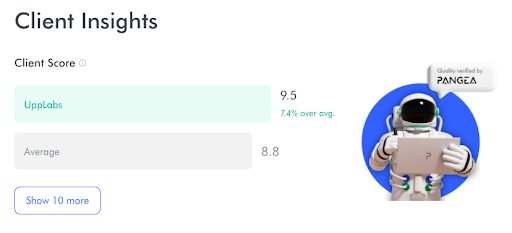 How did we achieve it? There are two unique features of UppLabs we cherish. And we do not talk about professional level, technical skills, or experience – these are apparent qualities. Talking about these special 2, we mean the company's organizational structure and company's values.
As you might know, UppLabs is a 'Flat Company,' which means less bureaucracy, more freedom (and responsibility), fewer 'bosses,' but more colleagues. We try to use minimum hierarchy and encourage every team member to actively participate in the company's goals achievement. That's why all of us understood the need to join Pangea, and did our best to get there as fast as possible and be maximum honest.
UppLabs' values are the things most of us accepted when we got here. Here are the principles we follow:
Communicate clearly and effectively with clients and colleagues
Deliver TOP services
Pursue growth and learning
Do more with less
It helped us to gain and continue working with our current clients. We hope this will also allow us to get new clients and partners. Despite that being truly honest is very hard, especially with clients, we believe that most of them will appreciate this quality and understand its importance.
"UppLabs LLC excels at meeting deadlines and sticking to priorities. They're genuinely interested and will make valuable suggestions beyond their specific project scope. As a team, UppLabs is responsive and consistently delivers quality work on time." Lori Barao, MMI Direct
Let's build great software!
The core domains we provide our expertise for are Fintech, Healthcare, and Real Estate. Of course, in our portfolio, you can find more industries and cases: marketing, education, entertainment, etc. But being a 'Jack of all trades' is way more complicated than concentrating on what you love the most.
In our case, these are:
Fintech
web and mobile development
money transactions platform engineering
online trading and exchange platform engineering
AI-based Fintech solutions
payment systems integration and optimization
existing services maintenance and modernization
custom IT solutions for financial business
custom IT solutions for financial business
Healthcare
data management solutions for hospitals and clinics
development of HIPAA-compliant and secure software
VR and AR healthcare software development
complex system integration with medical devices and medical software
custom healthcare web and mobile applications development for

symptoms identification and analysis;
systems that automatically connect users with a particular doctor;
staff and patient management systems in clinics;
health monitoring systems;
doctors' marketplace;
online consultation systems.
Real estate
Real Estate platform development
property management systems
custom CRM platforms
MLS integration
vendor management software
It is a great honor to get included in the elite 7% of the world's software vendors! With the verification process by Pangea, we recognized our unique propositions and some benefits we had never thought about before. But what is more important, those benefits now will be visible to our future clients.
The verified UppLabs' profile on Pangea will also document our future progress and achievements. And we will do everything to meet future challenges and standards and get the best results for every project we get involved in! Our previous recognitions will keep the bar for us.
Check our scores and read our insights on Pangea! We are thrilled that you will see us among the best software development vendors!