How big product companies' approaches can improve an outsourcing company's performance and work processes? In this material, you'll find out about the best practices to encourage employees and their effectiveness.
Originally I published this material in Ukrainian language on DOU.
My name is Vitaliy Dyachenko, and I'm the CEO and Founder of UppLabs, a US-Ukrainian software development company. You can read how I entered programming and decided to create my own company here.
Before the official foundation in 2014, UppLabs have already existed in different forms and with different names. My team and I had enough time to experiment with work processes and communication, structure and market, target audience, etc. Now UppLabs has the flat company structure (which is one of the initiatives I borrowed from Zappos) I will tell you about in detail a bit later. Through these years we defined three main industries we are the most proficient in: they are Fintech, Healthcare, and Real Estate.
After working in TOP 3 Ukrainian outsourcing companies and some big product companies like SimilarWeb and Citibank, I can compare the workflow organization, working conditions, traditions, onboarding processes, and attitudes towards employees. It allows me to adopt their best practices and apply them to my own company – UppLabs.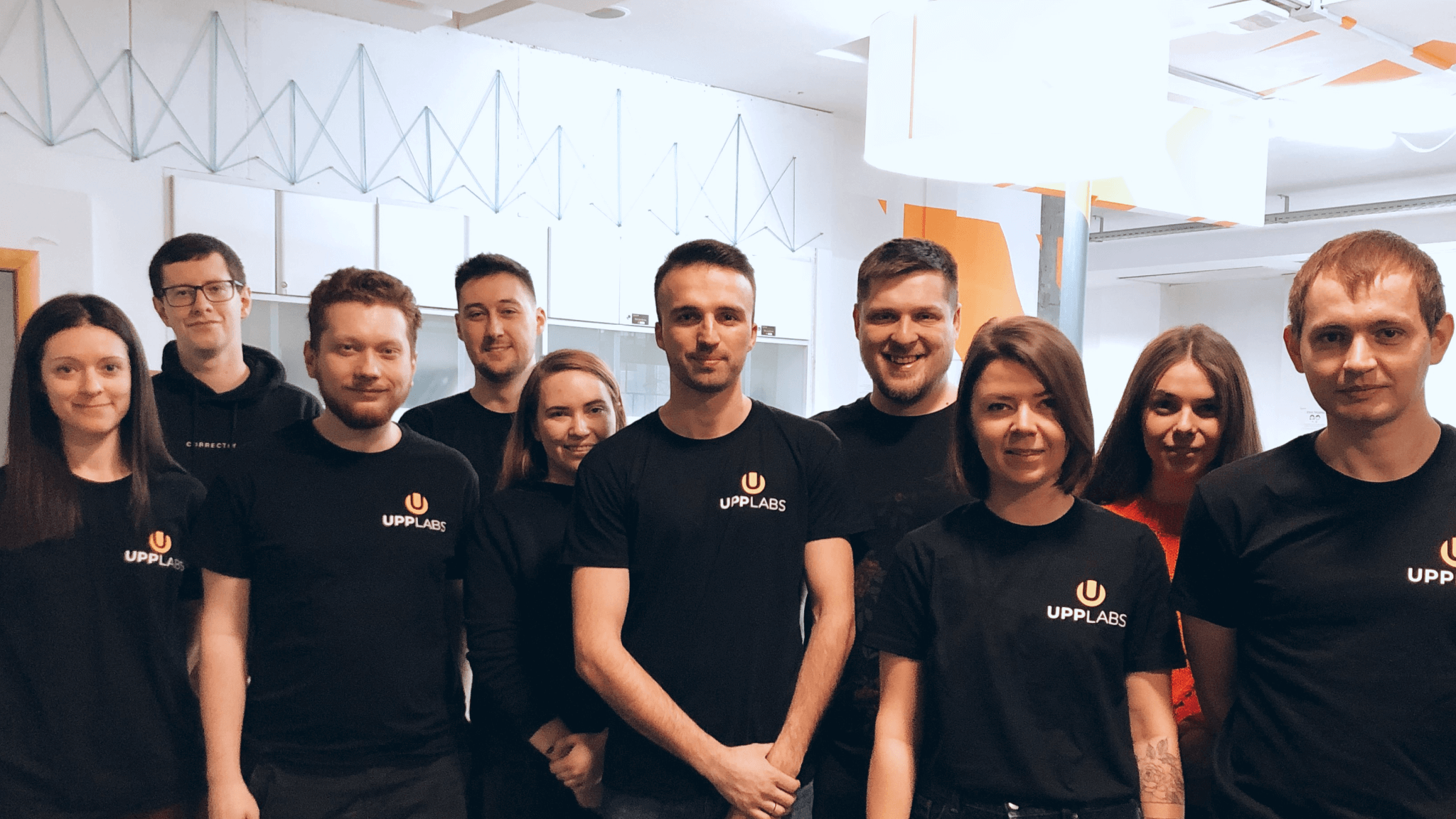 The importance of maintaining and encouraging employees
The team is one of the most critical assets of any company, whether it's a product or outsourcing. In my experience, the development processes stages and the releases in outsourcing companies are more challenging than in product companies. Perhaps this is related to the external stakeholders who expect the launch of a new product's version in a clearly defined time.
Product companies also have their plans, quarterly goals that the team has to achieve. But there is a little more flexibility because each participant is directly involved in the formation of plans. Outsourcing companies have less freedom in the context of work.
Of course, outsourcing companies have their advantages, for example, the ability for the employee to change the project in case you need a new challenge or if the current project is over. This process is called internal mobility.
Thus, each model (both product and outsourcing) aims to minimize the turnover of specialists. At UppLabs, we apply best practices to help our colleagues understand their value. And I'm very proud to say that there are developers who have been working with us from the start of the company.
Below, I will describe the practices that I have adopted from product companies, designed to keep the employee and increase their loyalty.
Initiative № 1. AllHands meeting
One of our goals is to involve the team in the life of the company so that professionals understand that they are part of it and that the result of their work greatly affects the growth of the company.
Every quarter, the SimilarWeb company had a great initiative called the AllHands meeting. At this meeting, the CEO announced positive results and plans of the company, and employees could get the answers to their questions.
We tried out this activity at our company, received positive feedback from colleagues, and decided to hold it quarterly. By the way, many decisions in our company are made by regular voting.
Of course, since the launch of the initiative (2018), we have slightly adapted its structure and decided to disclose even more information to colleagues than it was on the SimilarWeb. During AllHands meeting, we in UppLabs share the next information with the team:
financial results of work;
new projects;
projects that have been completed;
staff turnover;
new team members;
the direction we move by following the annual goals;
goals and plans for the next quarter;
future changes and strategic vision.
This activity helped us to make work processes more transparent, and demonstrate the delivery business department's work. The vision of the company's development helps to motivate everyone to grow personally and along with the company.
I thoroughly prepare for such meetings, create a presentation, and ask the sales and marketing departments to collect the necessary statistics for the current period. I don't see the point in hiding data on turnover or other financial indicators.
After all, we all work for the good of the company, and everyone should be interested in its success. The share of the responsibility and maximum honesty ensures that the team members are on the same level and equally care about the result.
I record all AllHands videos, so that the person who missed them, could always watch them later.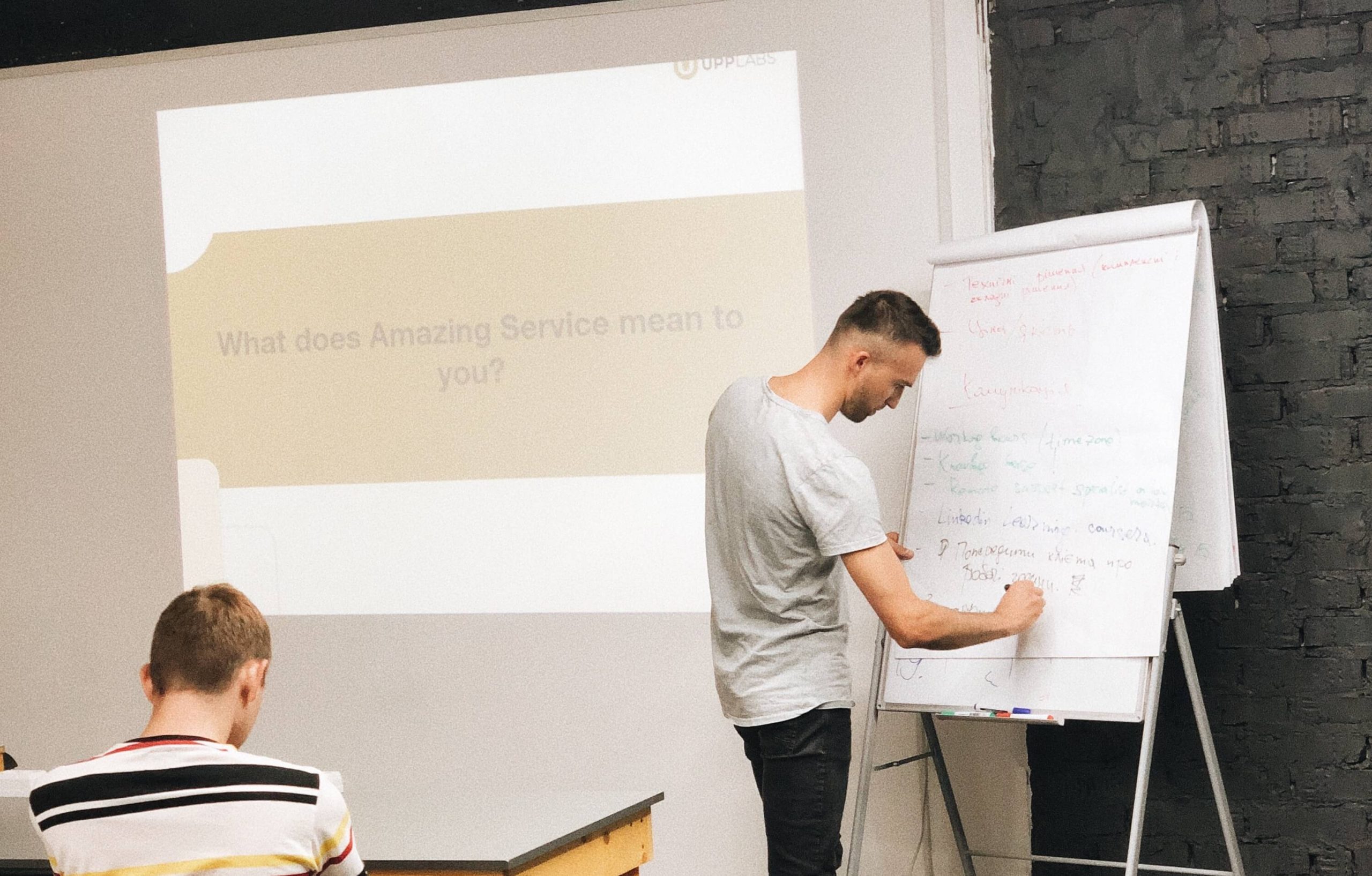 I'm happy when during the presentation my colleagues ask me questions and request more details. This means that they do care.
Naturally, we have faced a certain issue – how to understand what information is more interesting and relevant for colleagues and what should we share. After each meeting, we collected feedback that helped us to get the current format. We found out that we need to share more data about new projects and change the structure of information.
As the CEO of the company, I would like to see more activity from the team, more questions, more clarifications. If the AllHands initiative didn't encourage the team to lead interesting debates or activities, then I didn't work hard enough. In this case, I review the process of presenting the material and its content, so the next time it can motivate the colleagues for discussions.
Initiative № 2. HappyHours
Many outsourcing and product companies have a practice of team building and other small meetings to reduce tensions in the team and bring colleagues closer.
HappyHours is an initiative also taken from the SimilarWeb company. This is a mini team building, which we organize every two weeks. It provides for informal communication within the team, where they can get prizes for certain activities, etc. Before the quarantine it was an opportunity to order pizza and drinks in the office and sit together, playing the board games.
During the quarantine, such activity was a rare chance to unite the team and introduce the newcomers. When the person gets to know his/her colleagues in ordinary life, working with them becomes a much easier and more enjoyable process. Now, of course, we switched to an online format.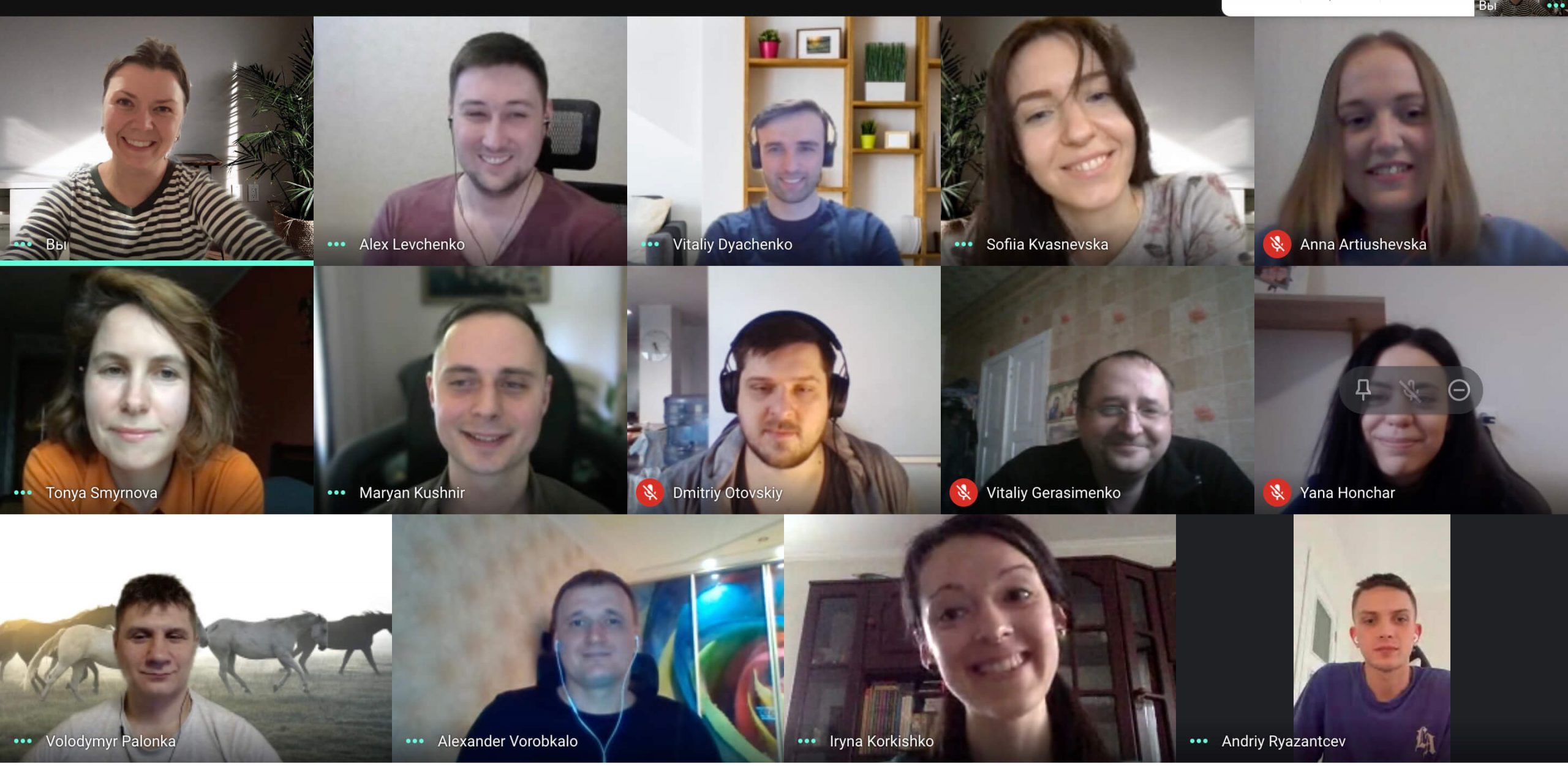 We have slightly modified such meetings making them across teams. One of their goals is to make it possible not only to communicate effectively within your team but also to establish connections with other teams, within the company. It is essential for us that the presales process that involves technical and business specialists, could work well. We create such an atmosphere where the programmers feel comfortable reaching other teams and experts with relevant experience without the involvement of PMs or other management.
At UppLabs we stepped forward and invented an additional format for better involvement of employees that is called 'Meet the team'. This is an informal online meeting of the whole team on Friday evening, where everyone can share their interests, hobbies, etc. It helps to make friends, as well as relax and switch to the weekends after a hard-working week.
Every 'Meet the team' podcast includes a small interview with someone from our team. We prepare interesting questions and try to reveal the identity of the participant so that the team can find out more and see common interests with this person. First, it was a good practice to welcome newcomers, but now we started to mix them with "the experienced" team members every two weeks. So, we try to involve everyone.
Our HR team records videos from these meetings and shares them on the company's closed channel. Therefore, anyone can watch a colleague's interview to find a common language or get to know this person better.
We currently use both initiatives – HappyHours and 'Meet the team'. Every week we held 'Meet the team', while once a month we organize HappyHours, which becomes its logical continuation.
The difficulty of HappyHours is to organize the maximum number of people at the same time. After all, everyone has their projects and schedule. The chosen time may not be convenient for everyone at the same time.
Regarding the 'Meet the team' initiative, new employees sometimes may feel uncomfortable answering questions in front of the whole company. That's why colleagues try to find an approach and show the newcomers that it's not scary at all, that it's cool and that's how everyone can get to know the team better.
It is psychologically difficult to convince the participant to become the main guest of the interview, and to prepare such questions so that the person would feel interested and comfortable answering them. Introverts and extroverts need various approaches. To reveal a person from an interesting side, we try to ask more about their hobby and leisure time.
Initiative № 3. Onboarding training
The onboarding process in SimilarWeb Company was organized quite interesting. The company brought all new employees together for a one-week offline event in Tel Aviv. This training covered:
getting to know the company and its values;
acquaintance with CEO, CFO, CTO.
All these meetings were as friendly and open as possible. Sitting in circle we all were discussing diverse topics. I remember the meeting with the CEO, where everyone shared their life ups and downs, and the CEO told us about the start of the company, describing how he had worked in a small apartment with the first team. He also shared about the upcoming plans. We could ask him any questions and all this was accompanied by jokes. This sincere and open atmosphere impressed me very much;
office tours;
lunch with newcomers. This initiative helped us to become friends. Also, we found friends in other teams from other countries. In addition to Ukrainian colleagues, I had lunch with specialists from the United States, Israel, and the United Kingdom;
lunch with the Team Lead;
activity organized by the HR team.
We are trying to develop a similar process. Once a month, UppLabs gathers all new employees and conducts training for them, studying the values of the company, its projects, and structure. In addition to learning about the UppLabs ecosystem, new members uncover more about each other and form a community. During this period, we usually conduct a small course on communication with clients and within the team, that we have developed ourselves.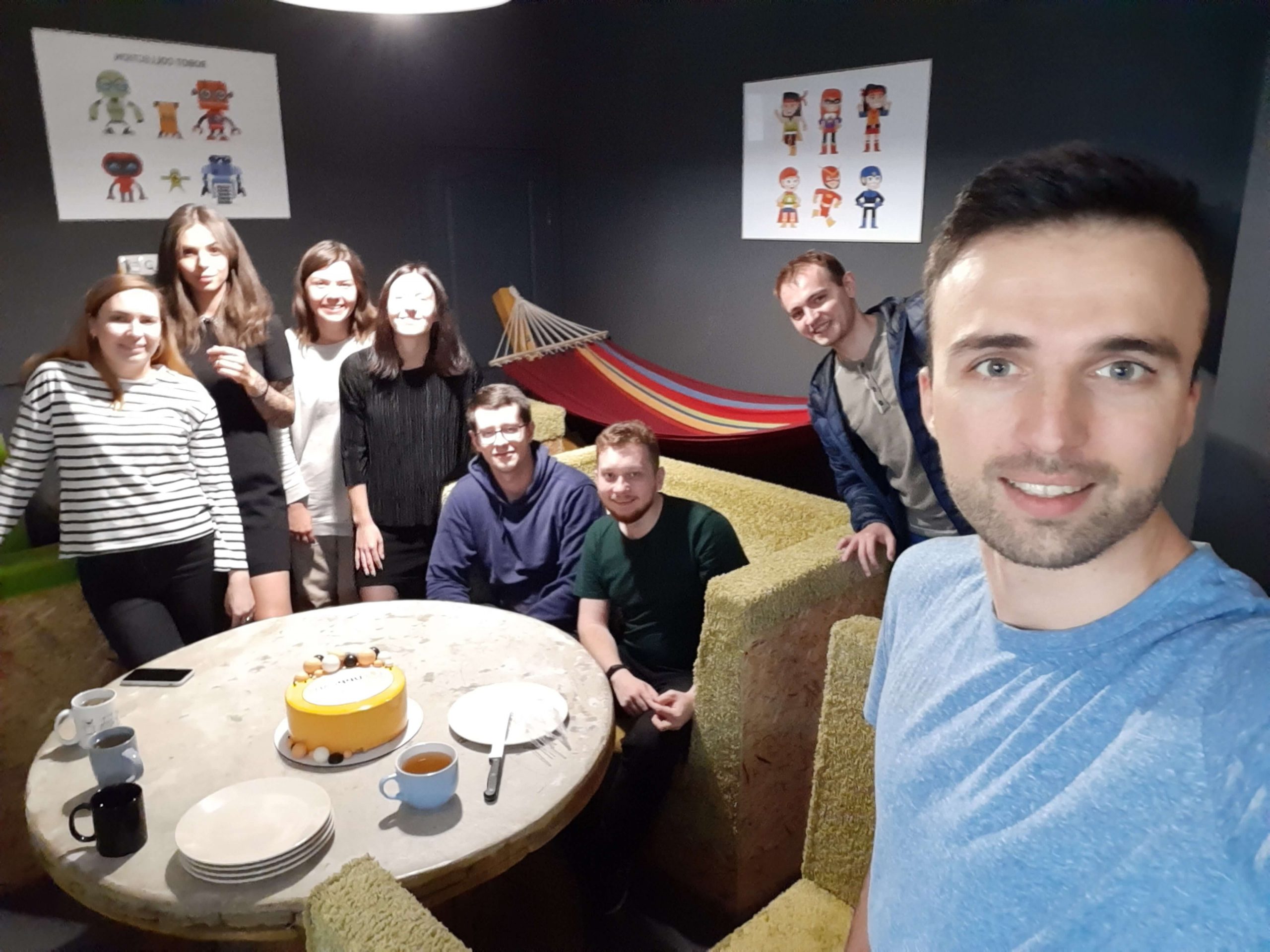 This is a new tradition. However, I already see some results. For example, the team shows more interest in supporting new initiatives, publications, the colleagues improved their communication with each other and with customers. And all this because of training on the UppLabs' values, where we explored how to act in certain situations, learned corporate culture and philosophy.
It is not easy to synchronize members of different teams and make them all available at the same time. Also, the preparation of the training itself requires some effort. It is a long and scrupulous process, which aims to highlight and single out the most important things, to formulate them in such a way that the newcomers could relate to them and summon them up.
Initiative № 4. Pet Project
The Similar Web company had another stunning initiative – the hackathons. There the teams could gather around different ideas. For three days they've been working on their concepts and presented the results of the achievements.
Due to the peculiarity of the work process, it can be challenging for us at UppLabs to gather all employees at the same time for a hackathon, as each project has its deadlines and releases. But we transformed it into an activity we call Pet Project. The company's specialists from different departments can work together on projects that aim to develop certain skills and abilities and bring value to the company or customers.
This is an unlimited hackathon, which allows you to unleash the potential of employees and build your mini-product with colleagues from other departments. The goal of Pet Project is to improve your technical skills, try something new, and develop your potential.
As a result of this activity, the UppLabs team designed an application called MyAppCost, which managed to become № 3 Product of the Day on ProductHunt in 2020.
Another product was called FightDepression. It was the collaboration of our marketing team and developers together with psychotherapists from the United States during the first wave of COVID-19. Its purpose was to provide free psychological support to the population during quarantine restrictions.
It's effective if professionals share common ideas and a desire to create something impressive. If this is somehow related to programming, UppLabs is ready to allocate resources for product development. This contributes to both employee development and the company's image. Who knows, maybe such a product can turn into a new 'unicorn' in the future?
But, in addition, it is worth noting that sometimes it's problematic to put together the necessary team and allocate sufficient time to work on the project, so it can be successful and quick.
It is not always easy to engage colleagues for improvement and development while working on such a project. Not everyone needs it. Many people have enough of the activities in their everyday workday. And it may happen that the team will lose the enthusiasm to complete the Pet Project. So you have to be ready for that.
Therefore, we have unfinished projects that could be valuable if earned.
Initiative № 5. CrossTeamHelp
CrossTeamHelp implies that any employee of the company can reach the general channel with a question or request for help.
Our teams used to share experiences and go for help on the first call. We create an ecosystem where no one is left alone with their problems, no matter what team or department they work in.
The goal of CrossTeamHelp is to involve the most experienced professionals to share knowledge with the whole team, thus increasing the overall level of knowledge in the company.
It is important that newcomers are not afraid to turn to others for support. And it's cool when the 'experienced' team members understand the importance of their advice and immediately lend their hands. This is another UppLabs value that we try to convey to all employees.
It is always a challenge to motivate people to help others. Establishing a company culture where no one is afraid to be active, especially if someone needs support, is a constant work.
This requires everyday efforts. You can't call out "let's help each other" and expect it to work immediately.
Flat Company structure approach
I am a fan of Tony Hsieh and his company Zappos, well-described in the book Delivering happiness. The special feature of Zappos is a unique approach to work with colleagues and the values it transmits. These values affect people not only at work but also change them in everyday life.
Zappos inspired us for the approach of the Flat Company structure. The company has a minimum of hierarchy in the organization. Anyone at UppLabs can directly contact any colleague with questions or suggestions.
We encourage initiative and don't limit employees to their areas of responsibility. Everyone can initiate and be involved in any activity.
Examples of initiatives addressed by colleagues included the new workflow options, a desire to take on certain responsibilities, a change of a project or advice on how to improve current work, a request to change a field of activity (for example, a sales specialist wants to become a project manager or HR). UppLabs is always open to colleagues' suggestions and wishes.
Not so long ago, our project manager Roman asked to introduce 'catch-ups' – short meetings with other managers (every two weeks), where they would share best practices for improving work processes.
Among the advantages of this approach is the opportunity for each employee to feel in a leading role, to know that his or her initiative affects the company and that the founder and other team members listen to this person. It is a way to identify natural leaders and enable them to realize their ambitions.
Our values and initiatives are aimed at building a culture similar to Zappos. But we understand that an outsourcing IT company has certain features that are not inherent in product companies.
At UppLabs, this flat structure has improved communication between departments and the whole team. It minimizes bureaucracy and increases the value of each participant.
Of course, with the development of the company, it will be challenging to maintain such a structure. However, so far all the benefits give us only a positive effect.
This structure has its drawbacks. One of them is a limited number of specialists experienced enough to be responsible for a certain process and manage the team. This structure is unusual for most of our employees, so it is a process of continuous training and development of the appropriate mindset.
Conclusion
All the initiatives that UppLabs borrowed from product companies were adapted to our business model. It takes more effort to build a system of a human-centered approach to employees in an outsourcing company. However, all these activities are intended to provide employees with the same benefits as having their colleagues in large product companies.
Why? First, to increase loyalty, and second, to keep valuable employees and attract new ones. Third, to reduce the cost of finding new professionals and lower the staff turnover. All this together contributes to better interaction, long-term and productive relationships, strengthening the company's image among partners and customers.
Our global idea is solution providing, i.e. meeting the needs of customers by using our products. We are not just an outsourcing company, we combine elements of both types of businesses.
I have to admit that all this requires effort and that not all approaches always work perfectly. At the same time, the implementation of initiatives is gradually changing the ecosystem in the company for the better. For example, staff turnover has decreased by 70% over the past six months. And this is just the beginning.
Thank you for reading the article!