To help you handle the confusion and anxiety caused by the virus, we've brought together some main steps that should be first on your list as you produce your pandemic contingency plan with today's needs. This is a contingency plan to run your business during and after quarantine.
Quarantine has come to the world and brought the businesses new challenges and ideas. This means that it is extremely important to change quickly to stay afloat. Many business owners do not even have a registered organizational structure, which turns their company into a poorly managed group of people, where responsibilities can be distributed chaotically. In a crisis, this situation becomes a direct catalyst for business disruption.
To prevent this from happening, it's essential to create a contingency plan to run your business during and after quarantine.
A contingency plan
We covered the topic about preparing a proper contingency plan by dividing its vital steps into categories. It will make it easier to navigate the document.
1. General Crisis Management
The first step regarding general crisis management is to understand what the trends are in terms of the volume of your market: how much it has decreased now at the local level, and how the market volume will potentially change after the quarantine is over.
Below, we will share important issues that need to be managed in the beginning:
Estimating, monitoring, and managing the company development and impact of COVID-19, including all requirements and instructions issued by local authorities.
Response planning, such as business growth, team management, and business-specific risk moderation and realization.
Connections, internal and external planning of safety measures and response plans at all levels including employees, customers, stakeholders, lenders, authorities, and other key figures of the business.
Checking your savings and financial position. Understand what are your average monthly expenses and calculate how many projects and clients you need to cover those costs.
Minimize costs. At the same time, it's better not to save on the marketing and sales system; on the contrary, it is necessary to direct efforts to increase the effectiveness of all tools to attract customers.
2. Essentials that every company needs to focus on. Organizational part
Preparing a business contingency plan will guarantee your company goes on to function at the same level or even higher in the worst possible scenario. The businesses shouldn't wait for the crisis to start acting immediately. So, what are the essentials to focus on in the first place? The plan below will highlight the necessary steps to organize the whole company's work:
Ensure the safety of your employees and follow government orders.
Prepare your team for the corona-storm. Important questions to ask the team are – whether we can resist if the economy sinks? Do we have contingency plans?
Provide timely payment of taxes and accurate tax planning for the coming months to avoid possible penalties.
Decide upon the Force Majeure case, what events can cause the non-performance of the process?
Gather all your contracts, check and renegotiate the terms of commitments remembering about upcoming events and their impact on potential engagements, defaults, terms.
Encourage your customers with discounts to help your business stay relevant in the market and stay closer to clients.
Continue and support relationships with existing clients.
Monitor the market situation regarding possible diversification of your offerings in a post corona world.
Stay on the right side of the law, as well as ethics in all your actions.
Get creative and find a new revenue stream that can become your chance.
The last point could be supported by a professional business advisory and IT consultancy that we provide in UppLabs.
Moreover, here you can take a quiz to understand what area you should focus on to improve your business:
3. Digital Transformations for business
To ensure full communication with the team, take care of the technologies that can help to organize the online office. These can be various corporate portals, task managers, chat, and video messengers related to the calendar and tasks.
Also, nowadays, and especially during the quarantine, many businesses need Digital Transformation to optimize operations and maintain their competitiveness, in a global and open market.
To work with clients and sales, there are various CRM systems, set-up IP telephony, configure analytics. It is necessary to resort to the digitalization of any business and any service that can be applied:
Video Calls
A Communication Chain
Data Theft
Anti-virus software
Keep a 24-hour IT helpline
3D & Virtual Reality Tours
Transforming core operations from physical to digital
5G and Edge Computing
AI and Machine Learning
Devices with more Human-Device Interaction
Voice-User Interface
Expansions of smart IoT
Industrial and Digital Twin Technology
Increasing AI capabilities
Standardization challenges
Use of blockchain for security reasons
Unified Framework for Integration
Better Data Analytics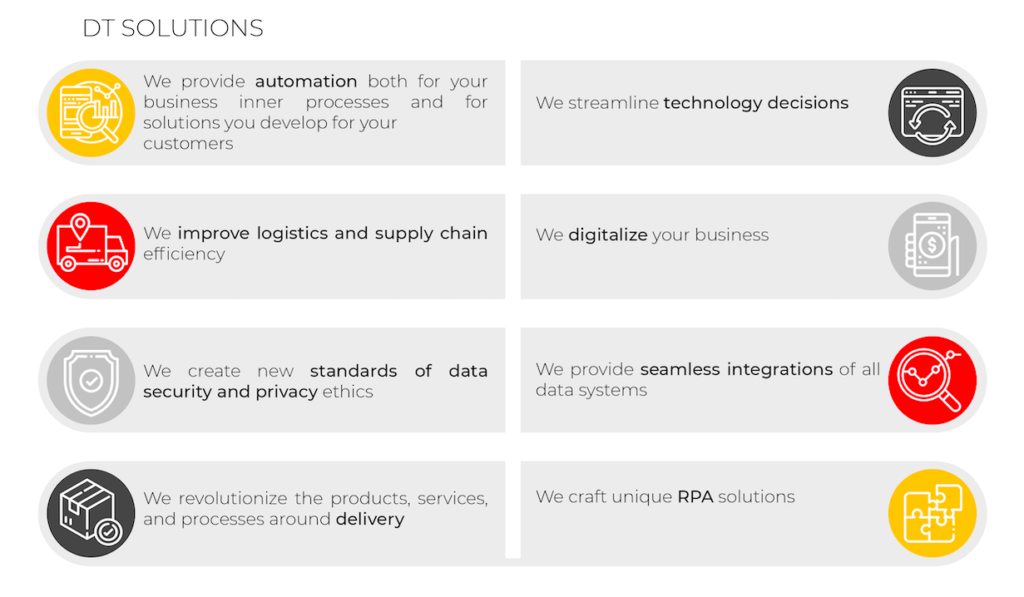 All these actions are hard to provide on your own. So ask an experienced team of Digital Transformation professionals for help!

4. Contingency Planning for Employees
How to start Contingency Planning in the situation that you've never experienced in your life? Collect the experience of the previous world crisis and adjust it to your business model. Here are some smart strategies for businesses looking to keep their customers engaged and in the loop while creating a plan:
Plan and document all activities and tasks that are usually performed within a company, keeping the emphasis on the bigger picture (interaction of the employees with partners, clients, and stakeholders)
Create a risk evaluation to determine and evaluate potential threats.
Write down a Business Impact Analysis (BIA) to establish and consider how the company's risks may impact its ability to perform its vital functions
Determine the company's vital functions and promoting activities
Analyze the mitigation options to focus on the risks described in the BIA (such as operating facilities, devolution procedures, aid contracts)
Establish the company's main concepts and elements (such as technology, people) and describe how those elements influence the performance of vital functions.
Draft an overall plan that includes the necessary requirements and actions needed for the vital functions, and create a contingency plan for the events where main resources are not available.
5. Managing Remote Teams
Regardless of your business type, following those practices, you will succeed:
Your remote team must remain in constant communication without overdoing it. A shared dashboard like Jira, Agile, Scrum, Kanban and Lean in conjunction with other plugins, can help your project managers monitor the progress.
For every activity or task create a simple getting started guide.
Explain what you mean by completing the task, so no questions and misunderstandings left behind.
If your employee has no strict deadline, work could last forever, because some tasks might be evaluated as ones with higher priorities.
Take advantage of the best business management and communication channels in 2020 (like Slack, Google Hangouts, Skype, Zoom, RingCentral, Jira, Trello, GitLab, Asana, Zapier (for integrations), Redmine, Zendesk)
Instead of sending out decisions through email or chat, you do better if you add it to a corporate wiki or guide for faster access to everyone involved.
Use video chats to keep a 'human face' with your teammates and clients.
Automate everything you can.
Read more about effective remote teams' management. And watch the video about changing work processes when managing remote teams.
6. First steps to switch the company into an after-quarantine mode
Finally, it is crucial to evaluate and create a long-term approach to establish an existing business continuity plan that fulfills the flexibility needed to look at your company's potential through the pandemic situation in the next months. Here the checklist of first steps to prepare your business into an after-quarantine life:
Keep client relations and communication.
Revise and recheck your contracts, especially the cancellation and rescheduling policies.
Don't look for clues in the experience of overcoming previous financial crises – create a new strategy.
Before making a decision on further actions, analyze your product, and evaluate the number of resources available in the company.
Continue to invest in promotion, use various tools up to discounts.
Update your website.
Invest in your business future.
Automate all possible processes to save your time.
Create high-quality content and spread it to your potential customers.
Stay positive and believe in your business!
Conclusion
During a crisis, your brain works much faster. Trust your business instincts, follow them, and don't keep out of the way. This is an unprecedented time for everyone, including businesses, and there's no solution that can fit everyone. Try some of the concepts and advice above, and don't forget that we can always offer you a free IT consultation if you need one!