When you start a new project or business, you need simple strategic planning tools to focus on the essentials and get things done in the best possible way. A marketing value proposition is a simple tool to help you quickly clarify the essence of a business or project and get started. In this article, we are going to figure out how to give you some uncompetitive advantages to start your business using the value proposition based on the strategy by Michael Skok.
What is a value proposition?
Value proposition – is a positioning statement, the simplified version of the positioning of the company. It tells why customers should do business with you rather than your competitors, and makes the benefits of your products or services clear from the outset.
The main components of the Value proposition that you need to define:
For (Target customers)
Who are dissatisfied with (the current alternative)
Our product is a (new product)
That provides (key problem-solving capabilities)
Unlike (the product alternatives)
Defining a Problem
Fitting all the desires of your customers into one phrase is a long and difficult job that requires an understanding of your target audiences. An even more difficult job is to reflect in there the wishes of your customers, and not your own.
To define a problem, we need to keep in mind the rule of 4U:
Unworkable
Unavoidable
Urgent
Underserved

Find a problem that has all of these qualities. There are lots of different types of needs. If you find yourself answering a decisive yes to the majority of the arising questions, then you are on the right path toward a constraining value proposition. If not, think about re-evaluating and developing your new goals.
Qualify a problem – It is 'BLAC' and white?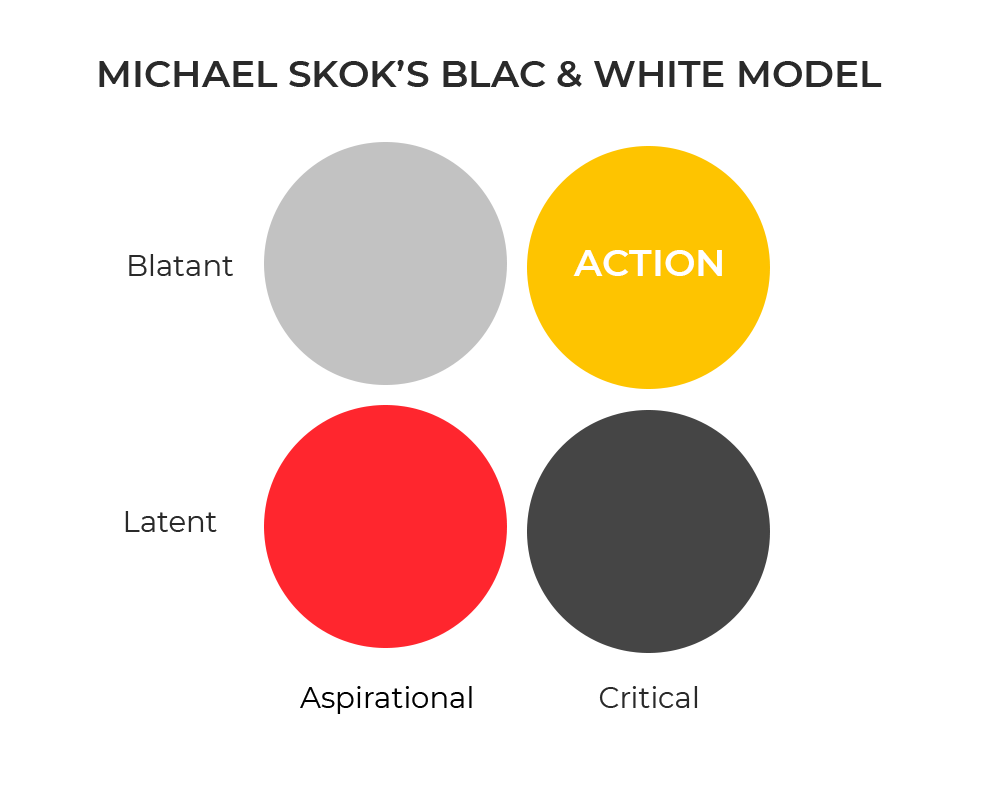 Blatant and Critical problems are critical needs for people. It means, If they can't solve it, something will go wrong. And that's what we are looking for when we create a value proposition.
In the business world, the value proposition can refer to something as simple as a broken business problem. It can be a mission-critical program. You can find many problems, but not all of them can be critical and fundamentally are broken. To check if the problem is critical, you need to ask an easy question – what are the consequences? For example, if you have unhappy customers, that can be serious and cost you money.
The challenge is to understand what is a priority that determines the resources allocated.
Every audience has a different reason why they value something. So, it's important to segment and clearly define your audience.
Underserved consumers needs:
Social
Security
Physical
Economic
Recognition
Responsibility
Achievement
Growth
Example:
Social – find, connect, meet, communicate, share, entertain, date

This is why the first use of the Internet – is for social reasons, why dating sites are so successful. If we compare LinkedIn and Facebook, we can see that LinkedIn is doing good but is not so successful because in a social setting business people want to connect but don't have a strong need as people who want to connect, meet and date others.
Summary: We need to check our problem asking the following questions:
Is it BLAC and white?
Is it 4U?
– Unworkable
– Unavoidable
– Urgent
– Underserved
What's the solution?
People think about the solution first. But if you can describe the needs and the problem really well, you can come up with a really compelling solution. While trying to find it, you need to ask yourself this question:
What is your compelling breakthrough?
What makes it compelling and a breakthrough? Here there are 3 D that can help to determine this term:
Discontinuous innovation
depend on transformative benefits by considering a problem from a new perspective
Defensible technology
means intellectual property that can be covered to design a new barrier to an unfair competitive advantage.
Disruptive business model
includes value and cost rewards that help organize the growth of a business.
What people typically do is that they think about the problem in terms of "How will I eventually evolve a business in an obvious way? How will I make things a little bit faster, a little bit cheaper, a little bit better?" And that has really little appeal to the investor. Improvements are very difficult to invest in because you always have competitors in the existing market, and you always have comparisons. But if you come up with something that is completely discontinuous and innovative, that will work better. These innovations can happen in the business world as well as technology. Google is an example of discontinuous innovation.
If you want to pick a fight – pick a BIG fight. Big problems often lead to big opportunities. Why not find a problem that is really difficult and compelling?
If you already know what you need, ask UppLabs to develop it by following the online discovery session!
How to evaluate the value proposition?
If you can't measure something, you can manage it. There is a simple formula for the gain/pain ratio.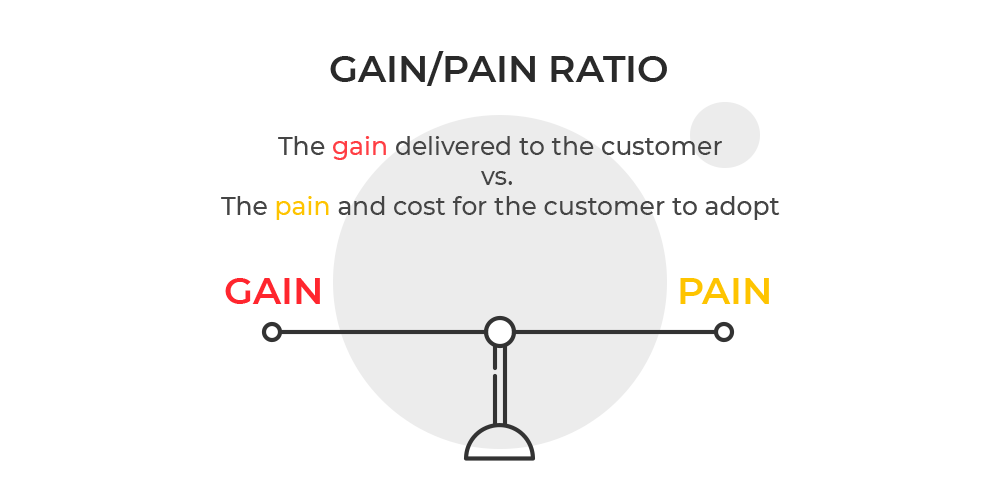 It's the measure of the gain delivered to the customer vs the pain and the cost for the customer to adopt. Large enterprises always have pain while adopting anything.
What kinds of gains should you look for:
Revenue
Cost savings
Time
People
Competitive advantage
Reputation
Etc.
It turns out that a lot of times in an early market you have visionaries and adopters. And there are people who are looking for a breakthrough in something. They actually care about something that is genuinely new and different.
Kinds of pains:
Find
Try
Buy
Implement
Deploy
Own
What is the right ratio? There is a piece in the middle that is actually very important.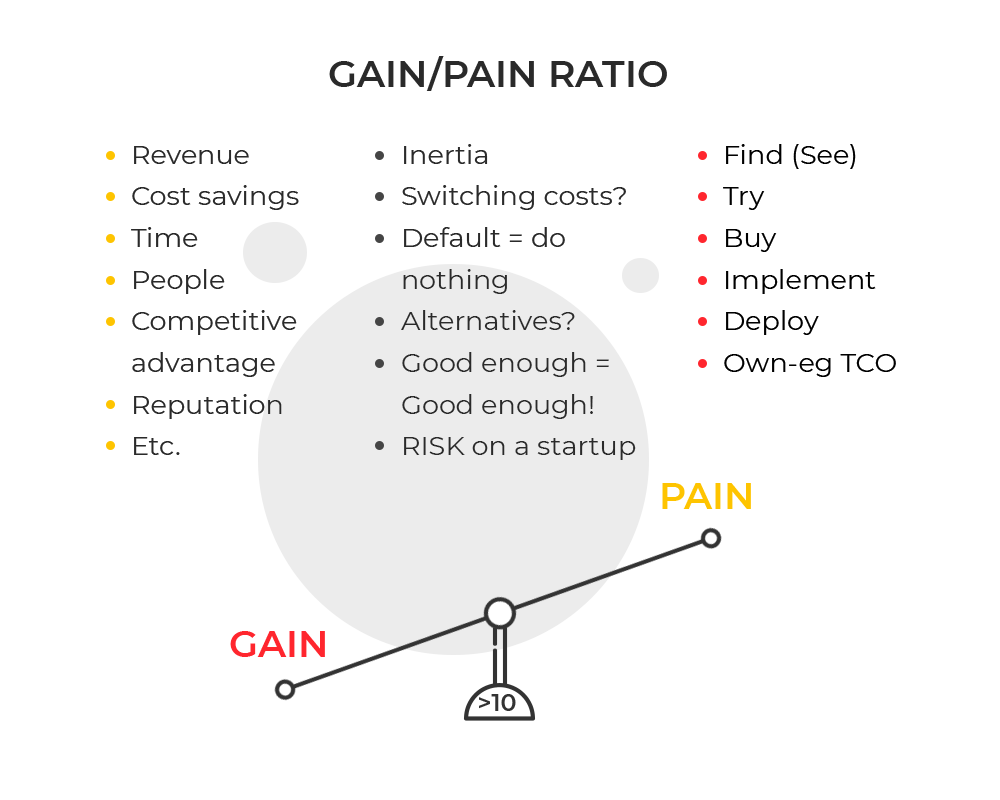 To sum up, it really isn't worth bothering to coming to a major marketing place and compete unless you have at least 10 > more to overcome. Startups are risks, small companies are not easy for people to deal with. What you need to try, is to come up with ideas of your ratio for a startup.
The value proposition is not that hard. How UppLabs can help?
Before starting a business we advise you to be careful and think twice before you form a value proposition that fully satisfies you, otherwise you are risking to invest a lot of money in an invalid idea. However, you're not alone.
Our IT consulting agency works end-to-end together with the clients discussing all possible scenarios and questions, starting from strategy to digital, we bring transformational outcomes. This is UppLabs' task to show you the opportunities, needs and threats.
Our assurance as an IT advisory service includes:
Designing and applying appropriate project management standards
Planning and monitoring the project (timelines and budget)
Managing project risks
Ensuring customer satisfaction
Organizing and motivating a project team
Creating detailed, comprehensive and well-structured technical documentation
Estimating, prioritizing, planning and coordinating testing activities
Developing and applying development and testing processes for new and existing products to meet client needs
CI/CD (Continuous Integration and Continuous Delivery)
So, you can always book a call with Upplabs and delegate the task with a value proposition to us.
If you are limited in time and budget or you don't know where to start, UppLabs team is ready to help you to validate your startup ideas by:
Finding the right tech solutions within your budget;
Prioritizing of steps and features;
Product development consultation;
Every day we implement complex and challenging web and mobile projects. We have accumulated extensive experience in subtleties and nuances, which will undoubtedly help improve any project. We try to help the customer realize the best products because its success is our success too.
If you have any questions about MVP and idea validation – UppLabs is always here to help you! We hope to win your business and build a long-term relationship with you!
P.S. Don't forget to take a QUIZ to identify potential problems and challenges.